Did you know that 2017 is Montreal's 375th birthday? If you ever wanted to visit Montreal now is the time! Plus the city's calendar is jam packed with food events!
Today is my birthday !!!!!! And Montreal is turning 375 to this year. Since it is my birthday I want to give you all a gift: an invitation to come visit Montreal this summer…maybe we can break bread together too? Montreal's 375th activity calendar is jammed packed for the entire year and summer also means it is time for so many annual food events which will serve up an extra slice of oomph to celebrate. Here are some of my favorite festivals…
I am a very proud Montrealer for sure. I love my city. It is a world know metropolis but still small enough to feel cozy. Montreal has the best European feel of any other city in North America and we have the highest amount of restaurant per capita in Canada (2nd after NYC for North America).
Montreal is also celebrating the 50th anniversary of Expo 67, considered to be the most successful World's Fair of the 20th century. There will be so many events and expositions highlighting both Montreal's birthday and Expo 67. Fun fact from the site: today on May 2 1920, Montreal changed to Daylight Savings Time for the first time ever.
So now is the time to come and visit! And I highly recommend you drop me a line so we can eat our way through…
Montreal's Summer Food Festivals
First Fridays (May to October)
Montreal's finest Food truck take over the Esplanade Sun Life at the Montreal Olympic Park, every first Friday of the month. 50 of the best food trucks from 4 p.m. to 11 p.m.
Lobster Clam Jam (May 20 to 21, 2017)
This highly acclaimed outdoor food festival is not just for seafood lovers. It is an affordable, family-oriented culinary showcase offering guests the opportunity to experience the creations of a variety of renowned local chefs and restaurants.
Le Mondial de la bière – Montreal Beer Fest (June 14 to 18, 2017)
The Festival Mondial de le bière has become the most important international beer festival in America. Its reputation extends worldwide. Samples hundreds of beers, plus attend demonstration and workshops and demonstrations.
Taste of the Caribbean Festival (June 21 to 25, 2017)
From Jamaica's famous jerk chicken to the spiced Rums of Barbados and Grenada, we invite you to come and explore the islands through your taste buds! A cornucopia of Caribbean culture will come alive on Île Bonsecours.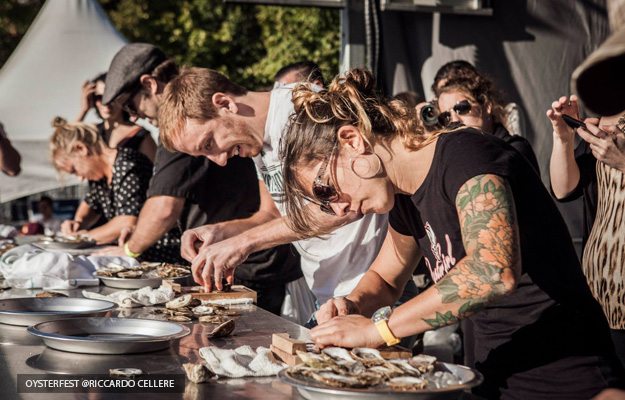 Montreal Oysterfest (August)
Created in 2009, Montreal Oysterfest continues the great worldwide tradition of celebrating food, drink, the environment and, of course…the humble Oyster
Omnivore Food Festival (August)
The Omnivore World Tour is all about discussing and demonstrating trends and innovative techniques by world-renowned chefs.
YUL EAT (September 2 to 4, 2017)
The YUL EAT Festival's goal is to bring together fans of the culinary arts and local cuisine. The festival's name reinforces the desire to highlight Montreal as a gastronomical force. Te abbreviated E.A.T.:  E stands for Experience, A stands for Appetite, T stands of Terroir
Just the tip of the iceberg
This is a short list of events. There are many more smaller food events to attend as well like Croissant Festival, Italian week, Haïti en Folie, or Matsuri Japon. And that is on top of the regular Montreal festivals like the Jazz Fest and other music festivals, Fantasia and many more film festivals, Grans Prix, Fireworks Festival…the list goes on and on.
Note: This is NOT a sponsored post. It is really something I want to share and I hope many will come visit for Montreal's 375th!