Time for another trip down travel memory lane. This time I will reminisce about the Big Apple, NYC. My favorite time was going during a Canadian long weekend at the end of May. Its is the perfect time to go because the city is pretty quiet (for NYC standards), the cherry blossoms are in bloom and it is usually warm enough to wear shorts which would not necessarily be the case at home yet. I think my last trip goes back a good 10 years, boo!
I am a metropolitan kinda gal so New York City feels like  home to me, just way bigger than my city. Although I have visited a few things (Metropolitan Museum of Art, Guggenheim Museum, Empire State Building, the list goes on), with each trip we always end up spending most of the time walking around. My first trips were exclusively in Manhattan but the last trip we explored a little bit more by visiting Brooklyn, Queens and driving (accidentally) through the Bronx. If you are looking for flights to New York, visit dialaflight.com.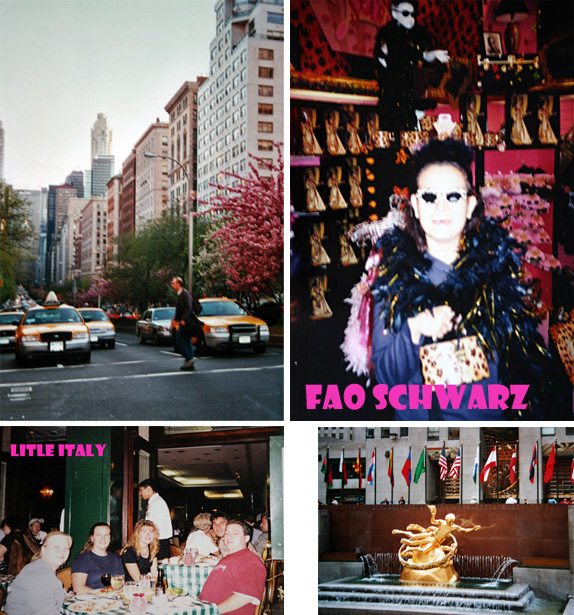 Even if all my NYC trips where in my pre foodie days, I have so many food memories attached to these trips. Let's see there was the cannoli devoured while chilling on a house stoop (like in the movies) in Brooklyn, my first street hot-dog, pasta dinners in Little Italy, awesome brunch in the Upper West side where we are sure we spotted Richard Dreyfus and the most incredible Cuban roast pork in a whole in the wall in Queens. My weirdest food experience was at a drag queen restaurant called Lips where an odd ritual was performed when it was a birthday or bridal shower. It just so happened that we were celebrating my friend's 40th and my birthday was 2 days after. I won't go into details but it involved having to go down on our knees in the middle of the restaurant lol. Cosmos were pretty new and they had a Cosmo slushy machine. After 3 we were hammered. Such a fun night!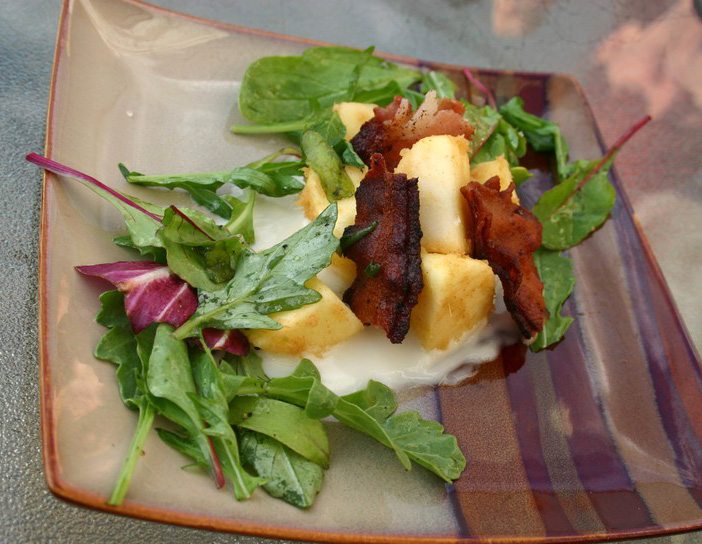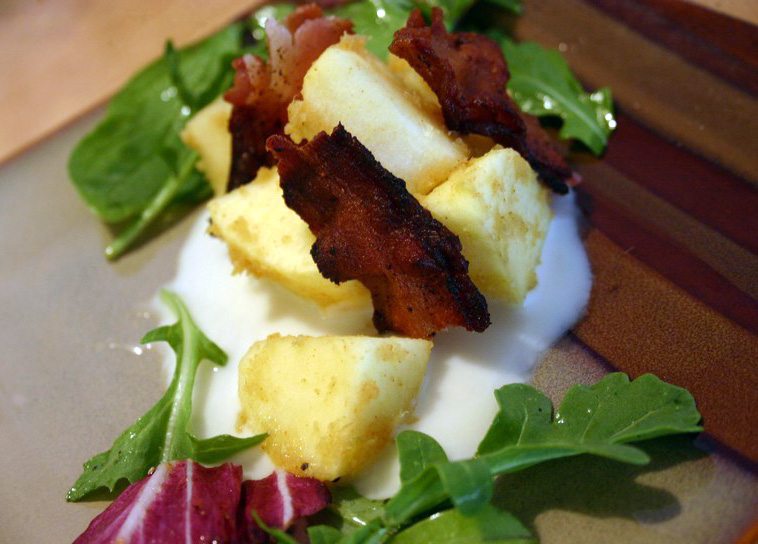 I really need to plan to go back soon. One of the first tings I would do is hit a Momofuku restaurant. I hear so much about the crazy creative chef David Chang and his restaurants. He really pushes the boundaries in his dishes. I wanted to prepare a very NYC dish at first for this post but nothing inspired me. But an unusual apple recipe by Chang yelled out my name. Apples, kimchi, maple syrup, yogurt, bacon! Sounds CRAZY right? Well it was amazing and a perfect balance of all flavors. This dish is a perfect inspiration for a future trip.
Fuji Apple Salad: Kimchi, Bacon & Maple Labneh
from the Momofuku Cookbook
4 Fuji apples, peeled (or a very crisp apple)
1/2 cup  Kimchi, pureed
1/2 cup labneh, or more to taste (or strained yoghurt or Greek yogurt)
1/4 cup maple syrup, or more to taste
1 pound sliced thick-cut bacon
1 loosely packed cup arugula (or mixed greens)
2 tablespoons olive oil
Kosher salt and freshly ground black pepper
1. Cut the apples into wedges or very large cubes: the size of the apples will dictate what works best–what you want are pieces that are one big bite or two small bites. Toss the apples in the kimchi puree. You can do this just before making the salad or up to 6 hours in advance—any longer, though, and the apples will be sublimated by the kimchi.
2. Combine the labneh and maple syrup in a small bowl and whisk together until they're married in a smooth and homogeneous mixture. It should be assertively sweet from the syrup and perceptibly tart from the labneh. Adjust if necessary, but don't play down the sweetness too much.
3. Heat the oven to 350°F. Arrange the bacon on a rimmed baking sheet and pop it into the oven. Bake for 18 minutes, or until it is browned and crisped. Transfer the meat to a plate lined with paper towels to drain.
4. Just before serving, toss the arugula with the olive oil, a large pinch of salt, and a few turns of black pepper. To serve, plop 1 to 2 tablespoons of the sweetened labneh in the middle of each plate and top with one-quarter of the kimchi apples. Stack 3 or 4 pieces of bacon over the apples and drop a handful of the dressed arugula over the bacon. Hit each plate with a couple turns of black pepper, and serve at once.
Want more creative salads? Check out: