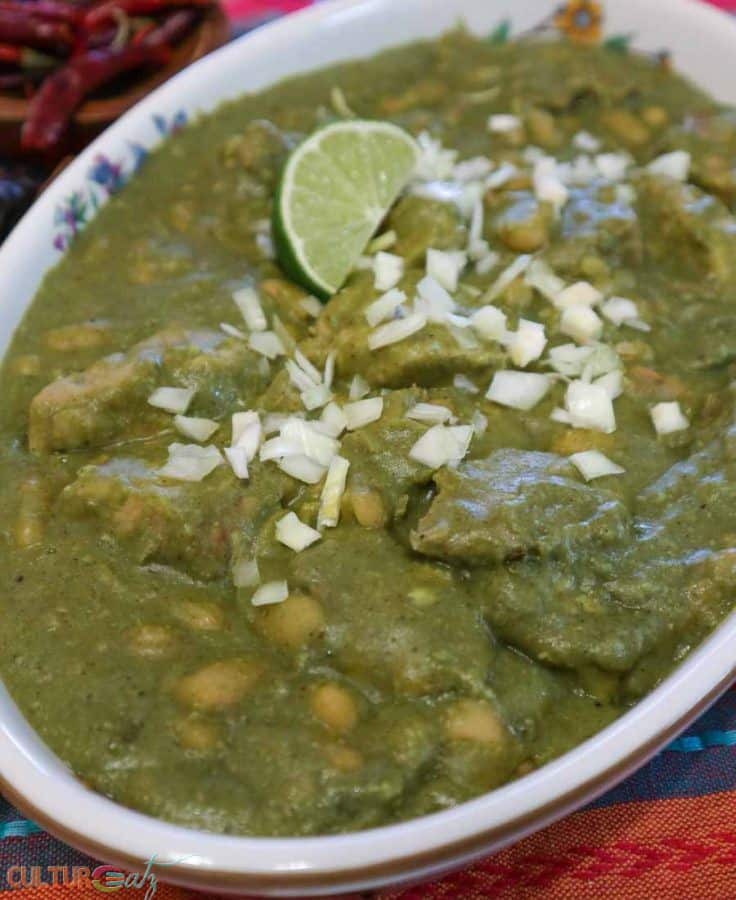 Have you tried the Mexican mole sauce called Mole Verde? Made mainly of pumpkin seeds, green chilies, and herbs, this green mole sauce pairs perfectly with poultry or pork, like this recipe complimented with white beans.
I have a confession to make about the choice of this month's Eat the World Recipe Challenge country. I shamelessly picked Mexico, the country I just traveled to this past February. Not only that, I used this challenge as an excuse to try out one of the Mexican cooking ingredients I bought while on holiday. Do I feel guilty? Heck no! And neither will you when you feast your eyes on this delicious Mexican mole sauce recipe: green mole with pork and white beans.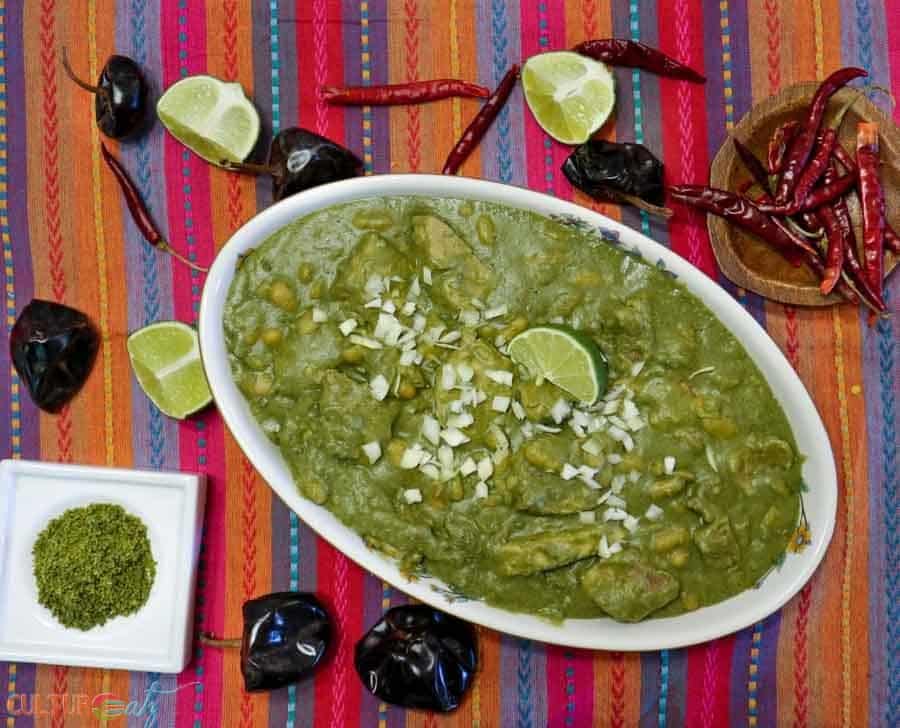 Wherever I travel to, I make sure to bring home a few local ingredients so I can try and recreate the flavors in my own kitchen. My trip to Mexico was no exception, as I brought back a variety of moles and chilies for Mexican dinner recipes.
Today we will play with the mole verde powder, or dehydrated mole, that I bought at the most massive farmer's market in Mexico City, Mercado de la Merced.
And on these trips, I always go out of my way to try unusual specialties.   You can read my diary post about my recent trip to Mexico where some crazy shit happened on this trip right here.
There was one authentic Mexican food that I really wanted to try once. And that was chapulines. They are fried grasshoppers and they are a popular snack. I'll let you watch the video below so you can see my reaction to trying a bug!!!
Mexican Mole Sauce
So if you are not familiar with mole, you are probably wondering what is mole sauce in the first place. Mole is a derived Aztec word that means sauce. Although you can find mole all over Mexico, the queen state of mole is Oaxaca. In fact, the state is nicknamed "the land of the seven moles". They are the mole negro, colorado, amarillo, verde, chichilo, coloradito, and manchmanteles.
But in reality, there are more than 40 types of mole. Each mole sauce recipe is very complex in flavor, some say layered in taste. A Mexican mole recipe often has a minimum of 30 ingredients and can take from hours to days to make. Tastes vary between spicy, sour, pungent and/or sweet.
If you are lucky enough to have tasted mole before, chances are it is the very popular chicken mole recipe called Mole Poblano which has a bit of chocolate in it. In general, mole goes well with poultry, pork, lamb, or over eggs and enchiladas.
It is an art form so not everyone knows how to make mole and it can just be easier to by prepared mole paste or dehydrated mole, like the ones I saw below in a park in the Coyoacán neighborhood.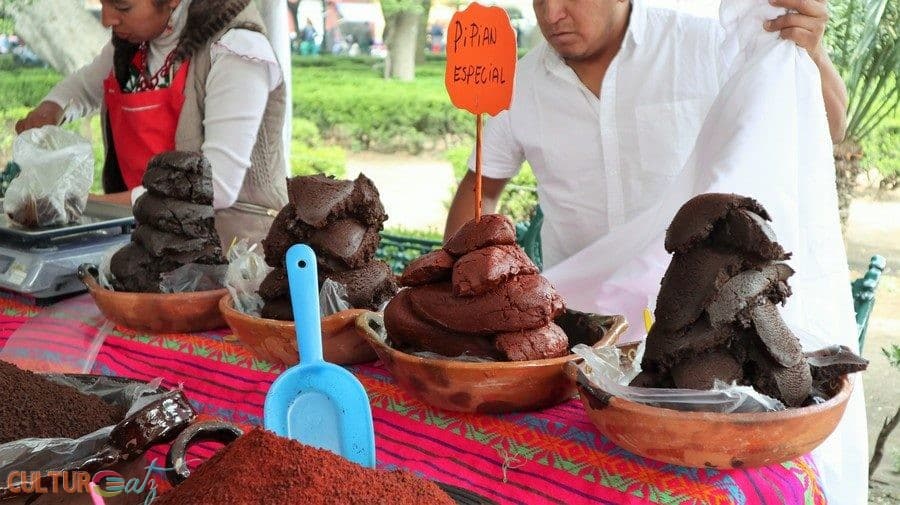 Mole Verde Sauce Recipe
Mole verde is a green sauce. It varies from one region to another, but the base is made of ground pumpkin seeds, green chile, and herbs. This explains it's gorgeous color.
The slowly fried mole verde can also have tomatillos, onion stems, radish leaves, celery, cilantro, lettuce, chard, parsley, epazote, garlic, and chicken broth in it.
You will not find the mole verde recipe in this post. I used a shortcut with a mole verde powder I bought on my trip. But I encourage you to check the full recipe to make your own mole verde here on this site where I discovered this pork and beans recipe.

How to Reconstitute Dry Mole Powder
I read on forums before my trip that if you travel carry-on and you have a plastic bag of mole paste in your luggage, there is a chance it could get confiscated at customs. I was not about to take that chance so that is when I heard of dehydrated mole, or dry mole powder.
Now, this is not a fine powder. In fact, some spice mixes are sold as mole powder. But real dehydrated dry mole will have a wet and oily granular texture. Kind of like large granular sea salt that is still humid.
So if you get your hands on real dry mole powder, this is what you should do to reconstitute it to a sauce. In a pan on medium heat, heat two tablespoons of oil. Add one cup of mole powder and stir. Do so until you just start smelling the spices in the mole. You do not want to burn it.
At this point, stir in two cups of chicken, veggie or any broth you like. Still on medium heat, keep stirring until the mole has melted and the sauce is homogenous. At first, it will clump up but just break the clumps up and eventually, it will melt. You know have you basic mole ready.
If you plan to add meat and leave it to simmer longer, chances are you will need to add more broth. In the case of this recipe, I added another two cups in total and I could have added a fifth one. Depending on the heat, the mole can thicken really fast. So have extra broth on hand.
PIN IT HERE FOR LATER!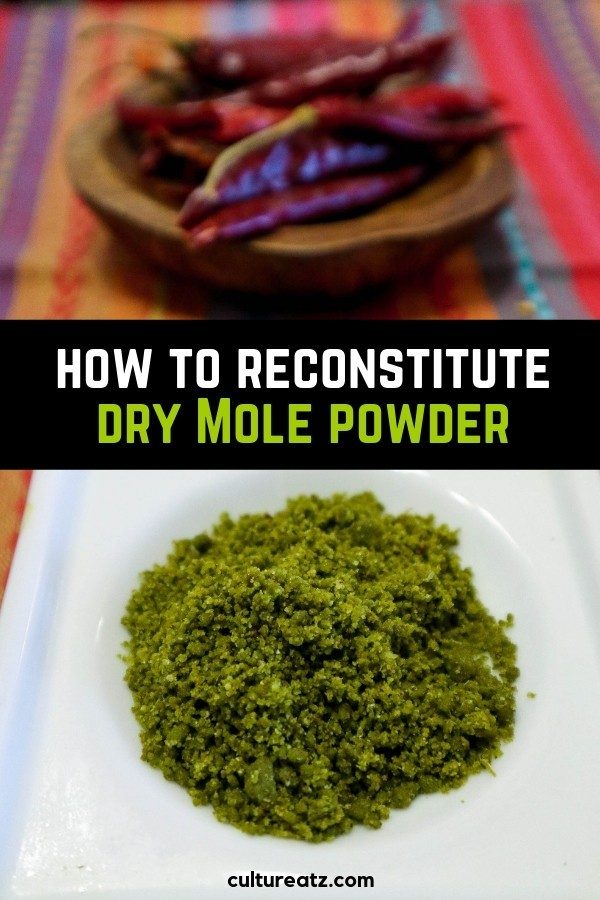 I have a FREE PRINTABLE for you
Surprise! I have prepared a Cheat Sheet that includes 41 Cooking and Baking Ingredient Substitutions that are commonly found in a kitchen. Click here to get your FREE Ingredient Substitutions Cheat Sheet right now!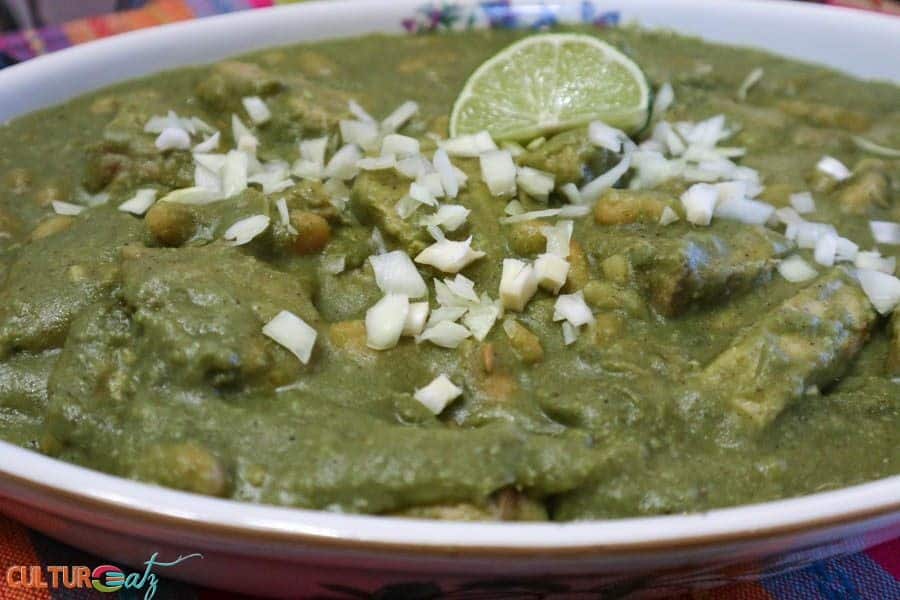 How to Keep Your Pork Cubes Fork Tender
There are so many Mexican pork recipes because it is very popular meat in Mexico. But there was one thing that worried me though about this recipe. How to make sure the pork chunks would remain tender.
My Achilles heel in the kitchen is meat. I am very good at overcooking or making meat hard as a rock. Even cubes of beef or pork. The original recipe here asked for pork rib meat and I do know one of the ways to make ribs tender is to simmer the ribs for a while before grilling them.
But would it work with chunks of pork tenderloin? I decided to give it a try and followed the recipe exactly. Not only was my meat fork tender, the flavoring ingredients really gave the meat a wonderful taste.
I recommend you do not skip this part and the trick is to keep it simmering on a very low flame.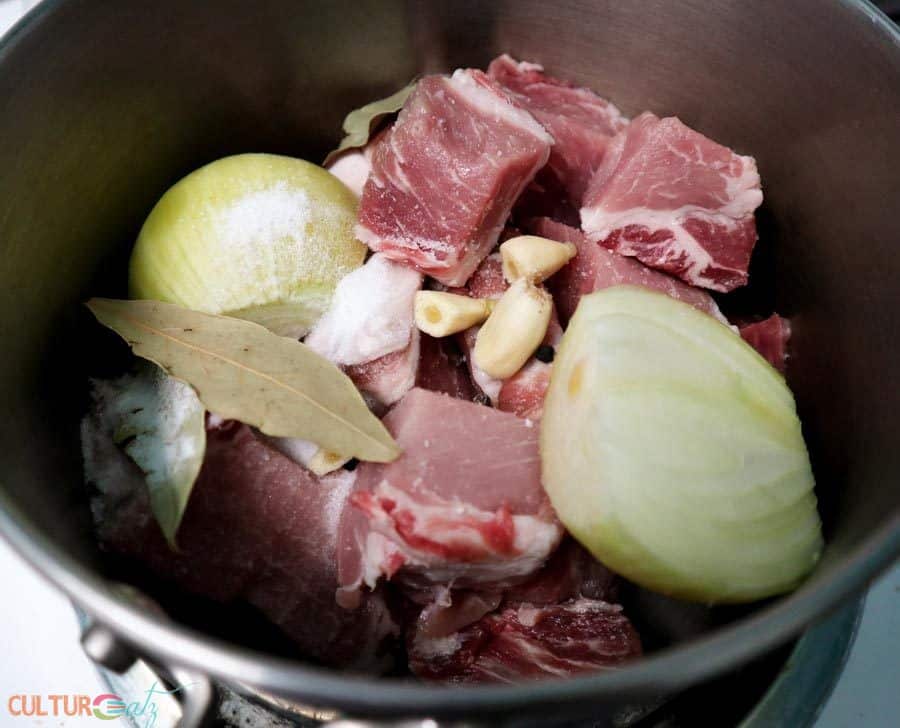 Pork with Green Mole and White Beans
If you are looking for authentic Mexican recipes, this "puerco en mole verde con frijol blanco", or pork with green mole and white beans recipe is where it's at. This is a beautiful one to serve to guests for sure as many traditional Mexican food recipes or the ones we think we know, are more street food based.
As far as other Mexican mole sauce goes, this green mole certainly does have a spicy kick to it as well. You may not expect it if you are only familiar with the sweeter Oaxacan chocolate mole. The sauce melts into the tender pieces of pork and the creaminess of the white beans completes the perfect balance on the palate.
Buen provecho!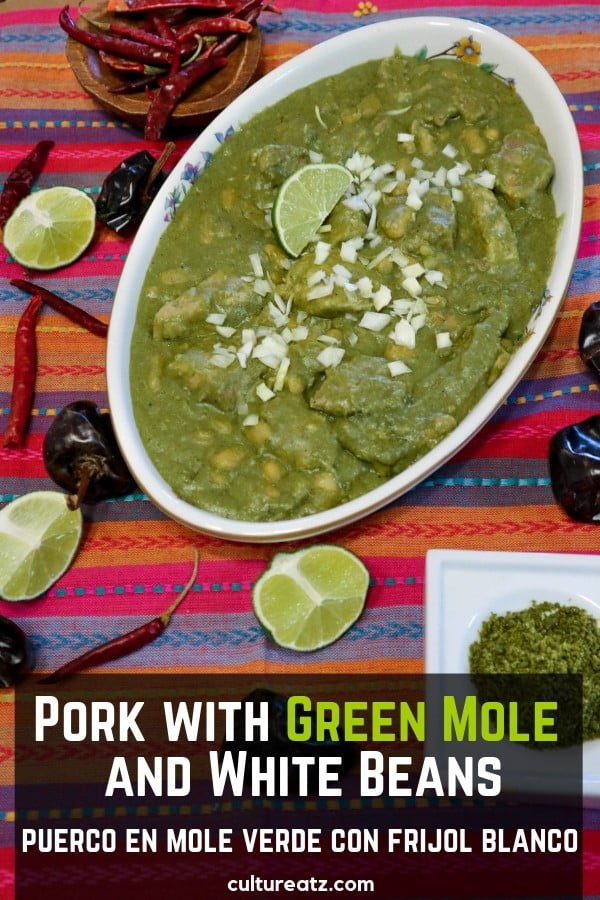 Pork with Green Mole and White Beans
Ingredients  
2

pounds

pork loin roast

cut into 2-inch chunks

3

garlic cloves

cut in half

1

onion halved

3

bay leaves

10

black peppercorns

1

tablespoon

of sea salt

2

tablespoons

vegetable oil

mole verde powder

2 to 5

cups

of stock

reserved from simmering the pork

1 to 2

cans of white beans

navy or cannellini beans, drained

To garnish: chopped white onion and quartered limes
Instructions 
To a large pot, add the pork chunks, garlic, onion, bay leaves, peppercorns, and salt. Top the meat with plenty of water. Bring to a boil over high heat, skim off the foam that forms on top. Then cover the pot and the heat to low. Simmer on low for an hour.

Strain and reserve all the pork stock as it will be used for reconstituting the mole verde powder. Throw out the garlic, onion, bay leaves, and peppercorns. Set the meat aside.

Heat the oil in a pan on medium heat and stir in the mole powder. Cook for a little bit until the mole powder becomes a bit fragrant. Slowly pour in and mix 2 cups the pork stock. It will clumps up a bit but keep stirring until the mole melts and incorporates.

Bring to a quick boil and add the reserved pork chunks and beans. If the sauce thickens too much at any time, add 1 cup of the pork stock at a time (I used 4 cups total). Reduce heat to a low simmer and continue cooking for 25 minutes.

Serve in bowls and garnish with onion and a squeeze of lime.
Eat the World Recipe Challenge
Check out all the wonderful Mexican dishes prepared by fellow Eat the World members and share with #eattheworld. Click here to find out how to join and have fun exploring a country a month in the kitchen with us!
Simply Inspired Meals: Disney Parks Copycat Churro
Palatable Pastime: Green Poblano Hot Sauce
Culinary Adventures with Camilla: Cochinita Pibil with Homemade Tortillas
Evelyne: Pork with Green Mole and White Beans
A Day in the Life on the Farm: Veggie Enchiladas
Amy's Cooking Adventures: Crispy Pork Carnitas
Margaret: Cochinita Pibil: Yucatecan Pit-Barbecued Pig you can Make in your Kitchen
Loreto & Nicoletta: Huevos Rancheros with Black Bean and Avocado
Jenni: Mexican Green Rice
PIN IT HERE FOR LATER!