Today I have a very special post for you from my very good friend Karyn who spent a lovely weekend in NYC not too long ago with her friend Sari. Karyn mentioned to me they would eat their way through a street food festival so I could not help but ask her if she would like to write a guest post as a special on location correspondent. Happily she agreed.
If you are a regular CEE reader you will remember Karyn in past posts such as when she made Dutch Baby Pancake with Peaches, she was a dinner guest during the luxurious dinner party for PFB, I picked vine leaves out of her backyard to make dolmades, she was here for the miracle fruit dropping trip and finally I did an interview about her Pastry Chef on the side career.
Without further ado, here is Karyn with a special report from NYC. Thanks and love you hun!
———————————
Every year, my friend Sari and I head to NYC for 4 days of adventure. This is the eighth year of this trip, which is based around shopping and eating. It seems that as the years advance that it's really more about the food and yet we had never ventured into the world of street food – except for Sari having a NYC hot dog in year 2, but it was nothing memorable! This year we decided that it was the year to crack the street food scene and see what NYC has to offer. My research led me to the Urban Space NYC blog about a street food festival in its second year, and wouldn't you know it, it was happening exactly when we would be in NYC! It was meant to be!
We planned on hitting the Mad. Sq. Eats festival the day we arrived in NYC, and basically were just waiting to get there and eat! It was a perfect day for an outside festival and there was a fantastic collection of restaurants participating.
We took a walk around the grounds to see what caught our fancy and decided that we should start in style at Red Hook Lobster Pound, with Lobster Macaroni. We placed our order and waited, mouths watering, as we watched our order come together. There were a few technical difficulties as the blow torch being used to melt the cheese on top ran dry during our order, but Emma, our hostess was very pleasant and it gave us a chance to explain that we were doing this blog. I took a picture of Emma and the way her arms came out, made her look kind of lobster like, don't you think?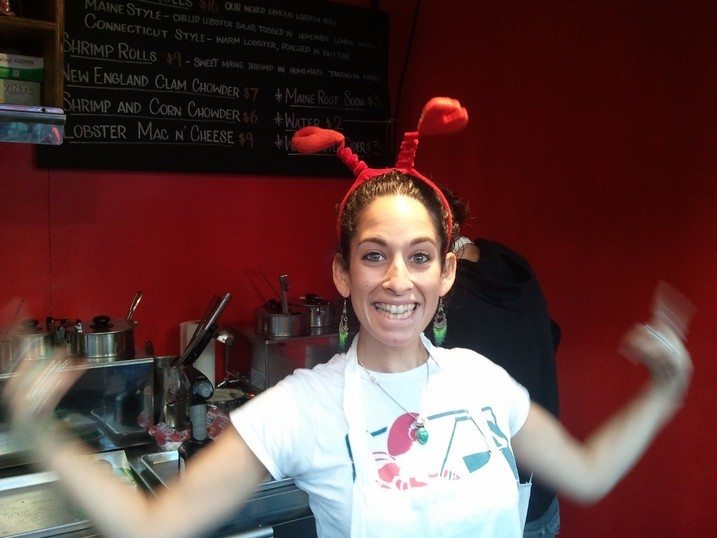 Finally, the blow torch was ready for action! It was great to watch it come together.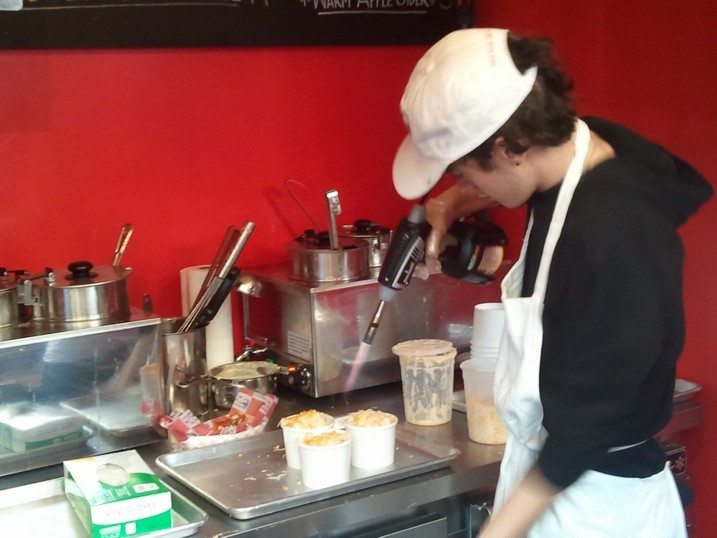 Et voila!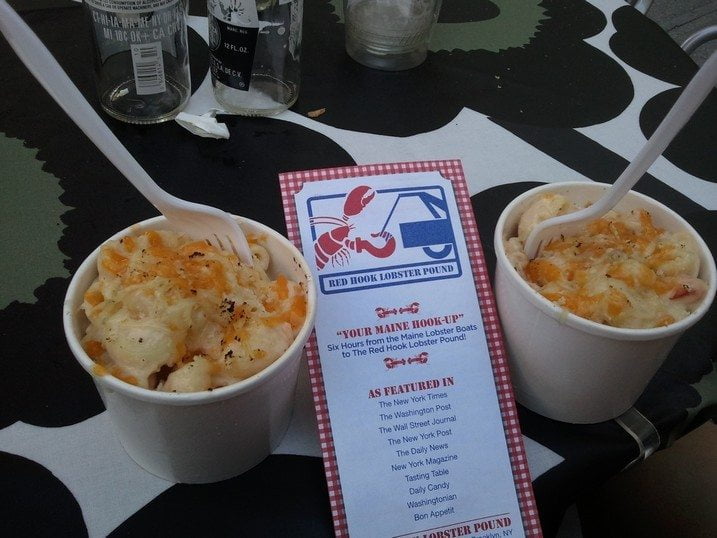 The noodles were very large macaroni noodles, the biggest we'd ever seen and WOW for 9$ we sure got our money's worth in lobster! There were quite a few large chunks and I think we each got a claw! Definitely a great start although I would have preferred the cheese sauce to be a bit warmer, but fantastic street food otherwise!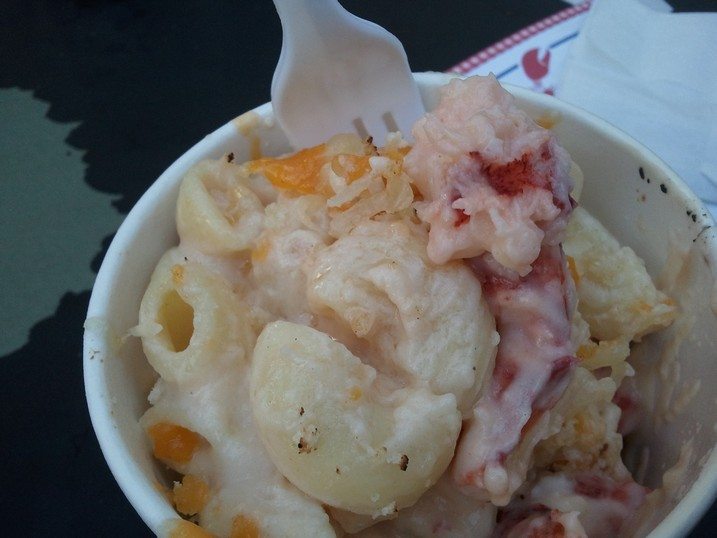 We barely paused before searching for our next victim, deciding on Fatty Snack, which I had read about. They have a restaurant in their group, the Fatty Crab, and I was very excited to try their food. We decided on one order of pork buns, which were actually two little buns overflowing with wonderfully spiced pork for $6.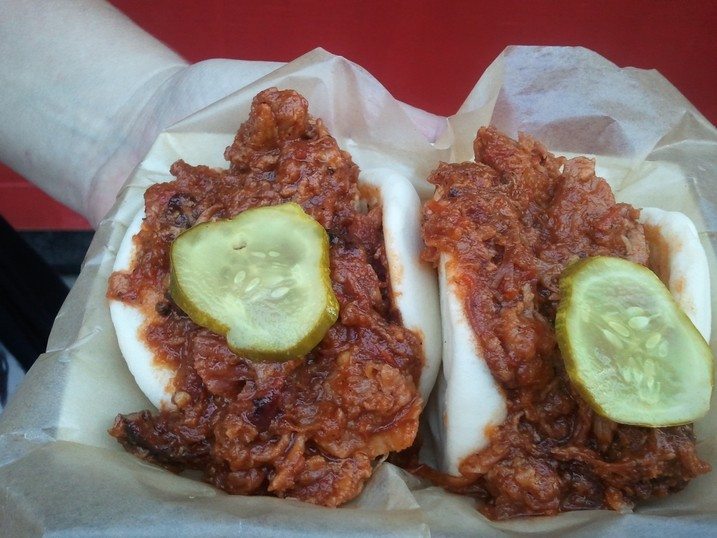 They were fantastic. I would go back for another one anytime but maybe not for a first date as it's not the most elegant thing to eat!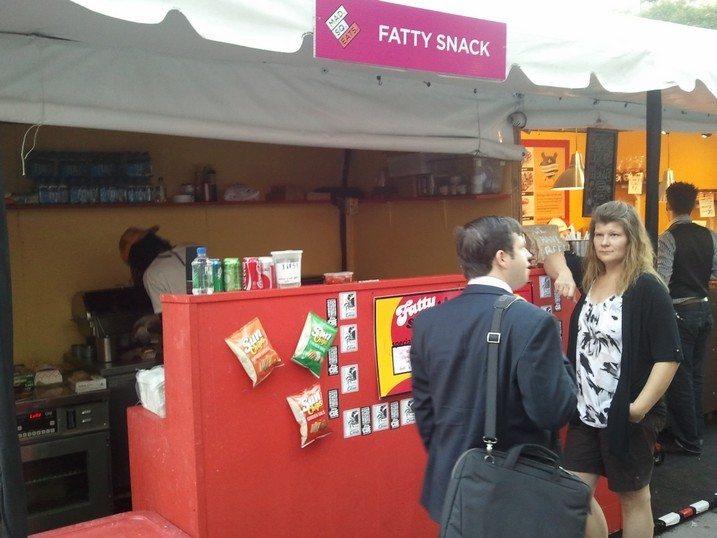 That's Sari in the pic, waiting for our buns. The man in the picture was wandering around the grounds trying to decide on what to eat and he approached Sari, asking about what to try and she gave him great feedback yet he continued to wander… I don't remember what he finally ended up with, but there was something there for every palate. He looked a little overwhelmed with all the choices.
Sari was parched after this and decided on a beer from a place whose specialty was beer and chocolate. She had a Southern Tier Pumpking. I'm not too sure if the g in Pumpking was intentional or not, but I took a pic of the sign to prove that I can spell! They also had chocolate covered bacon caramel that I really wanted to try, however they were out of it and were only receiving more the next day.
Did you think we were done? Not even close! Next on the tour was a stop at Waffles & Dinges. Of course we needed to know what a Dinge is. Well, it's a term that basically means "Things". We ordered a waffle with Spekuloos! I was SO excited when I saw they had Spekuloos and they were even selling it! I showed some restraint and didn't purchase as I would have had to carry it all day… oh yeah and I have a bottle at home.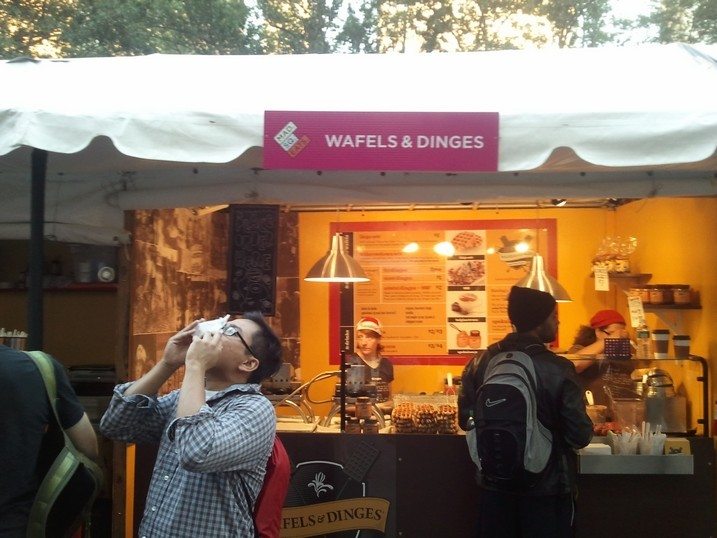 We're not sure what the guy in the pic above was eating, but boy did it look like he was enjoying it!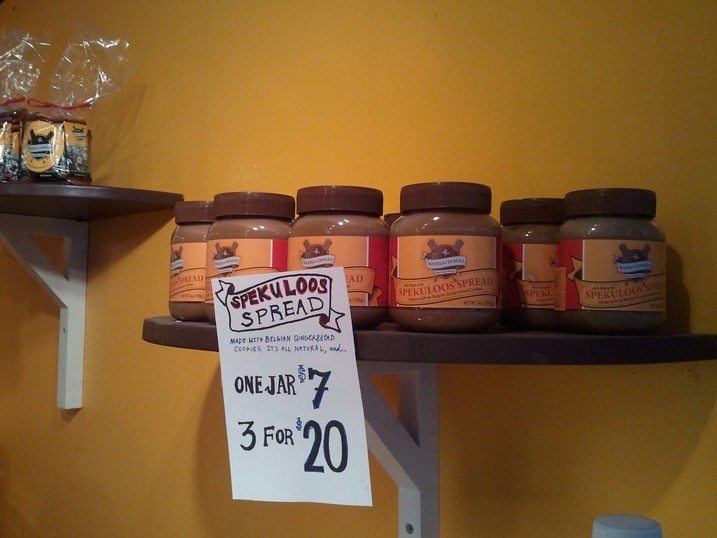 Our waffle: Spekuloos and fresh fruit, cut in two for us to share.
Ah… OK, after that was done we thought, OK, we're ready for dessert! Sari had spotted the cannoli and wanted to try it, so we did. The man working there not only guessed that we were Canadian, but Montrealers! He was an expat, having left in 1984 and could pick out our accent!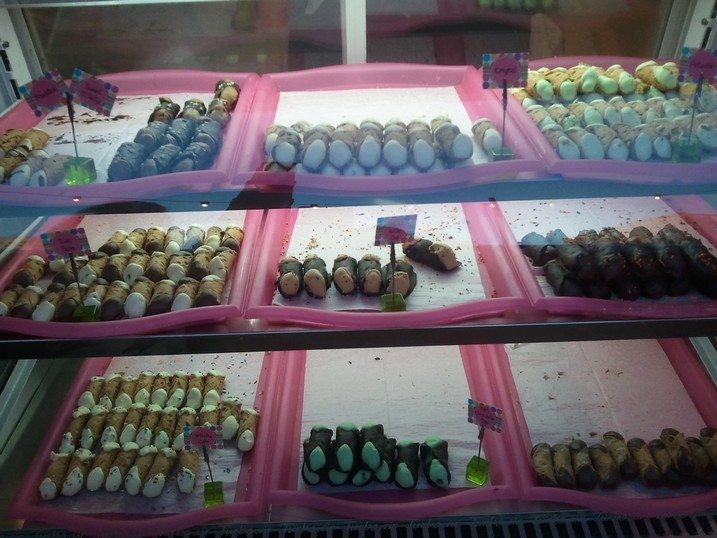 The cannolis were $5 for 3 of them and we decided on Peanut butter, Kahlua and Salted Chocolate. I am not a cannoli fan and even less of a peanut butter fan so I tried the last two only. The Peanut butter cannoli is missing from the picture below – I think Sari was just too excited to try it! I didn't care for the Kahlua one as it was very cheesy… and the Salted Chocolate tasted good but the shell was way too hard for a cannoli, but the chocolate and salt was a really nice combination.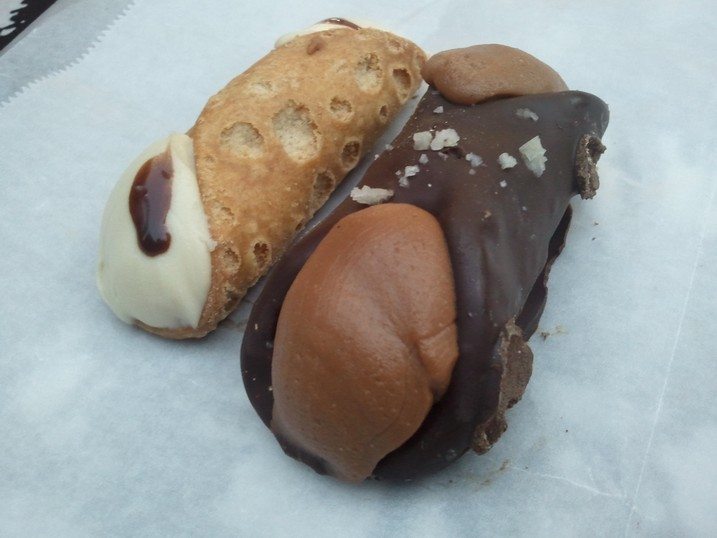 OK, after this we were stuffed! It was a great festival and intro to street food. The door to street fare has been opened and is far from being closed. The only advice I would have to someone going to a festival like this is to go with someone that you can share with so you can try more things!