I mentioned a couple of days I had two exciting evening in a row but I only gave you part of the info. Well I am revealing the first one. This is the info I gave you: Nov 12th: I was invited by a PR firm to attend a food book launch tonight that will take place in a high end cooking supplies store. I am not telling you what the book is about hi hi. I'll do a blog on that.
So what book launch did I attend? It's simply called Macaron. It was published by the owners of La Maison du Macaron, Gaëlle anf Johan Crop. Sorry if the pics are a bit fuzzy, only had my cell phone camera.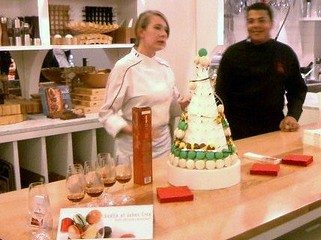 As you'll remember this summer I interviewed the owners and had a private tasting. Then later I included their store in the 2009 annual sugar event.
So I guess I was on the good list with them when their PR agency sent out the invites for their book launch. It took place at the gorgeous Les Touilleurs kitchen store on Laurier West. I was very excited as this was my fist book launch ever! I was also very intimidated because I knew no one there and expected a really snobby environment. Snobby it was not really but I did just smile and plot myself in front of groups of people and introduced myself. So I had a good time and met a few interesting folks, maybe even a few contacts. The evening consisted of chatting and snacking on two Macaron trees and drinking a maple syrup desert wine called L'Ambroisie, and of course a cooking demo by the Crop couple.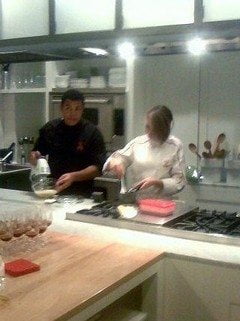 The book is a beautiful work of art with gorgeous pictures, about 60 recipes and tips. It is the first Quebecois Macaron cookbook and it was published by Modus Vivendi. The book even has a section dedicated to Quebec inspired recipes such as blueberry, cranberries, pumpkin and maple syrup.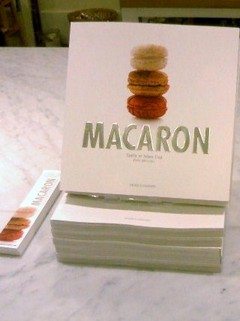 I hope to get my hand on a copy soon to give you a full review. The book will be on sale everywhere starting November 19th 2009.