I was so curious when Mathilde from Bordeaux said: I just mailed your 'little' package. Why was little in quotations lol. And then it arrived. A huge and heavy box, very noisy when you shook it a bit around. I was both excited and panicked hoping nothing was broken.
I got home and got the scissors. Inside I found all glass jars except for one tin can hidden amongst some minimal paper shredding. No broken glass anywhere. Only thing was 1 lid fell off but the content of the jar was intact. It truly was a MIRACLE nothing broke. And what a package it was, a foodie miracle in itself…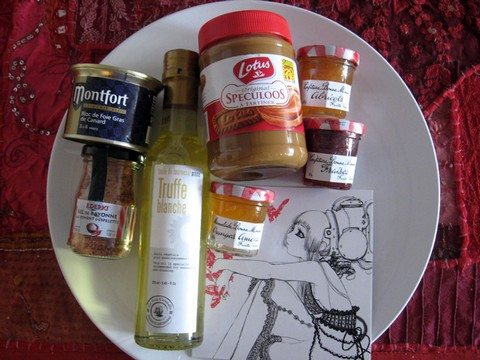 First of Mathilde sent a foie gras, a duck liver paté…highly praised stuff. Cannot wait to have this once I pick an appropriate wine to enjoy with, a Sauternes perhaps.
Next is a completely new discovery for me: Speculoos spread. OK so from my research speculaas is actually a spice (cinnamon, nutmeg, cloves, ginger, cardamom and white pepper) biscuit traditionally baked on St Nicholas' Eve. The Lotus company made a spreadable version. I imagine Nutella but its a spice cookie spread instead. A-DDIC-TIVE, omg!
Next up in the package was a bottle of sunflower oil flavored with white truffle, a very healthy oil, and a jar of Bayonne salt mixed with Espelette pepper. The classic French chili pepper mixed into a high quality salt fro the bassin of Adour.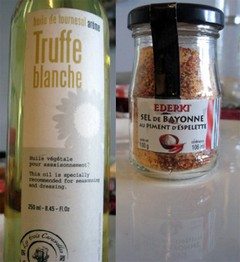 And finally a classic French jam, 3 small pots for variety: bitter oranges, strawberry and apricot.
Thank you so much Mathilde for an amazing exchange. Would you like to do such an exchange with a fellow foodie? Then join us on the Foodie Exchange right now. We are a group for foodies from around the planet who wish to exchange their local food specialties as a care package with other foodies.