Very very late and overdue, I bring you a pic essay of my ONE traditional North Carolina meal I got to eat while in raleigh NC about a month ago.
We had diner at a restaurant called Lucky 32. now technically its classified as Southern food, not NC food, but they did have plenty of local fare on the menu. There are barely any local restaurants there, the other option being Mama Dips. Mama Dips is quite a story:
"Mama Dip's first job was as a family cook in Chapel Hill. She then moved on to work at Carolina Coffee Shop, Kappa Sigma fraternity and St. Andrews Hall. In 1957 she worked with her mother-in-law in a tiny take-out restaurant where she began to hone her business skills. On a Sunday in November 1976 Mama Dip opened her own restaurant with $64, $40 dollars went toward food and $24 was used to make change. The morning's take was used to fund the lunch meal and lunch to fund the dinner. At the end of the day Mama Dip took home $135, and the rest is history".
But I digress, back to Lucky 32. A big effort was placed on the decor. It's somewhere between fancy and comfy, not pretentious at all but classy. Service was excellent. As you recall the staff bent over backwards to get me this notorious non existent Cherry Bounce cocktail. The food was good. Its not fancy or foodie worthy. It was good. here are some pics of the dishes we had: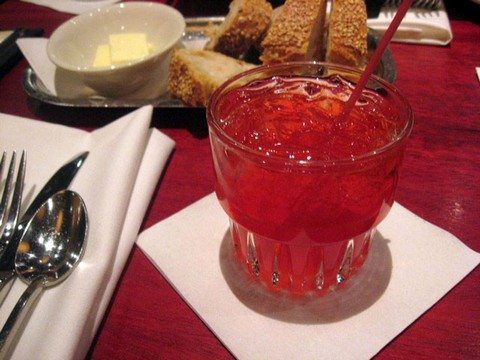 The Cherry Bounce, sort of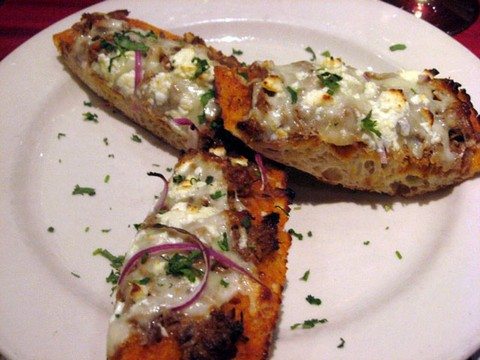 Voodoo Pig bread with traditional pulled pork
Now I have had several conversations with my dinner partner where he claims what we call BBQ is not what they call BBQ. So I asked him what is his BBQ in NC. He said its got to have sauce, sauce must be vinegar based  and its got to be all pork, preferably pulled apart after cooking. Apparently he says we grill, not BBQ…pfft! lol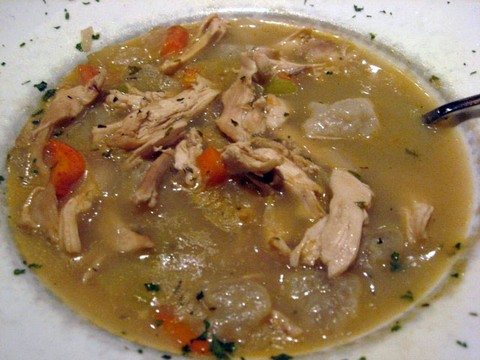 Chicken and Dumpling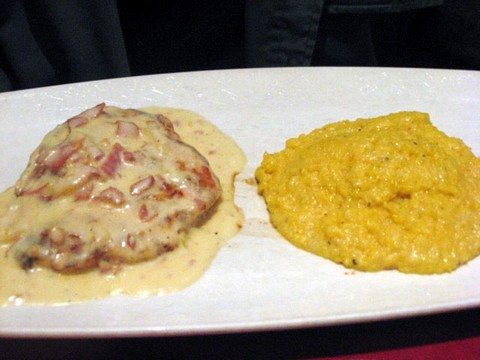 Chicken something ??? but the important thing is the fancy cheese grits on the right!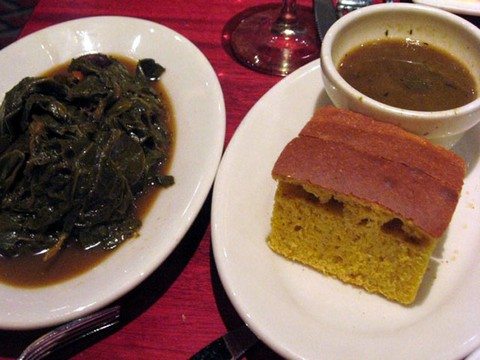 Side dishes: collard greens and cornbread with Pot Liquor
What is Pot Liquor you ask? It's the liquid that is left behind after boiling vegetable greens and meat. My dinner partner told me as a kid this stuff was usually thrown out in the woods behind their house and no one would EVER consider ordering it, he found it funny to see that on the menu.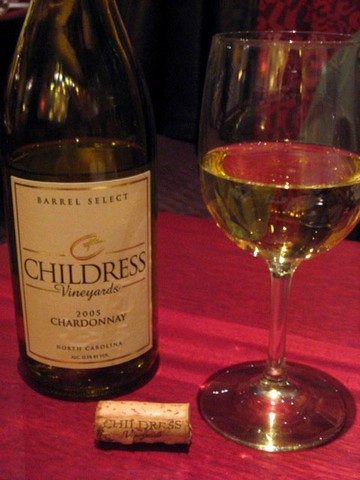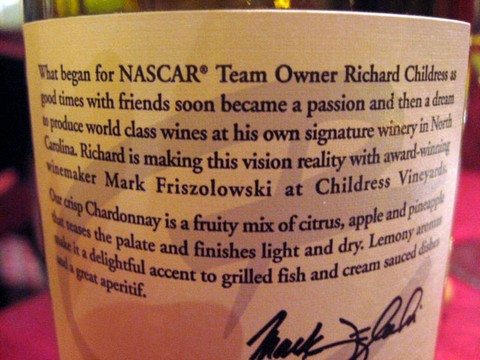 I also ordered a local wine which was pretty good actually. better then I had expected. but I almost fell of my chair when I saw the 4th word on the back label:…yep, NASCAR! Dorothy you are so not in Kansas anymore!
Although I had only one traditional meal I did discover an absolutely fabulous  kitchen store called A Southern Season, located in Chapel Hill.  They sell everything imaginable that is kitchen related: all appliances, all cook books, and table settings and all the specialty food you can want. I mean rows and rows of BBQ sauces and marinades, local peanuts, jams, candies, cookies, international products, gift baskets, cheeses, cold cuts, teas, coffees, bakery. I am talking 20 to 30 huge rows. Foodies could spend 3-4 hours in there easy….my companion was not that patient to give me hours lol.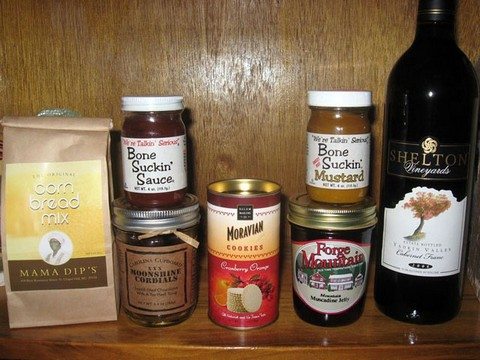 So I got to buy my own Foodie Exchange package he he.
Unusual (to me) salts and spices I got!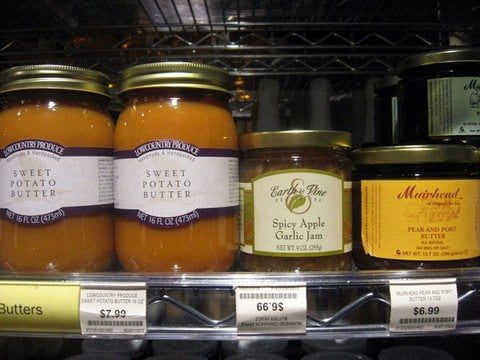 I did not buy these but was so intrigued I have to find out about making some:
Sweet Potato Butter, Spicy Apple Garlic Butter, and Pear and Port Butter.
_______________
Wow, what a huge post. Are you hungry yet?