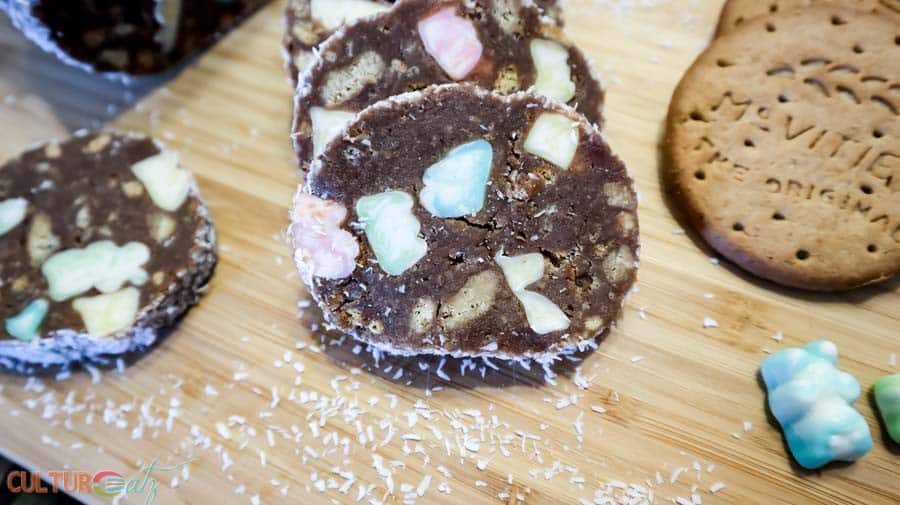 The colorful and sweet Lolly cake recipe is another New Zealand endemic wonder. Slices of the biscuit and condensed milk log reveal colorful hidden marshmallow treats.
No one seems to really know what the origins of the popular Lolly cake recipe truly is. But one thing for sure, it is one of the most popular treats to be found in New Zealand bakeries, kids lunch boxes, and in the top New Zealand food recipes for school fairs.
Since we have been in a record-breaking heatwave in Montreal, I was not turning an oven on. So this was the perfect recipe for this month's Eat the World challenge, New Zealand edition. And it is nice to be able to add to my Oceania section on the blog, as I had only an Australian Pavlova recipe. But this is my first New Zealand entry inspired by this recipe here.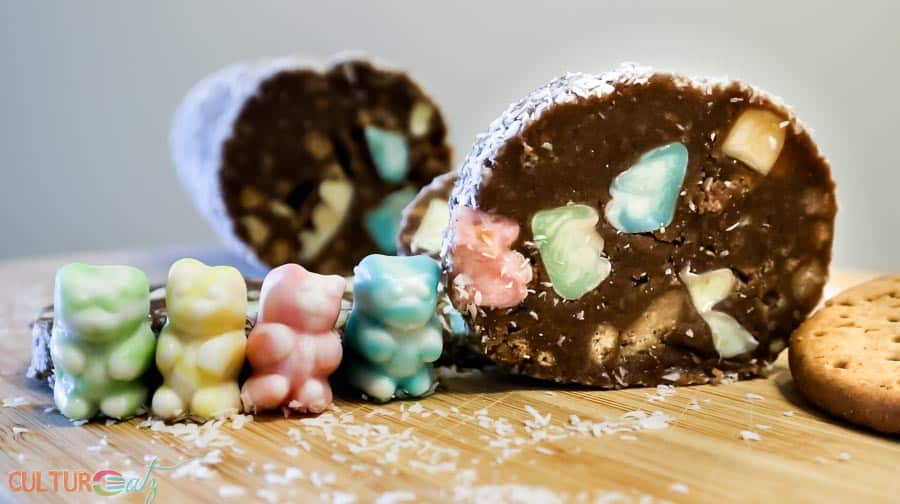 New Zealand, home of the kiwi?
New Zealand is made up of two main islands, North and South Island, and many smaller ones in the South Pacific Ocean. It is located 1,600km south-east of Australia. The capital of the country is Wellington, not Auckland as most would expect. Being a former British colony, the population is mainly of European descent but with an important indigenous Māori minority and other more recent immigrants.
These islands are home to stunning national parks filled with jagged mountains, pristine lakes, steep fiords, magnificent glaciers, raging rivers, and volcanoes. Many adrenaline infused activities can be practiced here for thrill seekers. Besides a handful of metropolitan cities, you will find loads of rural areas and other out-of-the-way gems.
There are hundreds of endemic creatures and plants unique to New Zealand, most are endangered. The most famous one being the kiwi bird: the national bird and symbol. We are not talking about the fruit here! The kiwifruit is actually originally from China but was brought to NZ in the 20 century, making it the first commercial planting.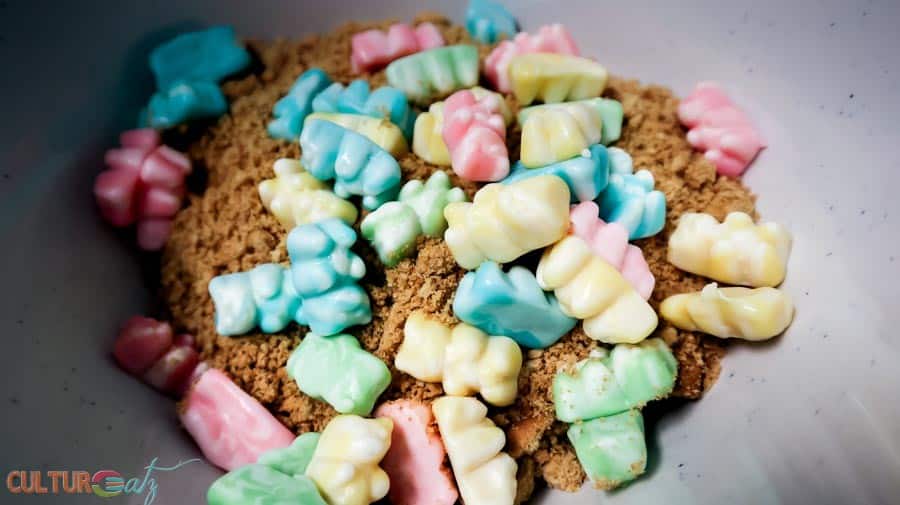 Did you get your FREE PRINTABLE yet?
Surprise! I have prepared a Cheat Sheet that includes 41 Cooking and Baking Ingredient Substitutions that are commonly found in a kitchen. Click here to get your FREE Ingredient Substitutions Cheat Sheet right now!

What is the New Zealand food culture?
True to its British colonial past, New Zealand traditional food is very similar to the traditional British cuisine. But a few creative New Zealand dishes did see light, such as the New Zealand recipes:
roasted kumara, a New Zealand sweet potato, is a typical food of New Zealand.
the meringue-based Pavlova dessert (Australia lays claim to it too).
ANZAC biscuits, also Australian, these biscuits were made for and by ANZAC troops during the First World War.
Flaky pastry savory pies, again challenged by the Aussies.
A New Zealand famous food is Whitebait fried patties,  made of a translucent sprat or fingerling of native freshwater fish species.
Hangi, a New Zealand Maori food made of meat, vegetables and sometimes puddings, cooked in an earth oven.
Local seafood, such as crayfish,  paua, toheroa, and green mussels are considered some of New Zealand's best food.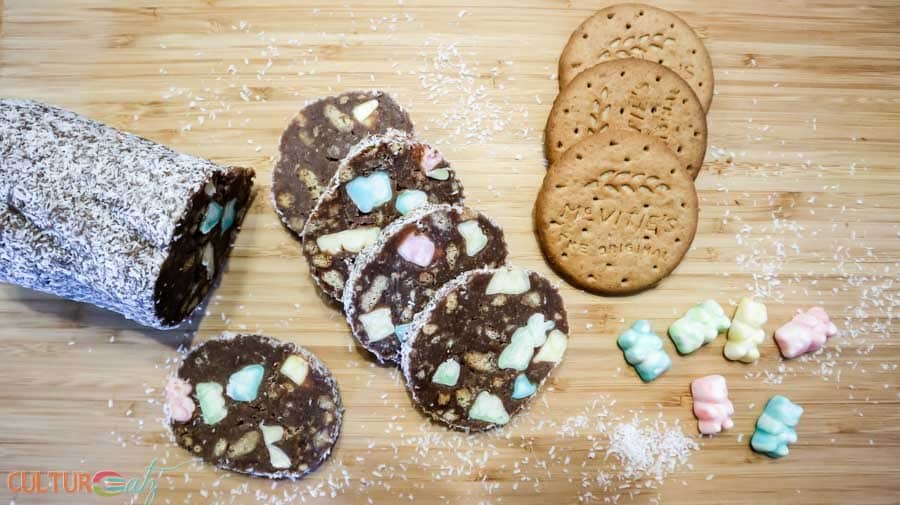 A sweet lolly cake recipe
And then we have the NZ lolly cake recipe. Also known as a lolly log cake, the lolly log recipe is a New Zealand cake or confectionery. There are very few New Zealand cake recipes and this is an original one for sure. No one knows who came up with the lolly cake recipe of New Zealand but the recipe started appearing in the 1940s in homes, and in the 1960s in grocery stores.
First, let's discuss these "lollies". In most English countries, lollies refer to lollipops. But in Australia and New Zealand, lollies are sweets made from sugar, or high in sugar content. In other words, candy! But traditionally Eskimo lollies, fruit marshmallows, are used.
This recipe consists of chopped lollies that are added to a shapable mixture of crushed malt biscuits, butter, and sweetened condensed milk. It is then usually shaped into a log and rolled in shredded coconut. This no-bake dessert is then refrigerated until set and sliced.
No malt cookies could be found, I used regular digestive cookies with a touch of cocoa powder. And the Eskimo lollies where substituted with similar colored gummy bears.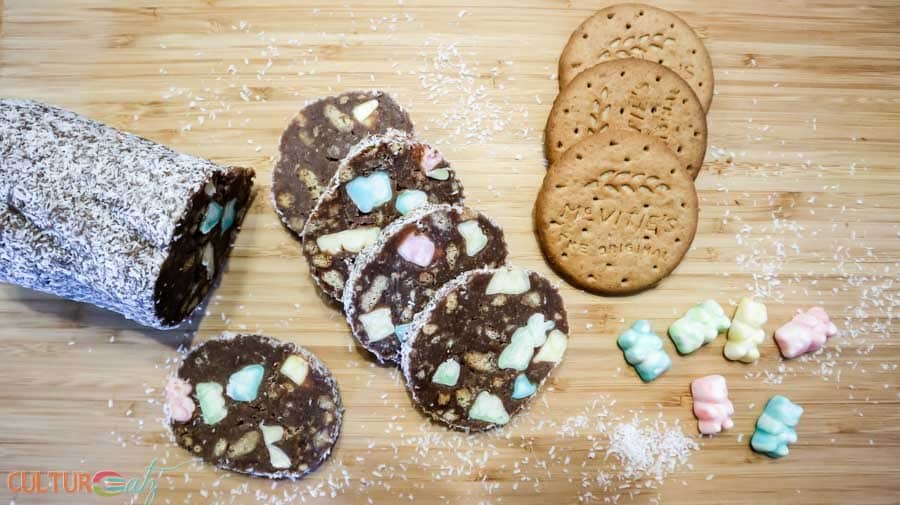 New Zealand Lolly Cake
The colorful and sweet Lolly cake recipe is another New Zealand endemic wonder. Slices of the biscuit and condensed milk log reveal colorful hidden marshmallow treats.
Ingredients  
120

g

butter

room temperature

200

g

1/2 can sweetended condensed milk

250

g

malt biscuits

or digestive + 2 tbsp cocoa powder

180

g

Eskimos

Fruit Puffs, Marshmallows or Banana lollies

100

g

shredded coconut
Instructions 
Place the biscuits in a zip-lock bag and crush with your hands. Place in a bowl.

Cut your lollies in half if they are big. Mix in with the crushed biscuits.

Cube and place the butter in a dish with the condensed milk. Warm in the microwave for 30 seconds. The butter does not need to melt, just be warmed a bit.

Add the butter and condensed milk to biscuits, and mix well. If the mixture does not hold a shape, place in the fridge for a bit till you can shape the mixture.

Roll into a log shape, about 5 cm (2 inches) in diameter.

Roll in the coconut until the log is completely covered.

Wrap the log in a plastic film and place in the refrigerator until hardened, at least 4 hours.

Slice the log into individual servings. Keep refrigerated.
Eat the World recipe challenge
Check out all the wonderful Swedish dishes prepared by fellow Eat the World members and share with #eattheworld. Click here to find out how to join and have fun exploring a country a month in the kitchen with us!
Evelyne: New Zealand Lolly Cake
Juli: Hokey Pokey Ice Cream
Camilla: Baked Fish Fritters + Wild Sauvignon
Amy: Kiwi Burger
Wendy: Kiwi Pavlova
Heather: Kiwi-Strawberry Trifle
Margaret: Classic Pavlova – lightened up
PIN IT FOR LATER! https://www.pinterest.ca/pin/266275396703769970