How does a tender pumpkin cake rolled up with a cream cheese frosting sound?  Just simply delicious when you use Libby's pumpkin roll classic recipe.
I am so very excited to share this post and recipe with you all today. I have been in cahoots with my dear friend Faith from An Edible Mosaic. We have been in cahoots for a while actually…more on that later. We challenged one another with making a traditional holiday dessert from our respective countries, Canada and the United States. Faith assigned me the famous Libby's pumpkin roll which I had never heard of. Keeping on reading to find out what recipe I sent here to make.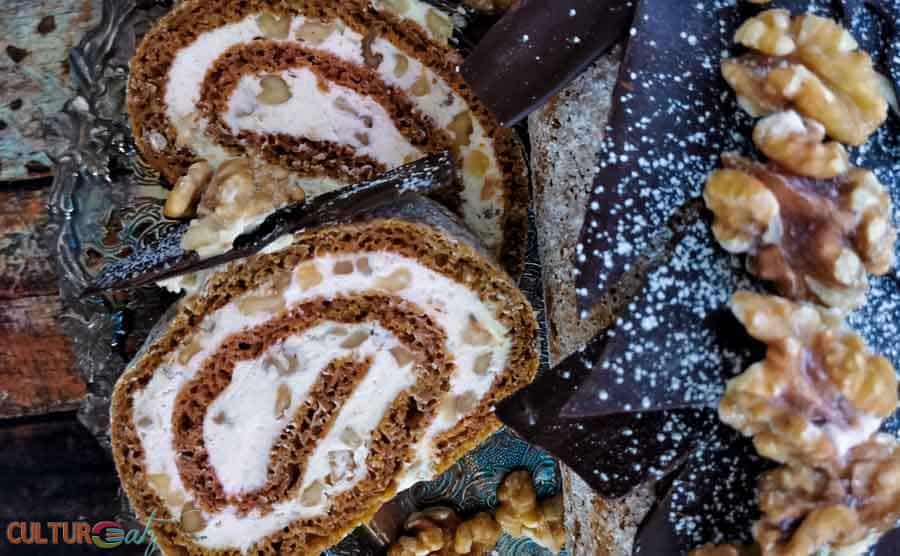 Coming up with unique traditional desserts for Canada and the United States was actually a challenge. Sharing such a long border and being relatively new countries compared to the rest of the world, it was slim pickings as our holiday treats are so similar. In the end, without knowing it, we both picked a swissroll cake to make, just each with our respective countries' twists. Here was my challenge.
Libby's pumpkin roll
I have made a few cake rolls in my day and a pumpkin roll seems so apt for the Holiday season. It's great for all your November to January celebrations. Clearly, Libby's did not invent the recipe but they are responsible for popularizing Libby's pumpkin roll recipe in a way to promote their canned pumpkin puree. If there were a museum of now super popular recipes found on a can's or bag's packaging, Libby's pumpkin roll recipe would be right up there in the hall of fame in the US.
I really enjoyed this log cake very much. Pumpkin really keeps baking batters moist. We do not have Libby's in Canada so I used our equivalent. The recipe was very easy to make. I did make one mistake. I should have sprinkled the chopped walnuts on the cake before baking. Since it slipped my mind I added the nuts to the frosting. In my opinion, it was a very delicious mistake.
The Libby's pumpkin roll recipe calls for only a sprinkling of icing sugar for decoration. My vision was a big grander so I glued on with some extra icing chocolate shards and walnuts. Just melt chocolate and spread it evenly on a parchment covered cookie sheet, let harden in the freezer, and break into pieces with your hands.
I have a list of tips for you if you are fearful of making a cake roll below. Follow the steps for a successfully made roll cake. But before let me tell you about Faith and what I challenged her to bake.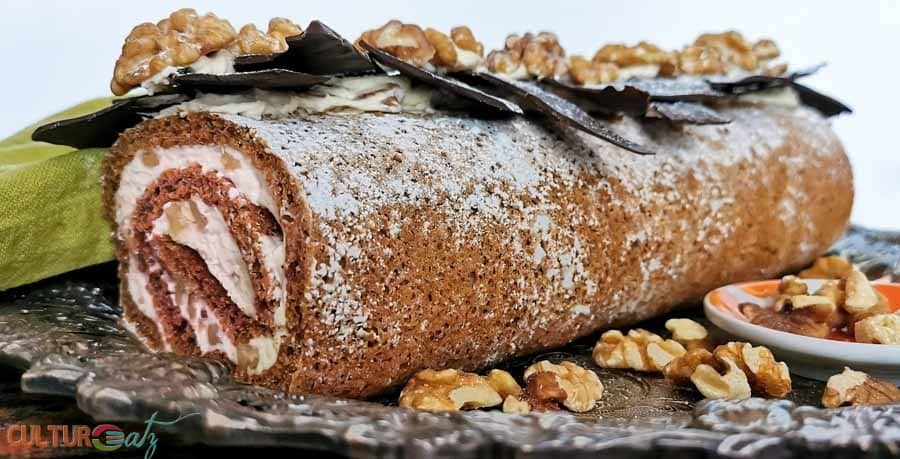 For Faith, a Gingerbread cake roll
Faith and I both share a passion for blogging, eating, and cooking. One of the ways we stay close during the pandemic is by cooking or baking together via Zoom. This is how we got the idea for this Holiday dessert challenge which we prepped and baked our respective recipes while catching on by video.
I challenged her to make a French Bûche de Noël or a Christmas Yule log. The origins of the bûche the Noël comes from France and was brought over to Quebec almost 400 years ago. It's a cake roll, usually made with a chocolate base, which is then decorated to look like a wood log. It can also be a gingerbread cake.
Make sure to head over to her blog to get the recipe for her Gingerbread cake roll.
A friendship 10 years in the making
Funny enough, Faith and I both started our blogs at about the same time, which would be around 14 years ago. In the blogging world, this qualifies us as dinosaurs. And I am not even kidding. You have absolutely no idea how much has changed in the blogging world. There were no such things as 'influencers', SEO, and getting a free 50$ product for a sponsored post brought so much excitement. You built online connections with fellow bloggers and we all wanted to support one another. It was a simpler and happier blogging time.
Quite a bit of fellow bloggers from that era are still around. I have met some at conferences or keep in touch occasionally with the "old gang". But nothing compares to the story of how Faith and I became real actual friends which I feel truly blessed for.
Our paths first crossed about 10 years ago, probably through a monthly cooking challenge. At the time she mostly made Middle Eastern recipes so we instantly bonded over international food. But it remained in the form of comments on our blogs. When she published her first book An Edible Mosaic: Middle Eastern Fare with Extraordinary Flair, I was one of the lucky few who got an advanced copy.
We became Facebook friends at one point and occasionally commented on our wall posts and on Instagram. Fasttrack 10 years and in December 2019 I reached out to her for some advice. We scheduled an actual call. We finally had a conversation for the very first time ever. it was a very fun call and she invited me to come to stay with her in Florida for a few days. I thought she was being polite.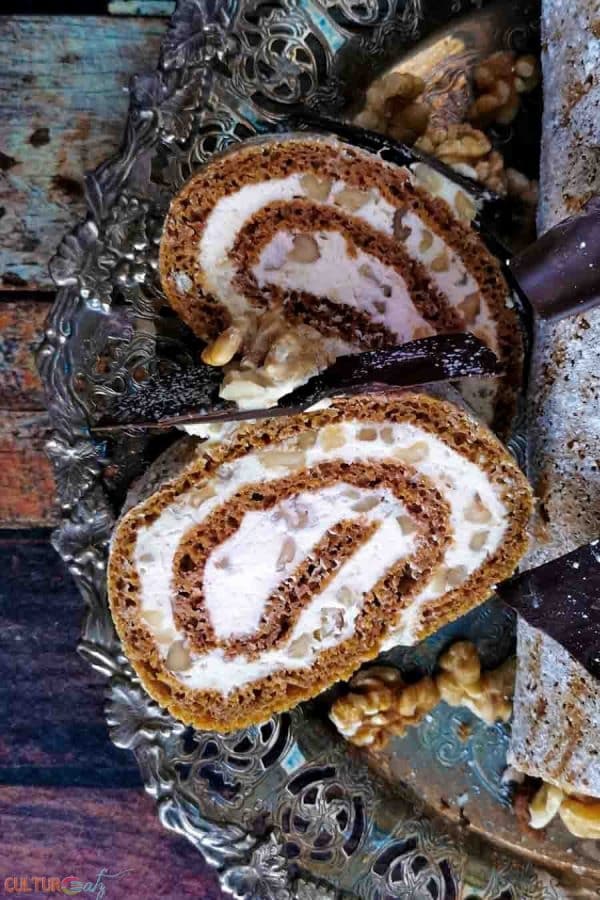 Virtuality Becomes Reality
But no, she was serious, I was regularly being asked when I would go visit. And I am the kind of person that if you offer me something, I just might take you upon it. So on March 10th, 2020, I embarked on a plane for a 3 week-long vacation, starting off with 5 days at her home. Yes, we technically agreed to spend 5 days together in person without have ever met and maybe 2 phone calls at that point.
And we spent a lovely 3 and a half days together because that is when the WHO announced the world covid-19 pandemic. So our time together was cut short as I got back home as soon as possible, early on March 15th. And ever since then we have to get in close touch with each other.
We have regular Zoom chats, we are in the process of watching a Netflix series together, and we have cooked together live on Zoom. As much fun as we had while I was visiting Faith, it was a bit internally jarring to discover everything for the first time about my long time online friend. And it really solidified the base of our friendship. With all our messages and video chat, we became very open to showing our true selves and we got to know each other much more after I got back home.
Faith is such a beautiful, positive, caring, and sweet soul, I can no longer imagine my life without her in it anymore. Love you so much, my friend. And we cannot wait to be able to travel again for a visit.
I feel like a humble cook compared to her. Follow her on her social media to see her gorgeous creations: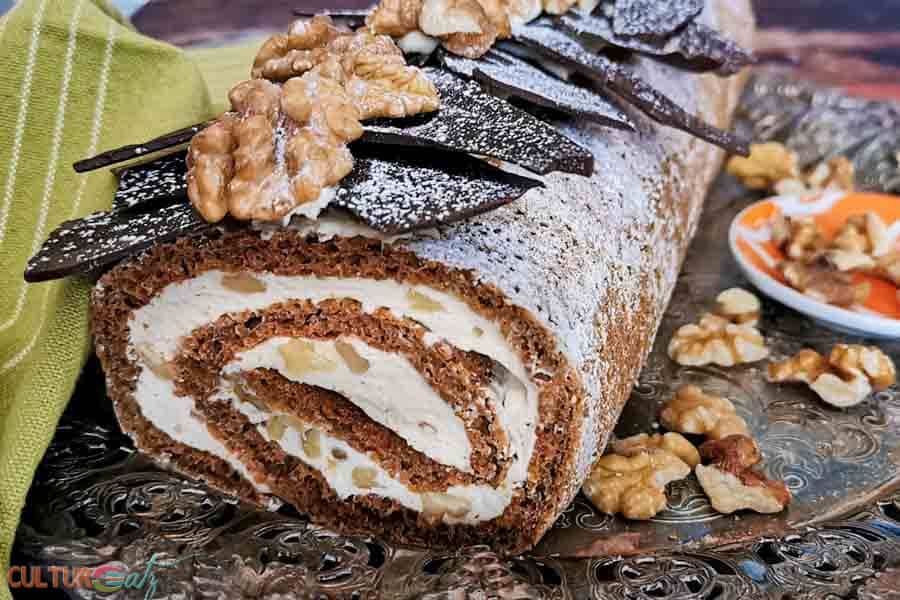 No-Fail Cake Roll Tips
I know lots of home bakers stay away from making a cake roll recipe because it sounds overwhelming and you can read lots of failure recipe online. In reality, it is a very easy recipe to make as long as you follow a few very specific bt easy instructions.
I don't own a Jelly Roll pan so I cannot make this cake?
I don't own such a pan either, I just use my cookie sheet. They are practically the same size. All you have to make sure of is that your sheet has raised sides so the batter cannot spill over the edges.
How do I prepare my sheet pan for baking?
All you need is a roll of parchment which is available in all grocery stores. Start by greasing your pan with butter or oil and lay a slightly bigger piece of parchment paper in the pan. The greased pan will hold the paper in place.
What should the batter look like in the pan before baking?
Simply pour the batter in and spread it evenly all the way to the sides and corners by using a small offset spatula. This will help to ensure that the batter is even and it will remove trapped air bubbles.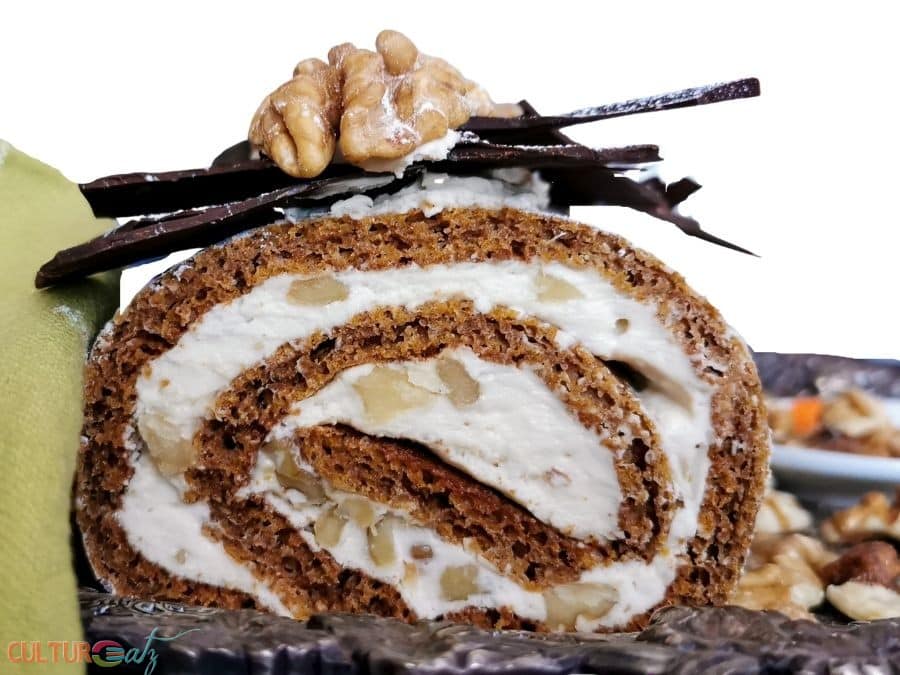 How to I roll my cake without it breaking?
Make sure you have a clean linen kitchen towel ready. As soon as the cake comes out of the oven, sprinkled with a fine layer of icing sugar, place your towel over the cake, and top with a large cooling rack. With oven mitts on, flip the pan and the cooling rack so that your cake will end up on the tea towel. Remove the pan and peel away the bottom parchment. Gently roll the cake tightly with your towel.
Why do you need to be quick? When the cake is straight out of the oven it is quite malleable. The goal is to get it rolled before the cake starts to cool off. Sprinkling the sugar powder will help prevent the cake from sticking to your towel. And rolling the cake with the towel will help the cake not to stick to itself and it will absorb the humidity in the cake while it is cooling. This is THE TRICK to make sure the cake does not crack.
NOTE: Depending on your kitchen towel it is possible that fibers for the towel get stuck to the cake. If your towel has loose fibers when you look at its surface, I recommend you substitute the towel for a piece of parchment paper.
How long should I leave my cake roll to cool?
At least 45 min. The longer it cools the better the cake will hold the spiral shape. Also, make sure there are no hot spots as that would melt filling.
How do I add my filling once the cake is completely cooled?
Gently unroll your cake and pile the filling into the center. Using a small offset spatula, evenly spread the filling across the cake evenly. It's also a good idea to leave about 1/2 inch around the perimeter of the cake so the filling won't ooze out when you roll it back up.
Next, wrap your roll in a piece of plastic wrap and let the cake set in the refrigerator for a few hours. Take out your cake from the fridge, remove the wrapping, and let it come to room temperature for about an hour. Plate your cake, decorate as you wish, and bring it to the table to impress your family and guests. Slice the cake portions about 1 inch wide and serve.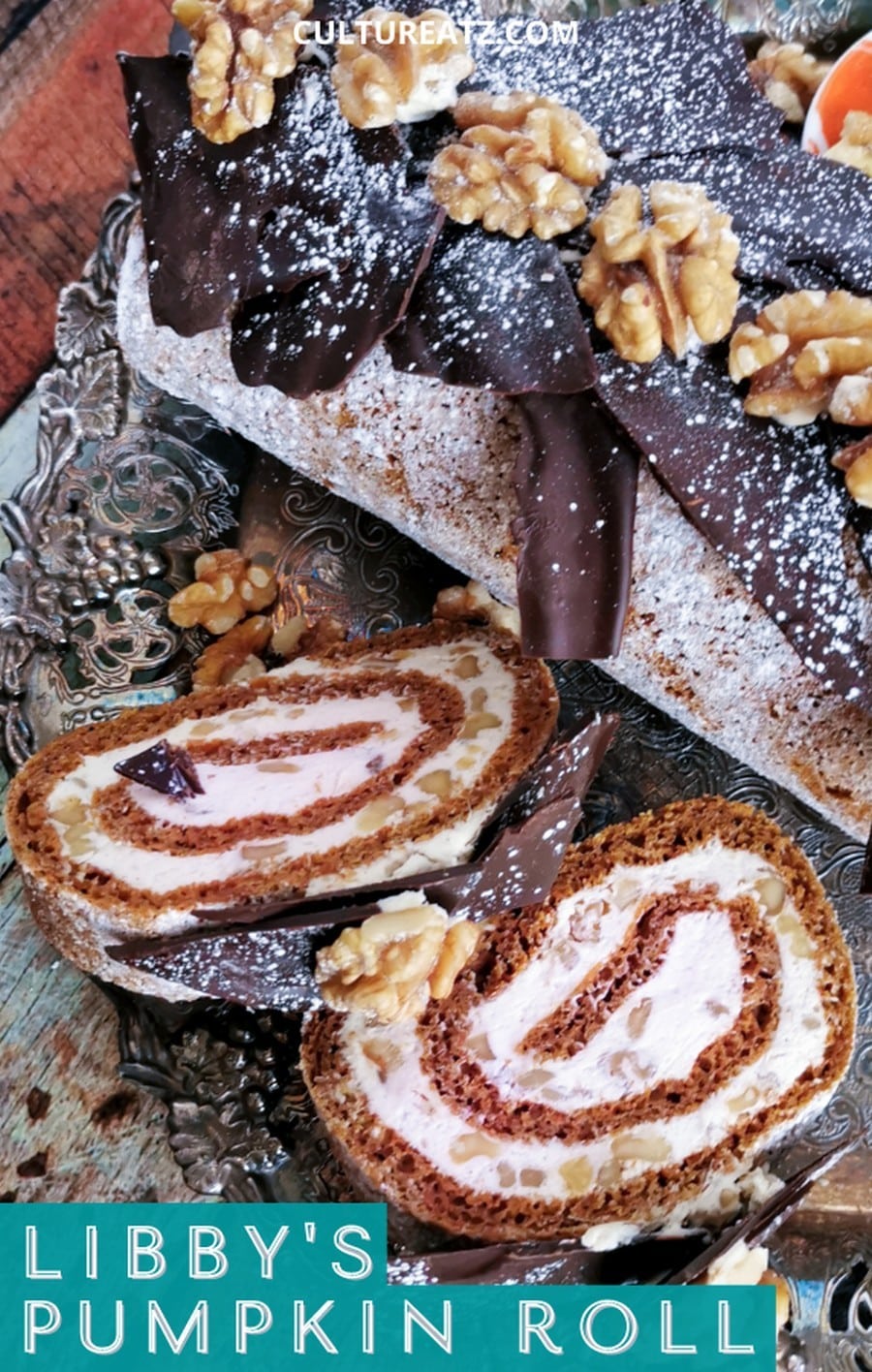 Libby's Pumpkin Roll
How does a tender pumpkin cake rolled up with a cream cheese frosting sound?  Just delicious when you use Libby's pumpkin roll classic recipe.
Ingredients  
1/4

cup

powdered sugar

to sprinkle on towel

3/4

cup

all-purpose flour

1/2

teaspoon

baking powder

1/2

teaspoon

baking soda

1/2

teaspoon

ground cinnamon

1/2

teaspoon

ground cloves

1/4

teaspoon

salt

3

large eggs

1

cup

granulated sugar

2/3

cup

LIBBY'S® 100% Pure Pumpkin

1

cup

walnuts

chopped (optional)

1

package

8 ounces cream cheese, at room temperature

1

cup

powdered sugar

sifted

6

tablespoons

butter or margarine

softened

1

teaspoon

vanilla extract

Powdered sugar

optional for decoration
Instructions 
Preheat oven to 375° F. Grease 15 x 10-inch jelly-roll pan; line with wax paper. Grease and flour paper. Sprinkle a thin, cotton kitchen towel with 1/4 cup powdered sugar.

Combine flour, baking powder, baking soda, cinnamon, cloves and salt in small bowl. Beat eggs and granulated sugar in large mixer bowl until thick. Beat in pumpkin. Stir in flour mixture. Spread evenly into prepared pan. Sprinkle with nuts.

Bake for 13 to 15 minutes or until top of cake springs back when touched. (If using a dark-colored pan, begin checking for doneness at 11 minutes.) Immediately loosen and turn cake onto prepared towel. Carefully peel off paper. Roll up cake and towel together, starting with narrow end. Cool on wire rack.

Beat cream cheese, 1 cup powdered sugar, butter and vanilla extract in small mixer bowl until smooth. Carefully unroll cake. Spread cream cheese mixture over cake. Reroll cake. Wrap in plastic wrap and refrigerate at least one hour. Sprinkle with powdered sugar before serving, if desired.

Cooking Tip: Be sure to put enough powdered sugar on the towel when rolling up the cake so it will not stick.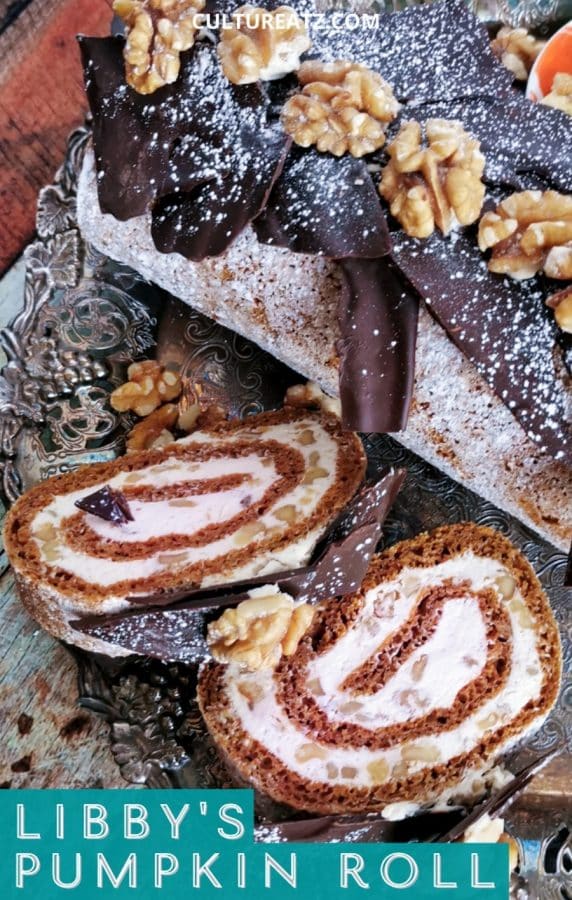 Check out my other roll cake recipes:
Salara, a Guyanese Coconut Roll
Beetlejuice Swiss Roll Cake for Halloween
Amazon jelly roll, libbys pumpkin, offset spatula