From today July 28th to Aug 01st 2010, this year's Fêtes Gourmandes Internationales is taking place at the Centropolis in Laval. The cost to access the site  is $8 a day or $10 for the weekend, per person. Food is extra. Go by car or take the shuttle at Montmorency Métro.
We actually went to the last one on Ile Ste-Hélène I beleive 2 years ago with the dinner group and we had a blast (right Bernie???). Of course this tme around I will be out of town and will mis the whole thing.
The Fêtes Gourmandes Internationales is more than sixty exhibitors of food from the 4 corners of the planet. Try kangaroo, alligator, insects, sharks and classic paella from South America. A special Little Italy section will be recreated with a dozen Italian exhibitors. Eager to show you their products you will find Polish, Portuguese, Jamaican, Brazilian, African, Lebanese, Thai, Haitian, and American kiosks, to name a few, will welcome you on the site. All f this without forgetting of course the products of Quebec exhibitors with deer, bison, duck, and the classic beaver tail dessert. A mixed program of emerging artists, songwriters, DJs and tribute bands will take turns on the stage of International Gourmet Festival.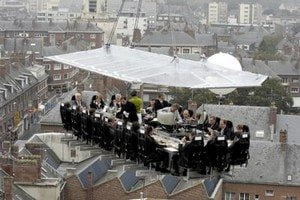 But the big attraction this year is the Dinner in the Sky which I wrote about over 2 years ago (wow time flies). It is a table suspended at a height of 50 metres, by a team of professionals.
What are you doing this weekend?