I have a couple more entries to share before the deadline, that just got extended to November 20th, to submit a recipe  for the Backpackers Recipe Guide. This cookbook will be sent out to 20,000 youth hostels worldwide with a selection of cheap, easy and delicious recipes a traveler can cook in a youth hostel kitchen. How exciting it would be to have my recipe in there. Don't worry I have no huge long travel story like my first entry which was a Pesto and Mushroom Pizza inspired by a day I spent in Cinque Terre Italy many years ago.
This recipe deals with what some consider a travel emergency: attack of the killer sweet tooth. While traveling I know I have a higher risk to get this attack. After all you spend all day walking around, burning calories so your body wants sugar and you CAN afford the calories. Now in some destinations around the world you have the most delectable pastries so that should be your first destination. But sometimes you want a sweet treat now. This very simple Lemon and Raspberry Tarts recipe will come to the rescue in a jiffy.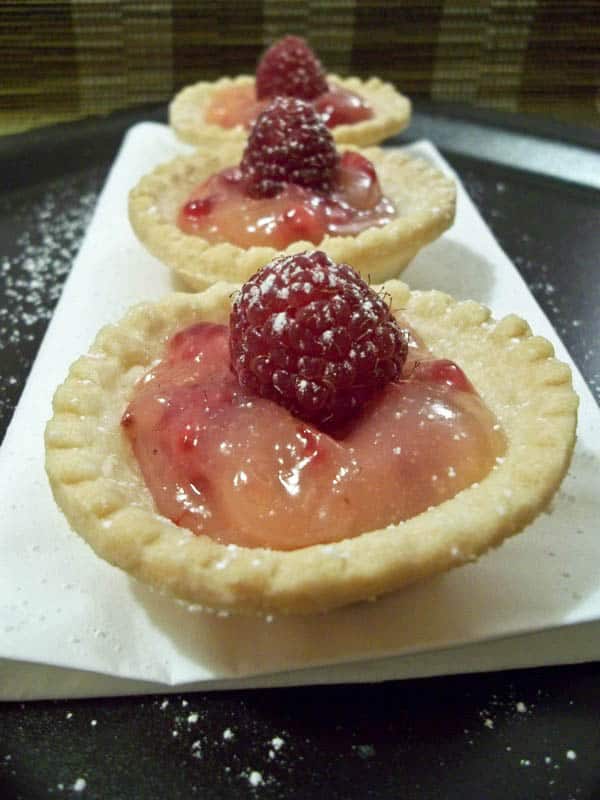 Desserts can be a daunting preparation in a hostel kitchen. Most will assume they need flour, sugar, eggs, milk, baking powder – stuff that will probably not be available. By getting ready made tart shells there is not pie crust to make. Then all that is left is the filling which in this case is a lemon curd and fresh raspberries. Of course if you fancy a different flavor go for it. Maybe you found a lovely orange curd, or blueberries are in season. Let your imagination run wild. The only note I would like to mention is that your tarts will be as good as the quality of your chosen curd. This recipe makes 12 tarts so there will be plenty to go around.
Ingredients:
a package of frozen ready made individual tart shells
1 1/4 cup  (285 gr/10 oz jar) lemon curd
3/4 cup fresh raspberries
Directions:
Preheat oven to 350F/190C. Place 12 tart shells on a baking sheet. With a fork make holes on the bottom of each tart to prevent the bottom from rising.
Bake for 10 to 15 minutes until the shells are cooked and golden. Let the shells cool completely.
In the mean time  reserve 12 nice raspberries for decoration. Mix gently the lemon curd with the remaining fruit.
Spoon the mixture evenly into the 12 tart shells and top decoratively with a fresh raspberry. Makes 12 tarts.