It's Food 'n Flix time again! In this monthly group a host picks a movie of their choice that pertains to food. Everyone watches the movie and then makes a recipe which the film inspired. It can be any recipe you want. This month's pick is hosted by Culinary Adventures with Camilla. She picked Cloudy with a Chance of Meatballs 1 and/or 2. I only had time to see 1.
For this challenge I decided to use a recipe I had 'in waiting' for a bit because it fit perfectly. I know this is going to sounds weird…but it is with Jello! And it was actually not bad at all. So go ahead and make this Layered Jello Yogurt Cake without fear for a family dinner or close friends!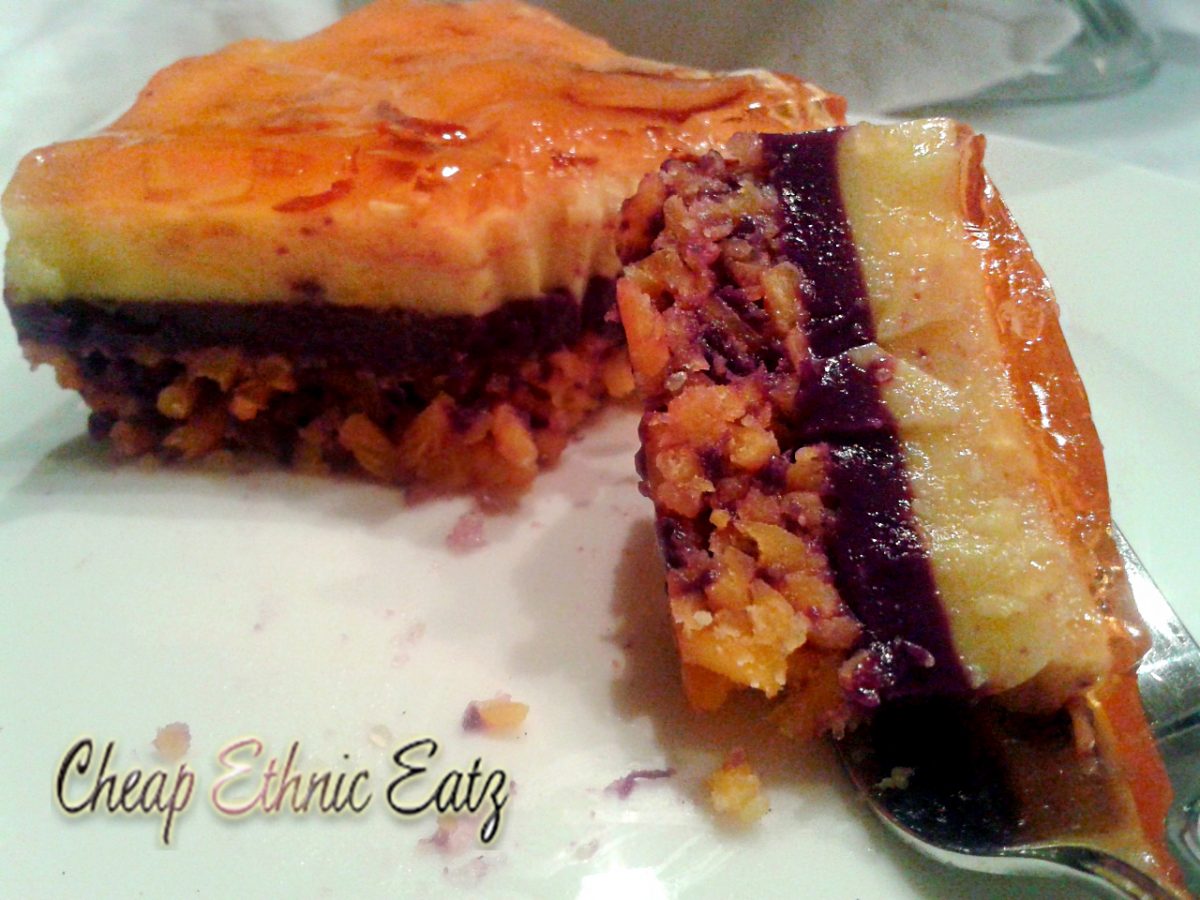 We meet our main character, Flint Lockwood, as a child with a strong interest in science that is misunderstood by his peers. He lives on the island of Swallow Falls that has sardines as the base of its economy. The town is forced to eat sardines in all its shape or forms as the market has crashed once it was published that sardines are just gross. Flint events a machine that transforms water into food and he becomes an instant celebrity. No long do the people of the island need to eat sardines because it now rains a plethora of food choices. This catches the eye of weather reporter Samantha "Sam" Sparks for work reasons and soon a crush develops between them.
Swallow Falls now is booming as a "food tourism" destination. But all scientific experiments go wrong: the food fallig from the sky becomes bigger and bigger, to the point of a large tornado formed of spaghetti and meatballs, threatening the town. Flint must find a way to stop is machine and save the town. Will he save the town in time and get the girl? Watch the film to find out!
Since I do not have kids I rarely sit down and watch a movie aimed at a younger audience. The thing is I usually find them very entertaining! I just don't think of it. So thank you Camilla for this opportunity. And what a fun one it was. A lot of fun and laughter here. Plus it gives a thumbs up for the science geeks and nerdy types hi hi. I would be grateful to Flint to remove sardines from my daily menu for sure. I plan on watching part 2 soon for sure.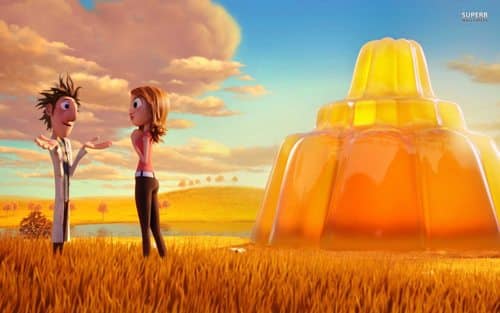 There was so much food in this movie. What kids eat, name it, it was there basically. But finally I opted for a Jello creation. Flint makes a world of Jello for the girl he likes. A whole world of things made of Jello. And this is one of my favorite lines from the movie, her response:
Sam Sparks: [Holding spoonful of jello] It's a solid, it's a liquid, it's a viscoelastic polymer made out of polypeptide chains but you eat it! I mean, it tastes good!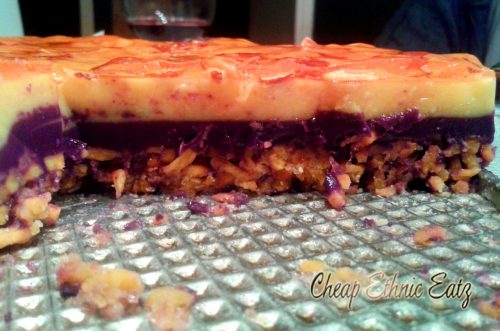 As I mentioned before, this cake was surprisingly good. Not great or gourmet but much better than I had expected. I used grape, peach, and lemon flavored Jello. I also had chow mein noodles at home so I used this instead of pretzels for the crust. That was not the best but would do it again with pretzels for sure. Coming up with a food blogger worthy Jello recipe is no small feat! The reason why originally I had this personal Jello challenge is below.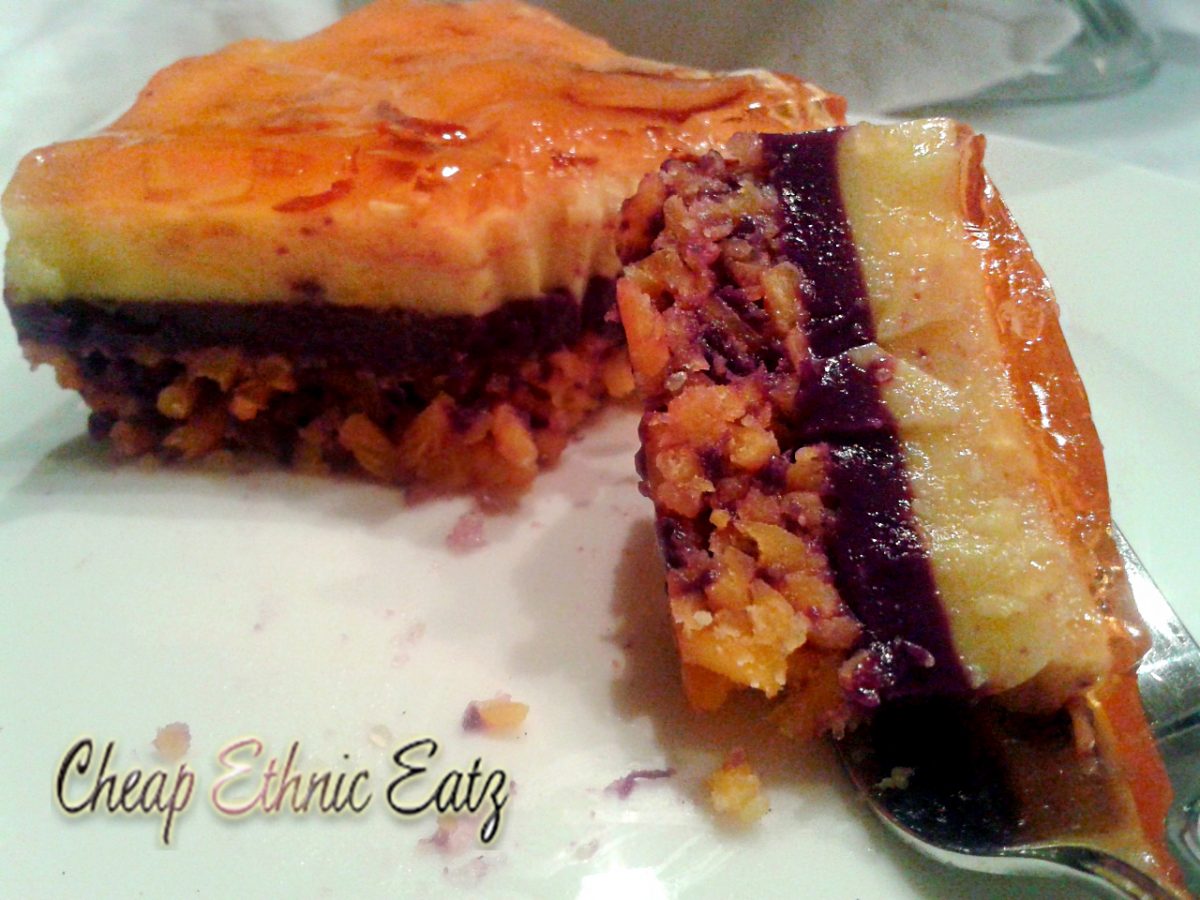 Layered Jello Yogurt Cake
Ingredients  
2

cups

crushed pretzels

or chow mein noodles

3/4

cup

melted butter

1/3

cup

sugar

3

packages of JELL-O

your choice of flavors

1

cup

water

2

cups

vanilla yogurt

sliced almond
Instructions 
Preheat the oven to 350 degrees. Crush the pretzels. In a large bowl mix in the pretzels, melted butter and sugar well. Firmly press the mixture into the bottom of a round 8 in spring form pan. Bake for 10 minutes and set aside to cool.

Whisk well 1 package of Jello mix with a 1/4 cup boiling water and 1 cup of yogurt in a microwaveable bowl. Microwave on HIGH for 2 minutes, stirring after each minute. Pour over the crust into prepared pan. Refrigerate 40 to 45 min or until set but not firm.

Repeat in same pan with another package of Jello mix to make a 2nd layer.

For the 3rd layer we want a glossy shell. Mix half the package with 1/2 cup cup boiling water and proceed the same way, reducing microwave time. Sprinkle the sliced almonds and pour on top.

Refrigerate 2 hours or until firm.
Remember when I was doing The Liver Experiment? I mentioned a friend had an aversion to Jello and she agreed to do the challenge on her end with her food foe. We had decided to have a dinner together at the end where she would serve a liver dish and I would serve a Jello dessert. This is the liver dish she made: Chicken liver over pasta with a lovely light cream sauce. It was just delicious Sandra, thank you!