A whole new way to enjoy pumpkin for dessert. This Laotian pumpkin coconut milk custard, cooked all at once in the oven, will blow your mind.
This month the Eat the World Challenge is heading to warm and exotic Laos. I bet many of us may have never even heard of this country. Laos is a landlocked country bordered by China, Vietnam, Cambodia, Thailand, and Myanmar (formerly Burma). It's a land of mystery and at times troubled history, but the food has always been a comfort for all. Take is Laotian pumpkin coconut milk custard recipe which exceeded by far my expectations.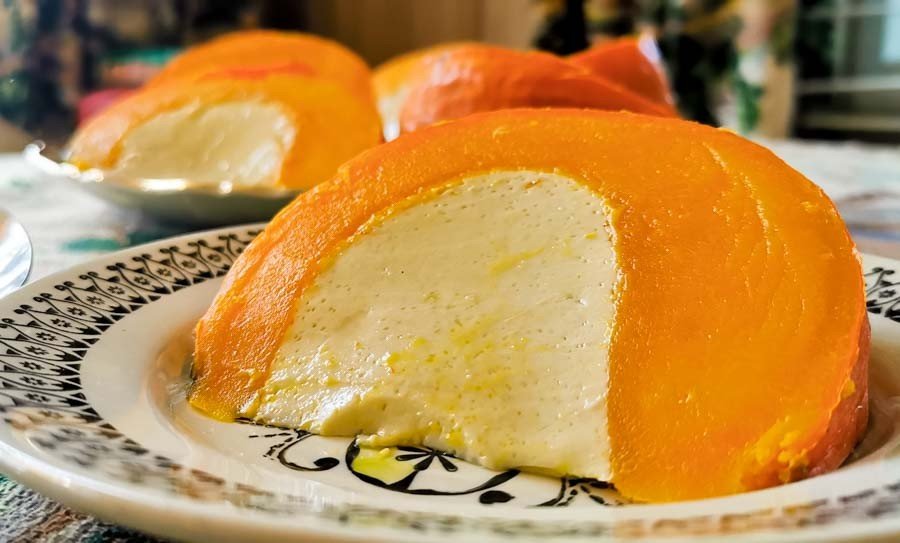 Not a fan of egg custard? This recipe will convert you!
I am very picky when it comes to egg custard. So far the ones I can enjoy are the Latin American ones. Now things have changed, I am a huge fan of this Laotian recipe.
Sang kaya mak eu is a very popular sweet street food that can be found throughout Laos, Thailand, and Cambodia. Firstly it is made with coconut milk, which I adore. The whole custard mixture is poured into an entire small pumpkin which is then baked for over an hour.
Once cooled, you can cut the pumpkin into thick wedges. It's really quite impressive on a dessert plate. Plus it's totally healthy because you are eating mostly your veggies! Totally negates the custard calories.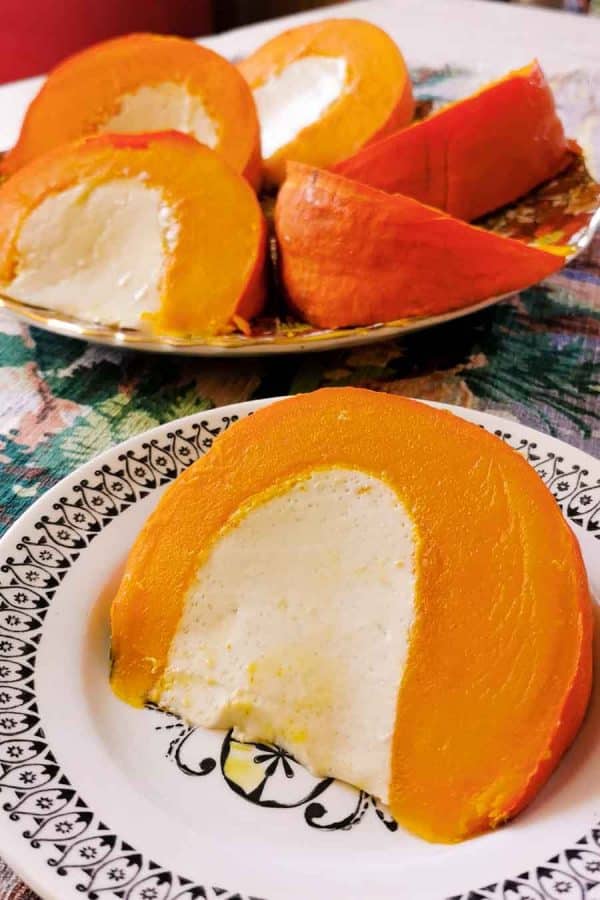 Laotian Pumpkin Coconut Milk Custard
I never thought I would come across another dessert pumpkin recipe that would amaze me after making the Mexican Calabaza en Tacha, or candied pumpkin usually made for el Dia de los Muertos.
Coming across this pumpkin custard recipe by Laura & Sarah at Wandercooks in fall was a perfect surprise. I was super intrigued and had a bit of doubt about the final outcome. The few recipes I found online all had high praise. And I happen to have half a Mama squash at home. So I adjusted the filling to the capacity of my pumpkin and prepped up, covered with aluminum foil. It totally worked.
Make sure you choose a small pumpkin. The big ones are filled with water, making the flesh too soft once cooked. We are aiming to fill the whole inside with about 2 cups of liquid. Kabocha squashes are ideal, small squashes like butternut, acorn, and mama will do perfectly.
I was blown away after the first bite. This recipe is so incredible. The custard is perfect and the marriage with the flesh of the pumpkin is flawless. I cannot recommend it enough.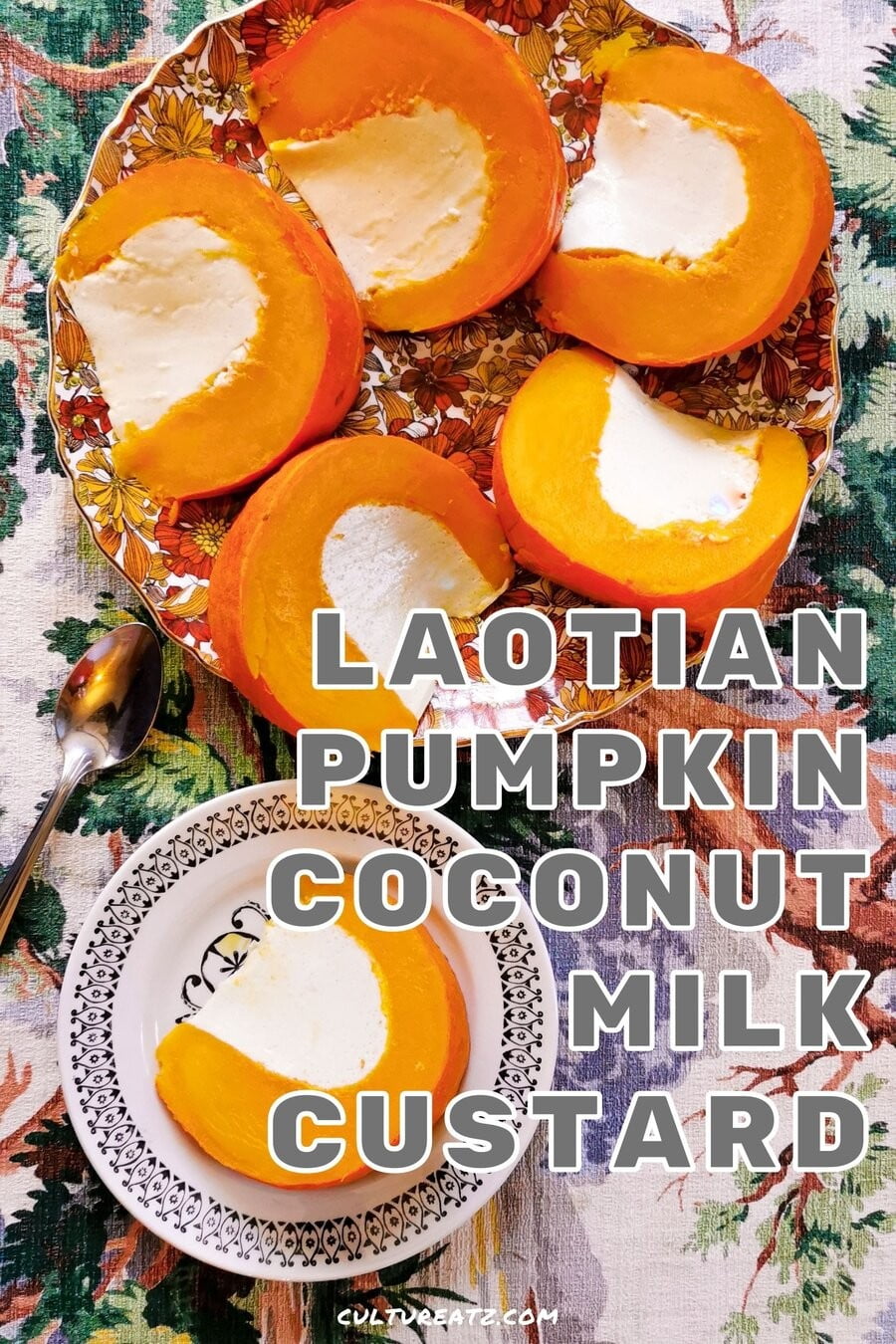 Laotian Pumpkin Coconut Milk Custard
This Laotian pumpkin coconut milk custard, cooked all at once in the oven, will blow your mind.
Ingredients  
1

small Japanese pumpkin

kabocha, Mama or similar

4

eggs

1

cup

coconut cream just over

1/2

cup

sugar

1

tsp

vanilla essence

1/2

tsp

salt

hot water
Instructions 
Preheat the oven to 150?C (300?F). Prepare a baking dish that is large enough to hold the pumpkin.

Cut an opening into the top of the pumpkin that is just big enough for you to be able to scoop out the seeds.

Into a mixing bowl, add the eggs, the sugar, the vanilla essence, and the salt. Whisk thoroughly, then pour in the coconut cream. Mix very well again.

Place the pumpkin into the baking dish and pour the custard into it. Put the cover that you cut out back on top of the pumpkin. Add about 1 inch high of hot water into baking dish.

Place the baking dish into the oven and bake for 1 h to 1 h 30 min. It is done when a clean knife easily goes though the pumpkin, and also if the knife comes out clean when poking the custard.

Take the pumpkin out the oven and allow it to cool down completely at room temperature before slicing wedges.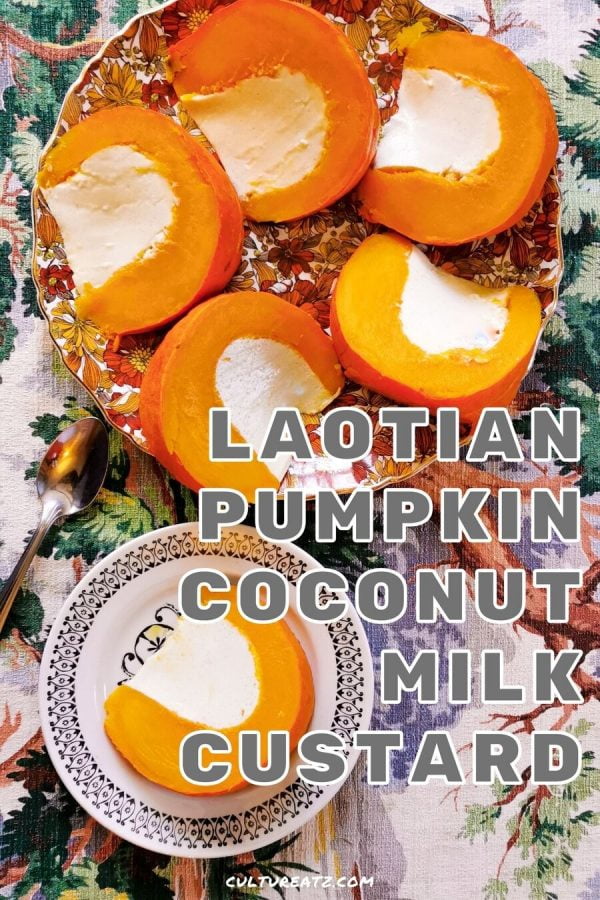 Eat the World Challenge
Check out all the wonderful Laotian dishes prepared by fellow Eat the World members and share with #eattheworld. Click here to find out how to join and have fun exploring a country a month in the kitchen with us!
Culinary Adventures with Camilla: Khao Nom Kok (Lao Coconut Cakes)
Pandemonium Noshery: Laotian Party Noodles – Kua Mee
Making Miracles: Lao Grilled Chicken
Sneha's Recipe Sai Gog Khao Jee
Kitchen Frau: Ping Gai (Lao Grilled Chicken Wings)
Sugarlovespices: Laotian Sweet and Sour Tofu
A Day in the Life on the Farm: Pork Larb
Cultureatz: Pumpkin Coconut Milk Custard ( Sang kaya mak eu
Amy's Cooking Adventures: Khao Piak Sen