This is going to be a fun blog to write….because it was a great topic to research. My boss told me about this delectable place called La Maison du Macaron. He insisted I go there and write about them. Did I mention my job is totally unrelated to this blog! So I got in touch with the owners and set a meeting time. Off I went during a lunch time with my pen, my writing pad and a clean taste bud slate. I felt like a reporter!
I was greeted by Mme Crop, co-owner of the store. She graciously spoke to me and answered all my nosy questions and then offered my a little complimentary tasting. So let me share with you now my first investigative report ever!
La Maison du Macaron is co-owned by M and Mme Crop, a married couple from France. Yes, there is a love story here…a sweet one. They met while both working for Gérard Mulot, a famous bakery, in Paris. Both mastered their baking skills over the next years and then they decided to move to Montreal and see what our city could offer. They agreed on giving it 2 years, if nothing big happened they would return home. At first the prospect of returning was a strong possibility as both were shocked at how pastries were not considered an art form here as it is in France.
Eventually Mme. Crop quit her job to complete a 6 month business plan program and the couple opened their present store on September 13th, 2008. Armed with delicious macarons they waited anxiously to see how their goodies would be received by Montrealers. Within 3 weeks the couple was flooded by media interest. Business has boomed ever since and they now try their best to keep up with the high demand.
So what is a macarons exactly? Macarons are little treats made of floured almonds, sugar, icing sugar, egg whites and ganache. They come in an array of colors and flavors. Only the finest quality ingredients are used. For example the pistachio paste used to make one of their most popular flavors is purchased at 100$ per kilo. Two domed meringues are glued together with a tasty ganache. The ganache is the part that is infused with a flavor such as: chocolate, vanilla, coffee, lemon, strawberry, pistachios, blueberry, cinnamon, fleur de sel caramel, grand marnier, pear…and the list goes on. Macarons are best consumed within 5 days and can be kept in the fridge. Make sure to take them out 30 min before serving them if cold. In their shop you will find:
16 various flavors at all times
the flavor of the month
a seasonal collect of 6 special flavors. Hurry to try the Spring/Summer collection before the Fall/Winter collection arrives.
Large maracons with fruits that can be served and cut like a cake
Iced macarons
Seasonal for now: salty macarons and a Christmas macaron log.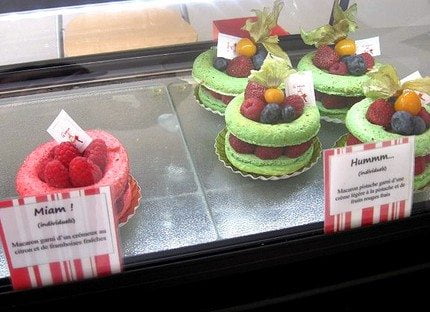 What does the future hold for M and Mme Crop? Well they assured me that macarons are not a passing fad and they will become more and more popular. Right now M and Mme Crop are looking to expand with more locations in Montreal and possibly Quebec City. They are also in discussions with 1 big buyer. And of course new flavors and products will be developed. They are incredibly busy during the holidays and get many requests from companies for corporate gifts or wedding receptions. A Christmas seasonal hit will hopefully soon become a regular year round: the salty macarons. The meringue remains sweet but the filling is a salty flavor. A popular one is foie gras and figs.
This is where I get to talk about my tasting he he. All I can say is….yummmmm! I tried the fleur de sel caramel (their most popular flavor), raspberry (my favorite), peppered mango and strawberry rhubarb. Biting into a macaron is a delightful mixture of sensations: crunchy, moist, a little crunchy, sweet, and overwhelmingly good. Let me tell you though by the end I was on a major sugar high and could not wait to get back to work and eat a vegetable. But I did taste more then one would in a serving. After all I had to sacrifice myself for you, my readers.
I asked Mme Crop what her favorite flavors were. She likes vanilla, apple cinnamon and peach a lot. And of course I asked what were her favorite cheap restaurants were so far. She is a fan of M sur Masson, Khyber Pass and Fondue Mental.
Of course I ended up leaving with a little 6-pack for me to take home and enjoy at a slower pace. I want to extend again a big thank you to Mme Crop for having me at her store. I also want to wish them a happy 1st year anniversary coming soon. Members of the dinner group will soon also have a chance to try some macarons as I am including this store on our annual all-dessert event coming up shortly.
La Maison du Macaron
4479 de La Roche (corner Mont-Royal)
Tel. 514 759-9290
Stay tuned as I will next write a separate blog dedicated to maracons alone and their history.
Hugs and Biscuits
Evelyne