Last week Montreal was witness to a mega restaurant media launch party like I had not seen in a while. Let me introduce you to the newest Asian sweetheart on Crescent, THE downtown "bar-and-club street" :  Kyozon restaurant.
Kyozon presents itself as an affordable destination that blends a great bar with tasty New-Asian cuisine and a mezzanine Kaiten belt.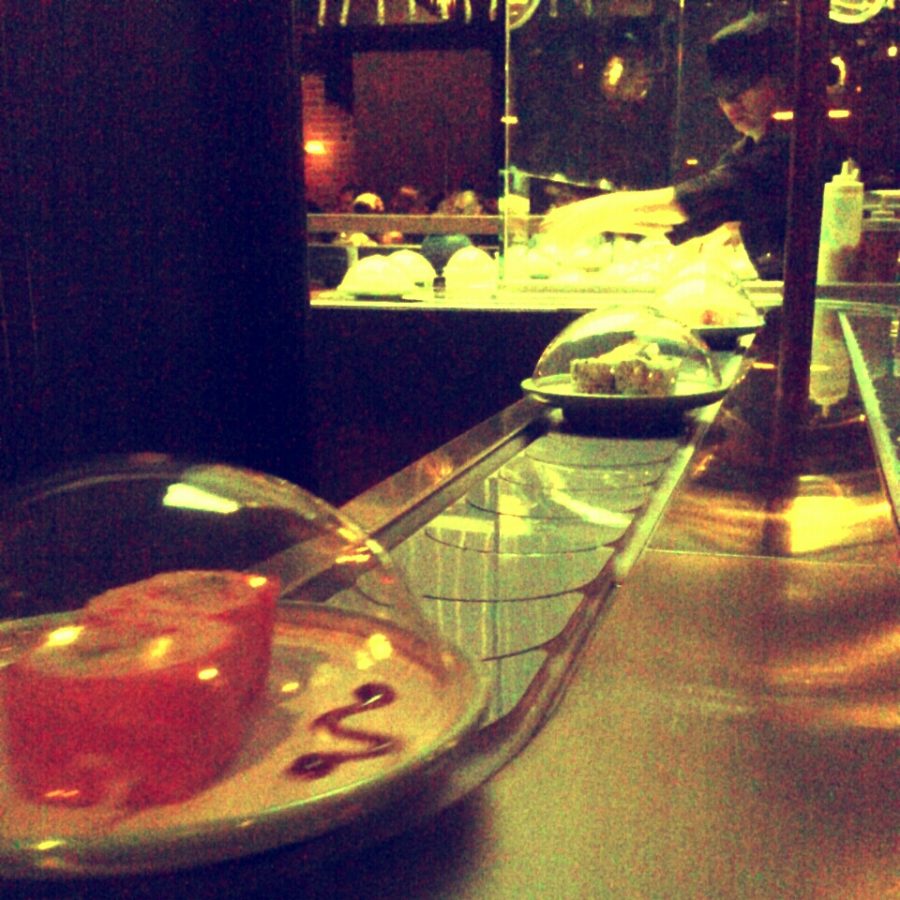 A what belt? The Kaiten belt, or conveyor belt, is not a new concept but this is a modern swanky adaptation. The sushi conveyor belt was invented by a Yoshiaki Shiraishi in 1958, who had problems staffing his small sushi restaurant and had difficulties managing the restaurant by himself. He got the idea of a conveyor belt sushi after watching beer bottles on a conveyor belt in an Asahi brewery.
This was the second time I had seen one. My first time was in Vancouver in 1998, where the belt was actually a canal of flowing water and wooden boats floated down the canal with the plates set on them.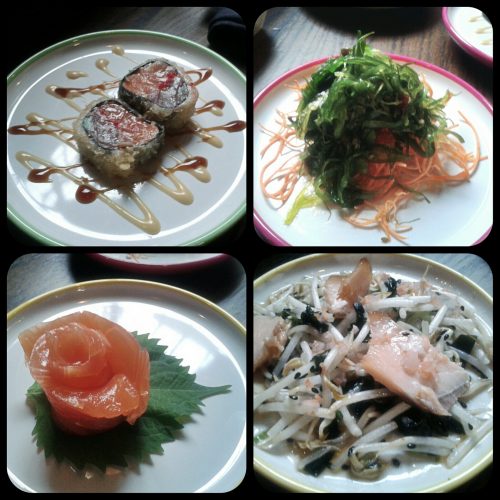 Here is a little sampling of the the sushi we enjoyed that night. So this is how it works: grab what you like off the belt and enjoy! New dishes come around constantly. The staff will clear and tally your colored plates for the bill. Each plate color is associated to a price, between $2 and $7 at the time of opening.
And the burning question: how was the sushi? Well it was very good but not top dollar gourmet sushi. It is definitely above-par compared to all-you-can-eat places and average priced sushi houses. As far as a place to go for drinks and have a few sushi while socializing goes, I totally recommend this place.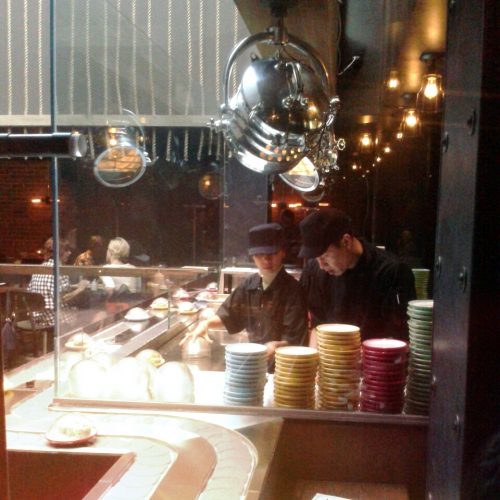 Above is a shot of the sushi station manned to prepare and place the plates on the Kaiten belt sushi.
Below is a shot of the counter seating right in from of the rotating belt, as well as a selection of sushi plates offered that night.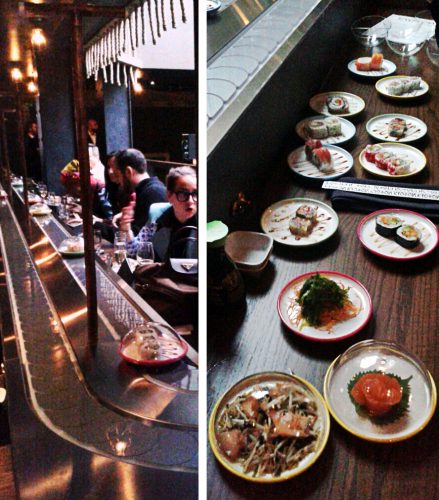 Besides sushi, the kitchen will also offer New-Asian tapas and street food that spotlight local and Asian-grown ingredients. The huge wood plank platter presented to us below had some amazing tapas that night. I particularly like the fried calamari, the popcorn chicken and the spicy chicken satay.
The generous 8,500 square foot setting plays host to over 250 guests and is designed to be simple, casual and authentic. KYOZON is reminiscent of a busy street in Asia where all ages and origins co:exist in the same space.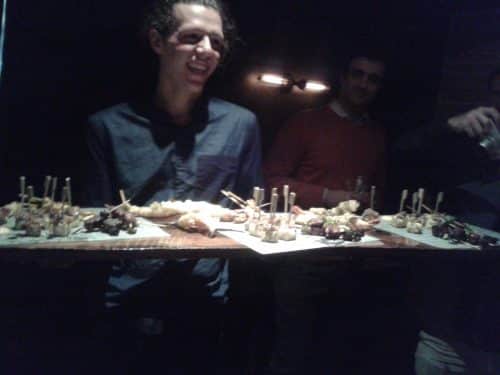 The bar offers a variety of Asian-inspired cocktails and drinks: Japanese whiskies, Asian beers and a selection of imported sakes. I had a couple (or a few) of the signature drink: the SHOJO SOUR, a cocktail made with Bombay Sapphire East, Midori, fresh lime, simple syrup, sesame oil, egg white. yes you read that right, a drop of sesame oil!
A very cool looking bar indeed. This shot was taken upstairs from the mezzanine. Furthermore, resident DJs will entertain until the early morning hours with a lively bar atmosphere. I have to say I really enjoyed the music that night.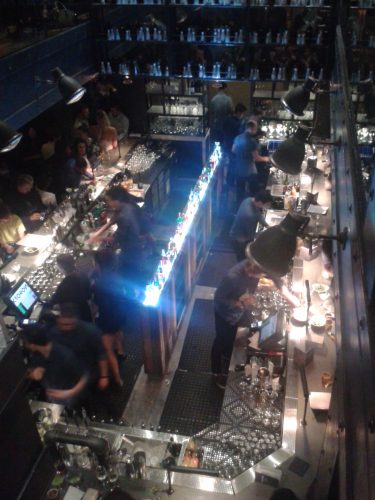 For the media event we were given black Fortune cookies with Kyozon personalized fortunes. Very cool and the cookie tasted like grapes!
Kyozon
1458 Crescent, Montreal
QC H3G 2B6
514-439-8383
info@kyozon.ca