I was recently asked to try out Kraft's new Sizzling Salads collect. These packages contain each 1 dressing for the salad and 1 marinade for the meat. They are all four ethnic flavored:Greek, Asian, Southwest and Caesar. I was sent the first 3 to test. Let me take a break here and let you read Kraft's "schpeel" on their Sizzling Salads….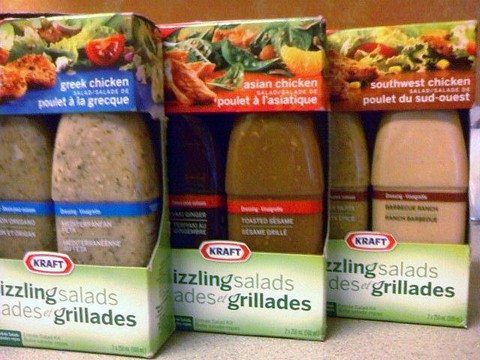 Kraft is inspiring Canadians to turn over a new leaf and change the way they enjoy salads.  As a leading salad expert, Kraft is sharing its fresh thinking with delicious new ways to dress up your greens:  restaurant-inspired Kraft Sizzling Salads entrée salad kits are an innovative addition to the grocery aisle; pure Kraft Refrigerated Dressings offer unique recipes and premium ingredients; and the entire Kraft dressing line-up has been reinvented to offer only natural flavours.  Finally, your greens are getting the attention they deserve!

Available in the salad dressing aisle, each Kraft Sizzling Salads kit (SRP $4.29) perfectly pairs a cooking sauce for your chicken with a complementary dressing for your greens. Take your salad beyond a simple side with these delicious choices:
Kraft Asian Chicken Sizzling Salads kit pairs Teriyaki Ginger cooking sauce with Toasted Sesame Dressing
Kraft Chicken Caesar Sizzling Salads kit pairs Cracked Black Pepper Cooking Sauce with Classic Caesar Dressing
Kraft Southwest Chicken Sizzling Salads kit pairs Spicy Fajita Cooking Sauce with Barbecue Ranch Dressing
Kraft Greek Chicken Sizzling Salads kit pairs Lemon Oregano Cooking Sauce with Mediterranean Feta Dressing
That is all nice but are they any good?  To find out I put them to the test. There are of course suggested recipes for each pairing and I used one for inspiration but I took it wayyyy out of the comfort zone boundary. I knew I was making this for Sunday dinner and I happened to be in Chinatown on Saturday afternoon. I picked up a few unusual items for my version….
(Really) Asian Chicken Sizzling Salads
makes 2 servings of 2 cups each
2 boneless skinless chicken breasts
1 tsp oil
¼ cup Kraft Sizzling Salads Teriyaki Ginger Cooking Sauce
400 gr pre-cooked udon noodles package
6 cups baby spinach leaves
1 cup shredded carrot, red cabbage, brocoli stem, leek (or what you like)
¼ cup Kraft Sizzling Salads Toasted Sesame Dressing
1 clementine, segmented
10 chestnuts, quartered
handful logans, shelled
4 lotus rootlets, diced
paper thin slivers of fresh ginger
Marinate chicken breasts 30 min before cooking.
In a pan heat 1/2 tsp oil and lightly cook the shredded veggies. Set aside in a bowl.
Heat 1/2 tsp oil in pan and cook chicken completely (15-20 min)
In the mean time arrange udon noodles on two plates and divide spinach over noodles.
On top add the cooked shredded veggies.
Pour dressing over salad.
When chicken is ready remove from pan and cut into strips. Place cut chicken on top of salad.
Arrange remaining ingredients decoratively on top, finishing with the ginger.
So how was the salad with the Kraft Sizzling Salads combo? Honestly, really really good. I thought the chicken had a wonderful flavor and found the dressing very tangy, tasty and refreshing. I have not tried the other two flavors yet but if they follow the quality of the Asian kit I would recommend it without hesitation. And how was my salad ingredient mix…awesome except for the logans.  They really had no business being there.  Hey its trial and error right?