You know, I realize I never showed you all the new kitchen. If you are new to my blog let me quickly explain I had horrible water damages (repeatedly) from the ceiling of my 18th floor apartment. Otherwise it is a perfect place which is why I have been there for 10 years. The kitchen was a victim of some of those damages. You can read more about what happened.
Anyways this time around the owner decided to tear down my kitchen completely (walls too) and rebuild it. YAY! Of course since it is a rental I had no say in the process but I got better then before. I also have the WORSE tiny kitchen ever for a food blogger but I have learned to work in it very efficiently. You know it is one of those lab kitchens about  9 by 7 feet.
Once the construction done I got a chance to organize things to get even more free space; things like where to place the paper towel holder, I got a magnetic bar for my knives and tried to come up with a more efficiently spice rack solution. I actually made mine but I have to say I am not so happy with it.
Finding a store with a large selection of kitchen spice racks is hard t. But I found a great online store so now I am shopping for one. I don't know about you but I have WAY TOO MANY spices as it is and I know I will always be getting new exotic ones. What kind of spice rack do you have? Do you have too many like me? How long before you toss them?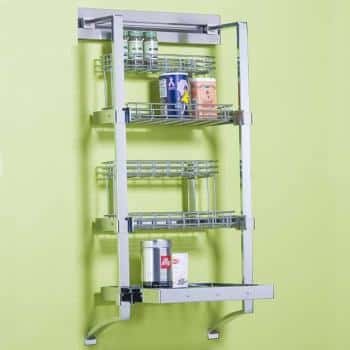 I already did not have enough room on my makeshift one so I am shopping for a larger wall spice rack. Wish me luck in my shopping!