Making your own homemade ketchup is so rewarding, and a millions times healthier than the bottled crap.  Find below one of the original recipes from 1906.
It's Food 'n Flix time again! In this monthly group a host picks a movie of their choice that pertains to food. Everyone watches the movie and then makes a recipe which the film inspired. It can be any recipe you want. This month's pick is hosted by Elizabeth at The Lawyer's Cookbook and she picked a really original movie: Popeye! No, spinach was not the main inspiration for my recipe but there is some in there. I was actually inspired by a book I was reading and by ketchup, the condiment. That turned into a Ketchup and Beans Salad with Spinach!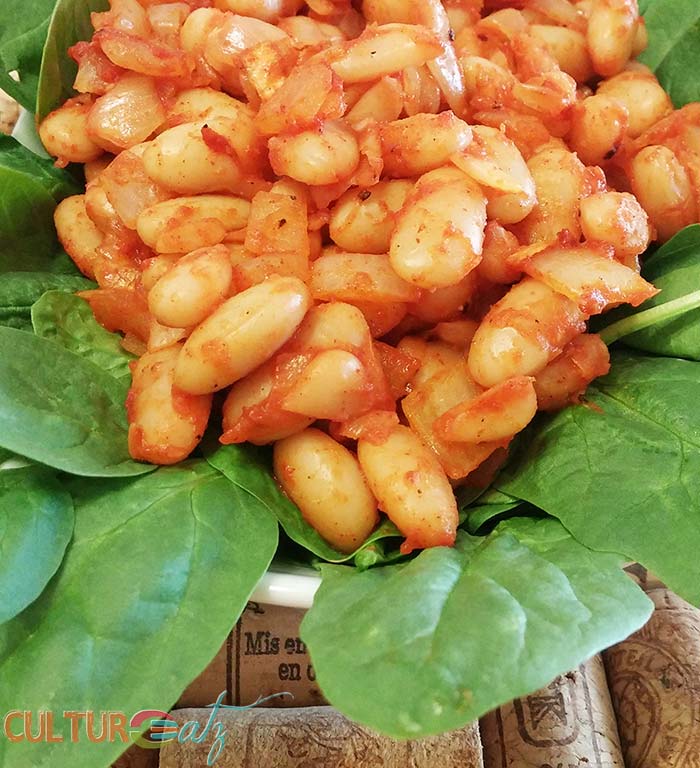 Wow this summer is turning into an insanely busy one. I think I am booked for 7 weekends in a row and right now one of my favorite film festivals is happening in town. Oh and my laptop died so I was off the net for the last few days! Please bare with me during my sparse posting schedule 🙂
The 1980 film Popeye is based on the comic strip we all know from childhood. This was one of Robin Williams's first movie roles, he was still doing Mork and Mindy. I think it is the first time I seem him in a film since his passing so it had a sad element for me. As Popeye he was truly fantastic. You see his genius budding. The other actors who portrayed the famous cartoon characters – Olive Oyl, Bluto, Wimpy, etc – were spot on.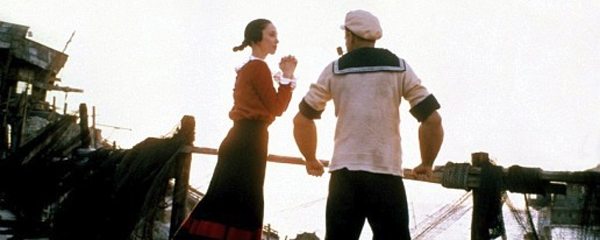 The film itself was trippy. I don't do drugs but I wish I had some acid lying around to see the movie because seeing it sober was a bit weird. Now I may be off on this but to my childhood recollection Popeye loved spinach. In the movie he hates them and is forced to eat them by his long lost dad. Was it the case when I was a kid too but I missed it? What do you remember?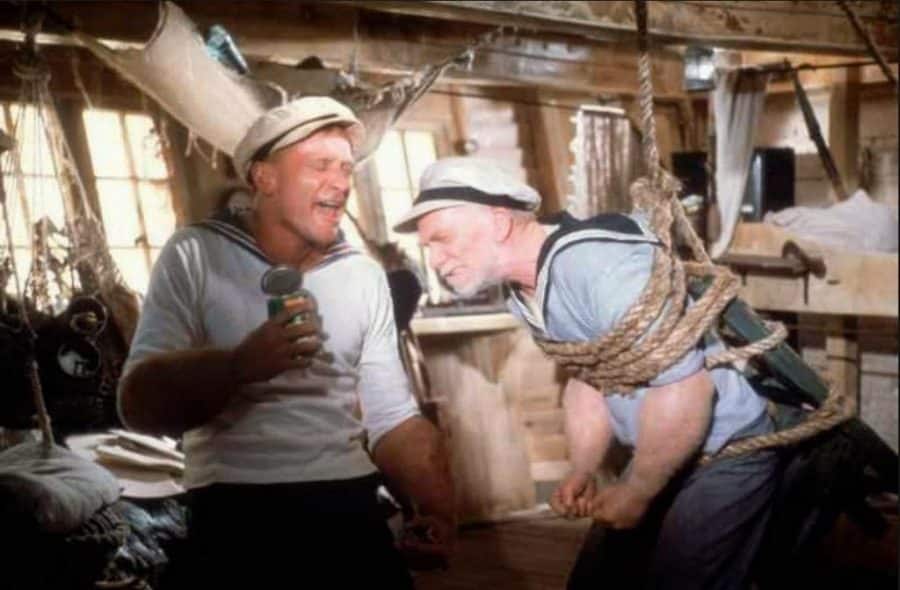 Some foods I spotted (or inspired me) during this film were : fish, chicken, meatball, hamburger, carrots, canned broccoli, canned spinach, olive oil, olives, milk, ketchup, mustard, punch, pop corn, soup burger, sweet peas, and octopus.
Of course we all go straight to spinach when we think of Popeye. But I could not get over how many bottles of ketchup and mustard you see in this movie…because they are always eating hamburgers! Really the food selections of the movie were plentiful… but not the most inspiring. Still I was just reading about the origins of ketchup in a book and it even gave the recipe for one of the original tomata sauce recipes: Alexander Hunter Tomata Sauce from Culina famulatrix medicinæ: or, Receipts in modern cookery, published in 1906.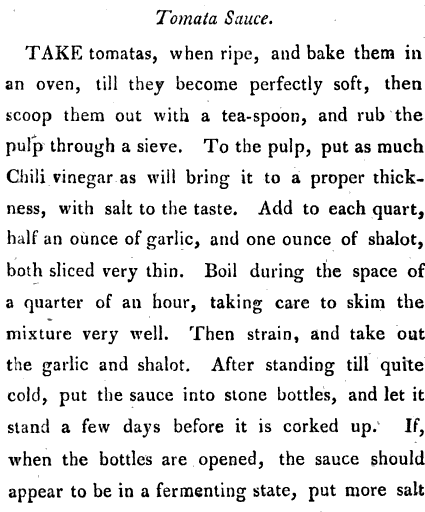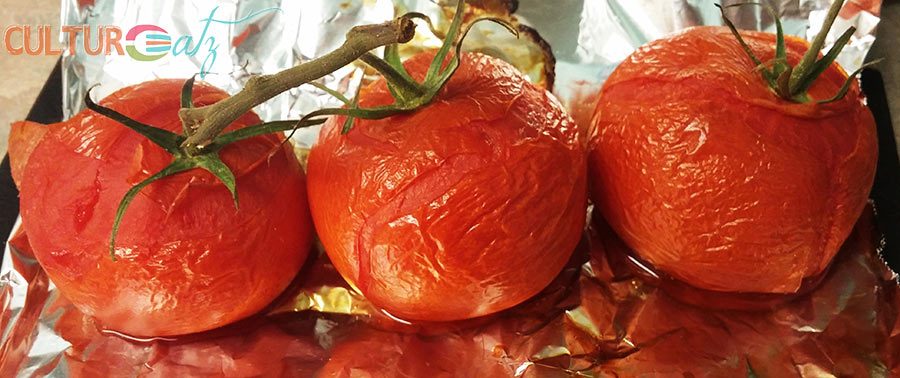 I made just enough for the recipe. Three tomatoes gave me almost 4 tbsp of ketchup. But did it ever taste good and fresh. And you will not find any need to add sugar – big brands often add loads of corn syrup. Just compare in this pic below: on the left a store brand ketchup vs on the right my recipe. The left one has lots of cornstarch in it, see the perfect smooth thickener sheen? You realise that is a filler too so they use less tomatoes in it….cheapskates lol!
Now we can use a freshly made ketchup for Jules bean salad. I do have my salad served on a bed of spinach so I won't get into trouble with Popeye. But he really should have added delicious navy beans to his diet too! Beans in general are so good for you and a great source of protein. Navy beans in particular offer excellent nutrional value like fiber, magnesium, folate, and iron.
This salad is so easy to make. Just fry up some onions and add the beans with ketchup and spices till warm. You really should let the beans sit for at least 2 hours before sevring. Right out of the pan the beans where bland but a couple of hours later the ketchup and smoked paprika really enhanced the flavor.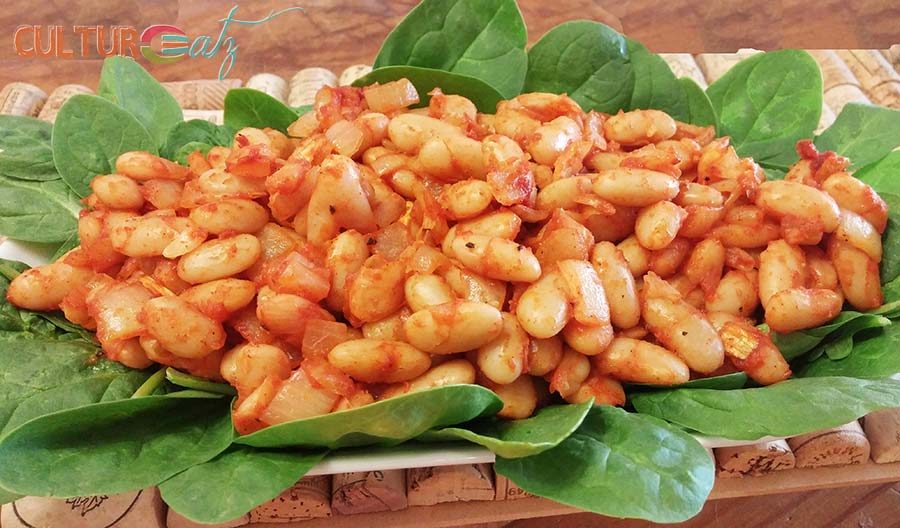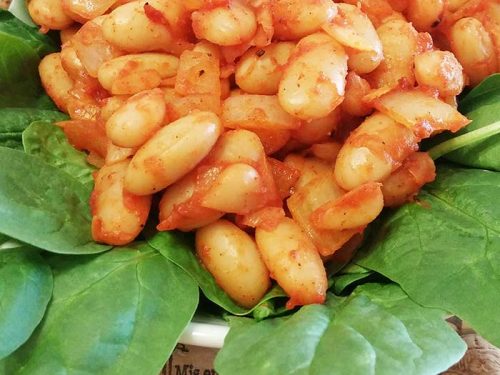 Tomato Sauce Beans with Spinach
Ingredients  
1

onion

chopped

1 14

oz

can white beans

drained

4

tablespoons

tomato ketchup

1

teaspoon

smoked paprika

salt and pepper

to taste

A few handfuls baby spinach
Instructions 
In a frying pan heat some olive oil on low to medium heat. Cook the onions until soft. Now add the white beans, ketchup and smoked paprika. Bring to a simmer for a few minutes just to heat everything up. Season with salt and pepper.

Let the flavors develop for a couple of hours. Serve on a bed of baby spinach.