Kahi is the national Iraqi breakfast. I think this Iraqi food should become yours too! Who can resist a fluffy phyllo pastry topped with cream and honey?
This month the Eat the World Challenge is taking us to Iraq. We have all built up in our minds our own versions of Iraq.  But the people are warm at heart and welcoming. Whatever happens in political circles, it is not a representation of the actual people. And, they came up with this kahi with geymar dish, so we should thank them for this Iraqi food.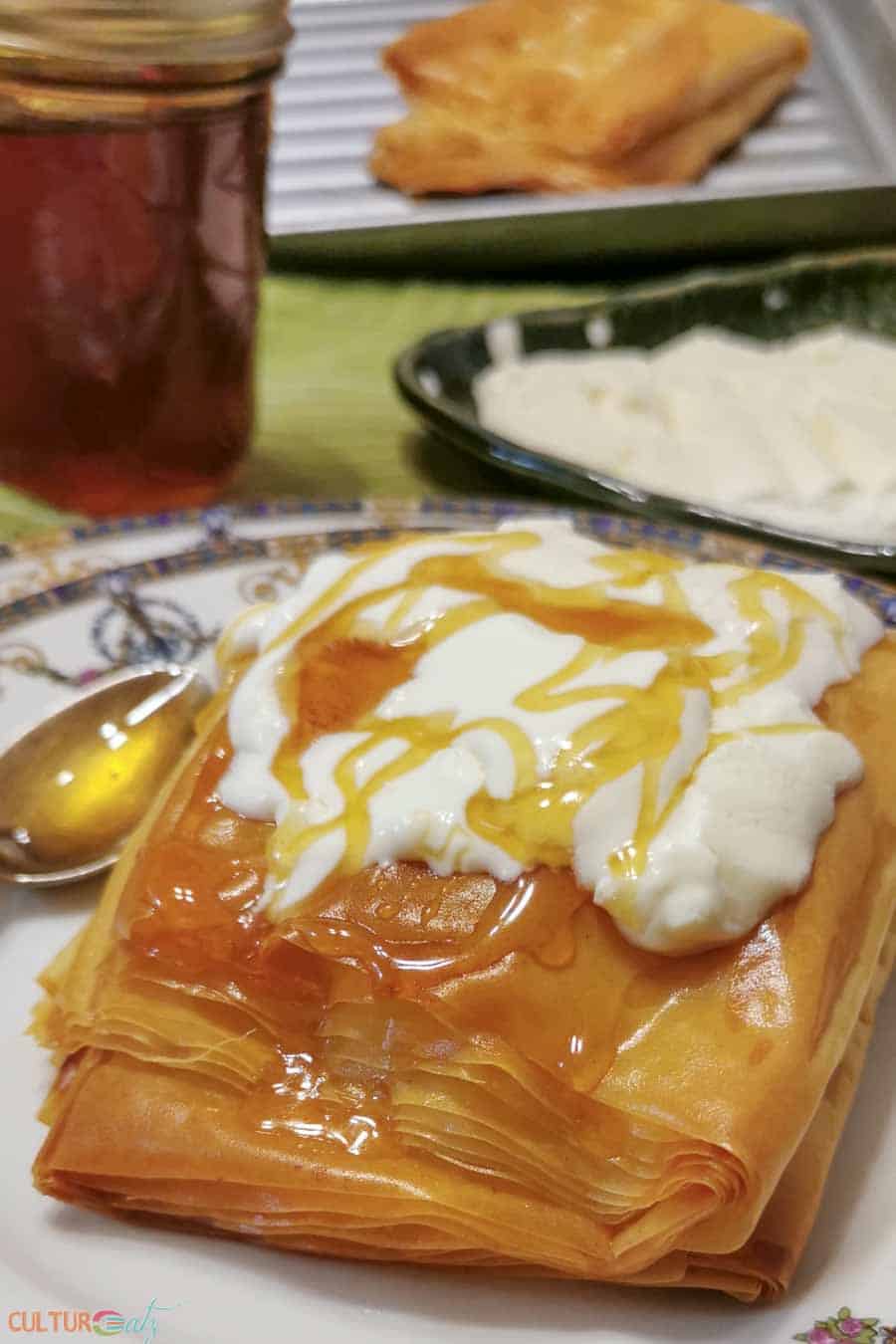 Yeah, so I am freaking late to my own party, the Eat the World monthly challenge I run. We post on the 10th of the month and it's the 11th. I had made my recipe but I never found time to blog about it. Life lately has been psycho. More on that later, hopefully you will enjoy my rant.
But let's talk about this Iraqi recipe first, briefly!
Kahi with Geymar, best Iraqi food breakfast idea ever!
I mean, really, what's not to like. It is super healthy too and you only need four ingredients:
phyllo dough
butter
35% cream
and honey
OK, there is a 5th ingredient so I can teach you how to make geymar, it is cornstarch. But cornstarch is super unhealthy so I did not want to mention it to scare you – because the other ingredients are superfood healthy. This kahi recipe is so for you, right Gigi?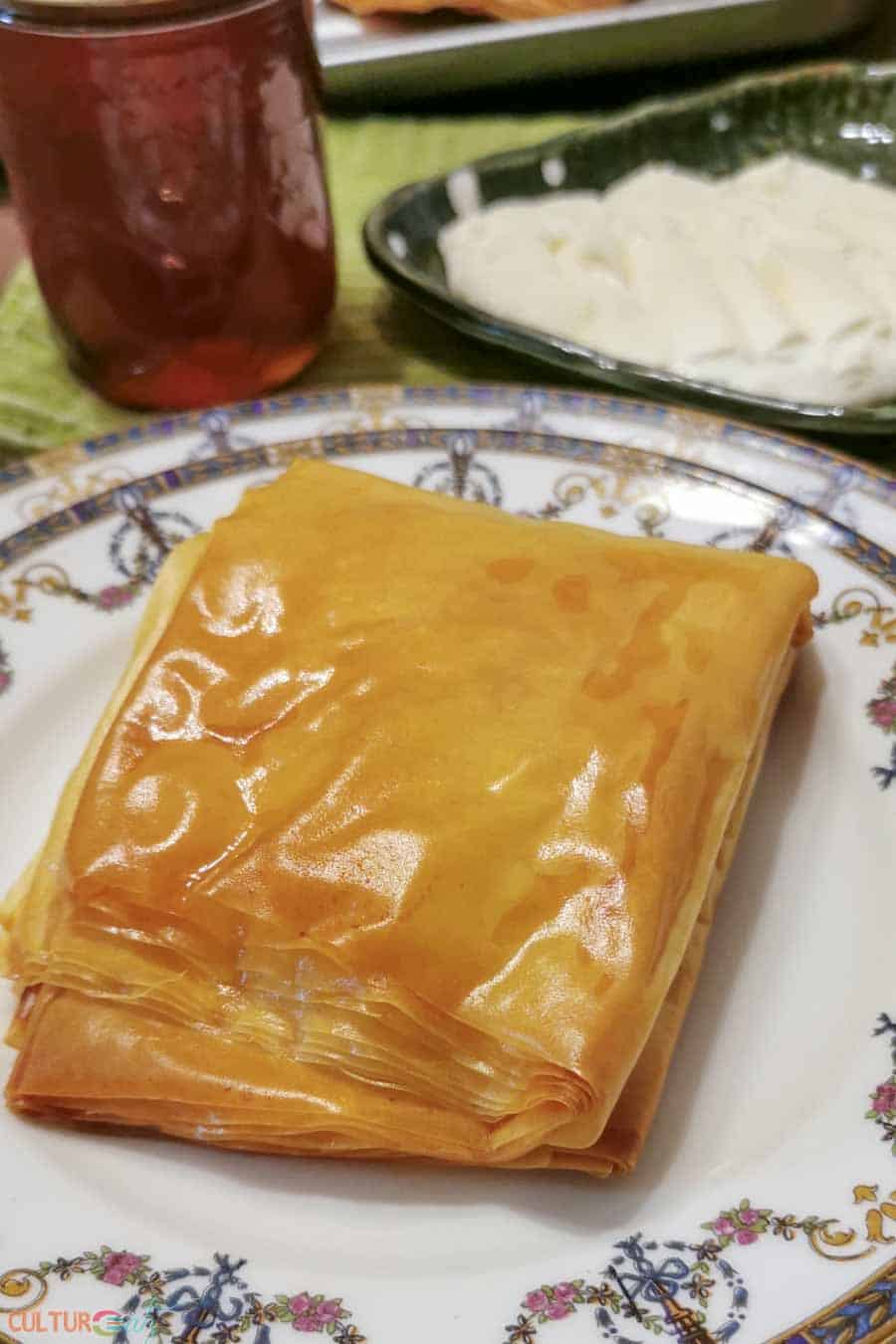 But…
before I can proceed with the recipe, I must answer the two questions you are asking yourself right now:
is it phyllo or filo? The direct transliteration from the Greek alphabet to the Latin alphabet is phyllo. Filo is acoustic spelling.
what the heck is geymar? It's pretty close to clotted cream. Traditionally buffalo milk is brought to a boil slowly, left to simmer for 2 hours, then left to settle and ferment for a few hours. It can also be called gaimar, gaymar, or qaimar. I will show you a shortcut way to make it.
This Iraqi food recipe is so easy to make and it is a great introduction to Arabic breakfasts. All you have to do is stack filo sheets that are basted with butter. The result is close to that of puff pastry but crunchier.
What you have here is an absolutely delish breakfast pastry recipe, a favorite recipe in the plethora of Iraqi cuisine. Kahi can be found on the streets and in markets all over Iraq, always served with honey and a clotted cream, alongside tea and coffee.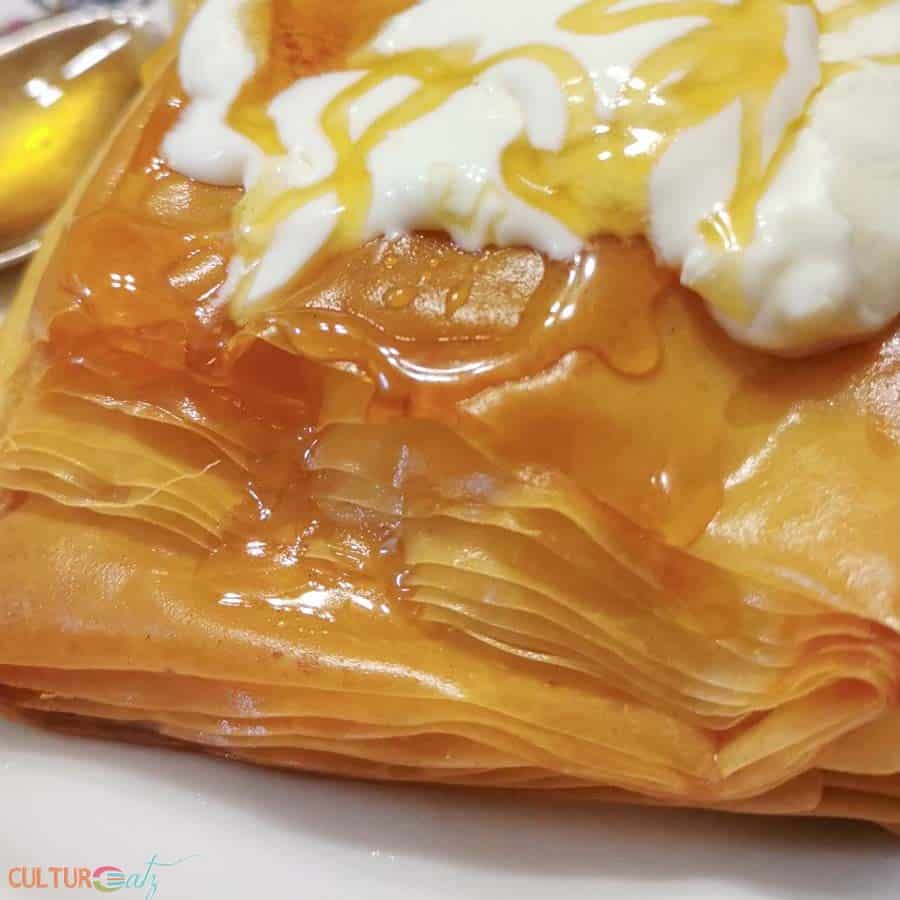 A little life update…
If you don't want to read my update and rant, just head down below to find the recipe.
If you are a regular reader, you will know that my life has been a bit topsy turvy since July. I was laid off work, took time off, ran away to Europe for a month, and decided to give being my own boss a try by taking various work contracts. I do love it but I am not at the point of making a full living yet, but it's an excellent start.
One of these contracts was landing a job as an online teacher for a French business and admin school. My class is about Mastering SEO for better Indexation. So, giving the class is fine, but the prep for a class….OMG.
I have zero teaching experience and I have never built a class program, from scratch. The classes are 3-hours long and the session is 8 weeks long. That is 24 hours of class material I have to create. It is going well but I need between 12 and 16 hours per week to prep the next class. I've been busy.
And on top of that, I have been running my cookie boss's company for orders and managing staff for the past 10 days. Yay, cookie boss is back from holiday. But I really LOVED those 10 days.
And now for a funny rant
I swear this is going to tie in with being an SEO educator. Three or four months ago I got an email asking if I was interested in being nominated for a Business Excellence award in the Leading Publishers of  Travel Guides category. I knew right away it was fishy but I decided to play along.
I said yes, one month later I was told I was in the running. The judges would do an in-depth study of the candidates. Well, I got an email yesterday saying I had WON. Happy Dance! Like not at all I had finally reached the scam part of this website.
The email mentions I got the "complimentary option which includes the rights to use the title in your own marketing, access to the official press release and a listing in our SEO directory." BUT if I want to be featured in a one-pager of their annual winner's publication, I have to buy the Bronze package at 625 British pounds!!!!!!!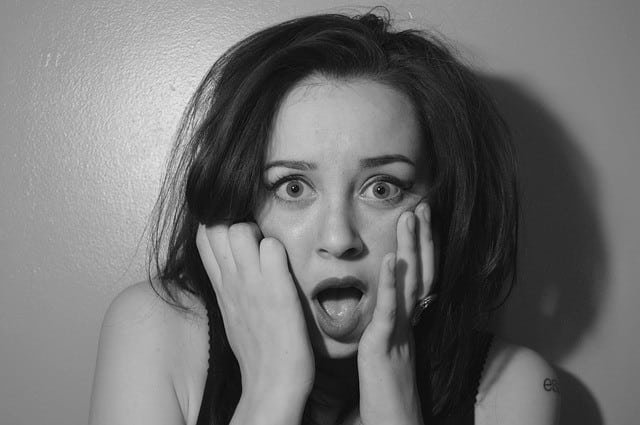 The first email exchange
And so I responded to the email with "I knew it, I was waiting for the email that would ask me for money. I hope you enjoy my review on your Facebook page. BYE"
And I quickly got the following response:
The paid-for options as stated in my previous email are completely optional, you're more than welcome to accept the award and move forward with the complimentary items.
The press release will be distributed to you in April which you can use for your own marketing purposes. Additionally, your company will feature within the winner's directory which will go live on our website at the same time. You can also submit 100 words to go on your unique page, this would include a brief overview of your company and your website/social media links etc. This is a very useful tool and helps boost your SEO statistics.
It is very clear on our website and we are very transparent throughout the whole process about offering optional paid-for packages to our winners. With warm regards…
The final email, the one you always regret not having sent
So I enthusiastically responded back with the following:
Yes, you are right, legally you do say no money needs to be exchanged. And yes, feel free to list me in your directory.
There are just a few points I would like to bring up.
 – I only have a handful of travel guides on my site, I mostly do recipes, 13 years worth of recipes. So my blog is not known for travel.
– I saw the past PR. It only says the winners are announced. Only a link to your home page, not where they are announced.
– It took me at least 5min to even find the section with past winners info for the Business Excellence Award, by using your search box.
– The number of clicks it takes to get to a winner's page from your home page (once you know how)  = 6 clicks.
So basically you are getting traffic and the online user will give up and leave your site WAY before they find what they want.  Horrible user-friendliness and kinda clickbait.
– Barely enough text on most subpages, Googe robots won't waste their time indexing them properly to show up in a SERP, especially for the winner's pages. On don't tell me I can write my text, it should be an absolute minimum of 300 words, you only ask 100 from me.
– Finally, on the winner's page, there is not even a link to go to the winner's website. This is the bit you mentioned where SEO might have had an (extremely minor) impact!!!!! It's called a backlink.
By the way, I actually give a 24hr per session class about SEO indexation at an adult education school which is subsidized by the ministry of education.
And I do work for home and offer SEO optimization as a service. Perhaps you would be interested? With warm regards, Evelyne
IN YOUR FACE
Best freaking response I have ever written back. I know it's stupid but I am so proud of myself. And the only reason I could be so precise was because of all my class preparation research for my SEO class.
There is just one thing left that puzzles me. I have yet to hear back from them with a job offer.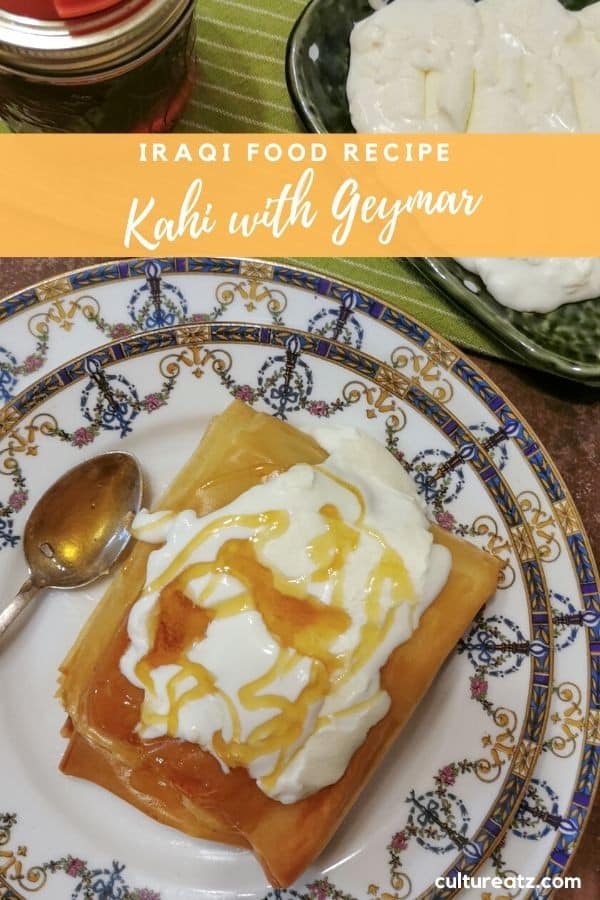 Kahi with Geymar, and Iraqi Breakfast Recipe
Kahi is the national Iraqi breakfast. I think it should become yours too! Who can resist a fluffy phyllo pastry topped with cream and honey?
Ingredients  
4

sheets of store-bought phyllo dough

18x14 inches

6

tablespoons

unsalted butter

2

tablespoons

honey

2

cups

of 35% cream

?1.5 tablespoons of cornstarch
Instructions 
Mix 1/4 cup of cream with the cornstarch in a saucepan. Add the remaing cream and mix well.

Heat on medium, stiring constantly, until is comes to a slow boil and thickens.

Pour the cream into a lasagna dish and leave to cool for 2 to 4 hours on the counter. Cover and refrigerate overnight.

In the morning preheat the oven to 375 F. Brush a baking sheet lightly with butter

Brush generously the first sheet with butter. Stack the next sheet and repeat until all 4 sheest are in a pile.

Cut in 4, each stack will be 9x7 inches. Fold each stack once right to left, and top to bottom. The final size should be about 4x3 inches.

Brush each side of the stacks with butter and place them on the baking sheet.

Bake for 20 minutes or until the dough is golden brown.

Leave too cool slightly and serve with spooned qeymar and a generously drizzle of honey.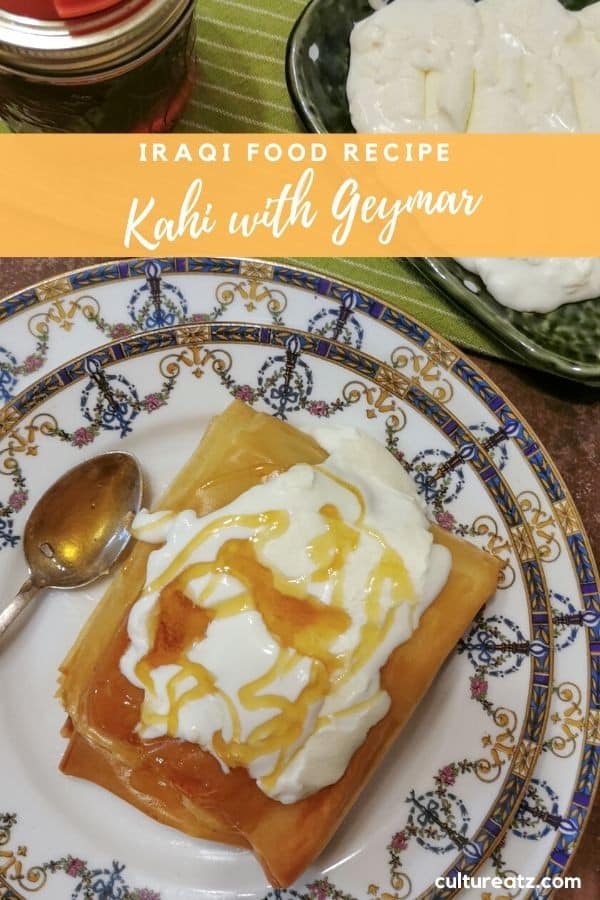 Eat the World Group
Check out all the wonderful Iraqi food dishes prepared by fellow Eat the World members and share with #eattheworld. Click here to find out how to join and have fun exploring a country a month in the kitchen with us!
Culinary Adventures with Camilla: Hadgi Badah (Iraqi Cardamom Cookies)
The Schizo Chef: Iraqi Parda Pulao
Amy's Cooking Adventures: T'Bit (Iraqi Slow Cooked Chicken & Brown Rice)
Sneha's Recipe: Potato Kubbi/Potato Chap
CulturEatz: Kahi with Gaimar Breakfast
Pandemonium Noshery: Iraqi Lamb Stew
A Day in the Life on the Farm: Tepsi Baytinijan
Making Miracles: Iraqi Rice & Potato Balls
Dinner By Dennis: Pomegranate Soup