Welcome to the third International Incident Party! This month the theme is NOODLES.
I decided this month to go completely off the beaten track. I wanted my dish to be exclusively about the noodles and nothing else. Today we will be taking a look at food chemistry, or more precisely molecular gastronomy, and even more specifically a hydrocolloid recipe.
What does hydrocolloid mean? A hydrocolloid is defined as a type of mixture in which one substance is dispersed evenly throughout another by means of  water. Examples of hydrocolloids agar-agar, carrageenan, gelatin and pectin. Yes your Jell-O dessert is a hydrocolloid. Hydrocolloids are employed in food mainly to influence texture or viscosity, usually to gel or thicken.
Now get out our Methyl Cellulose out and let's play because this is the hydrocolloid we will use for the recipe. Methyl Cellulose is a thickener and emulsifier  that forms a viscous solution or gel. Now here is the really weird and cool part: Methyl Cellulose sets when hot and melts when cold. Bet you did not expect a chemistry class in a food post now did you!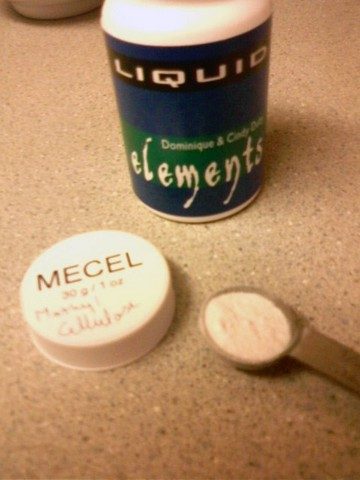 So back to noodle making. We will take a non-solid substance, in this case cream cheese, and mix it with Methyl Cellulose in a water solution to gelify it in the shape of a noodle. How cool is that! On to the recipe….
Cream Cheese Noodles
370 ml cream cheese
160 ml water
1.3 grams Methyl Cellulose
In a saucepan heat water to 85 C and vigorously whisk in the Methyl Cellulose.
Add to room temperature cream cheese and stir well to combine.
Place bowl atop an ice bowl (lots of ice and cold water) and whisk until cream cheese mixture is at 10 C
Store for 2 hours in refrigerator.
Transfer to a squeeze bottle or the like.
Bring to a boil 2 liters of water and let simmer.
Pipe in cream cheese  to make noodles.
Drain as soon as the noodles have become firm, about 30 seconds.
And……it did not work 🙁 Oh well I guess my first attempt at real molecular gastronomy failed. They keep their shape until you touch them though. And since I have been so busy and I literally finished my first try 30 min before the time this will have to do for the posting. Will definitely try again though!
Out comes a new pan to cook some with plain old regular pasta….served with cream cheese on it lol.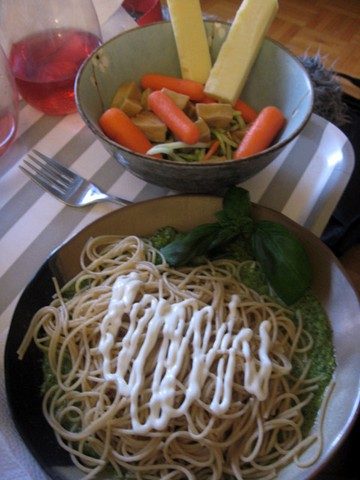 Here is the list of the party goers!
And also remember to stay tune for next IIP in July!