Yes it is that time of the month for another EGG-cellent International Incident Party brought to us by Jeroxie and Tasty Trix (Happy Birthday Trix!) Now let's get cracking with this month's theme. Have you figured it out yet? If not well the yolk's on you!
OK sorry that was bad humor. I feel like I have an egg on my face. OK OK I'll stop before you get the hook and pull me off stage. This month's theme is EGGS. Aw, eggs? Like could you pick anything more vague then eggs? One of the reasons I adore this monthly challenge is because we are given a theme and we can run with our imagination. Usually the theme is a bit more specific….like dumplings or scones. But I was left without an idea until last week when I finally came up with a concept. I decided to keep the recipe part very simple but work a more on an artistic presentation.
I present to you my egg-mused creation: A Plate of Beet and Chinese Tea Eggs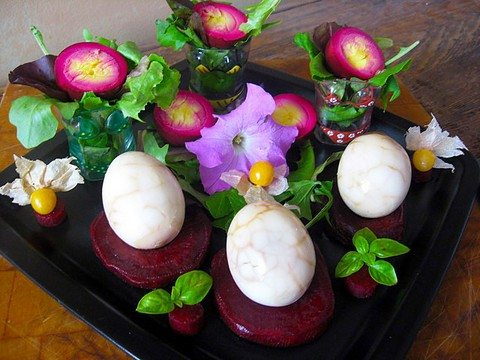 I had so much fun playing with the presentation and then taking MANY pictures of this dish. It was heartbreaking to start eating it. I did not expect the eggs to pack a lot of flavor. But I was wrong. I had a foodgasm eating these eggs. Both recipes really perfumed the flesh of the eggs beautifully without being over infused. I highly recommend these 2 recipes for presentation and flavor. Let's take a look at the recipes…
You can use as many eggs as you like, make sure to increase the liquids for staining/flavoring. I used 6, 3 for each recipe. Hard boil all of your eggs before both recipes.
Chinese Tea Eggs by Steamy Kitchen, adapted
6 eggs
3/4 cup soy sauce
2 star anise
2 tablespoons black tea (or 2 tea bags)
1 cinnamon stick
1 teaspoon sugar
1 tablespoon peppercorn
1. Using the back of the teaspoon, gently tap the eggshell to crack the shell all over. The more you tap, the more intricate the design. Do this with a delicate hand to keep the shell intact.
2. Place the eggs and the remaining ingredients in a medium pot and fill with water to cover the eggs.
3. Bring the pot to a boil, turn off the heat and let the liquid cool on the stove.
4. Cover with lid and let eggs steep for a few hours to overnight.
5. Remove shell after you are done steeping.
Beet Stained Eggs by Evelin
3 eggs
1 boiled beet
1 small onion
200 ml beet juice (keep liquid from boiled beets)
30 ml balsamic vinegar
30 ml soft brown sugar
salt
some basil leaves or dried basil
1. Prepare hard boiled eggs and shell them.
2. Cut the beet and onion into slices, place them into a bowl together with the eggs.
3. Bring the beet juice to a boil
4. Add the balsamic vinegar, sugar, basil and a pinch of salt. Reduce heat and simmer until sugar has dissolved.
5. Pour the marinade over the eggs and cover. Let the bowl stand in the fridge for three days.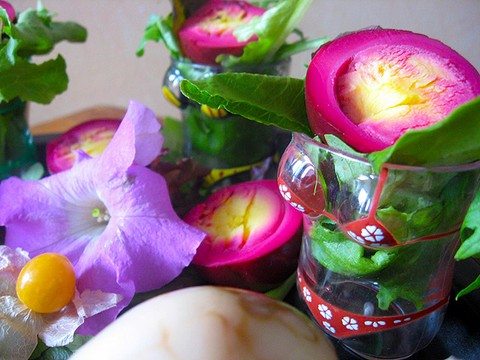 The Beet Stained Eggs are best served sliced to see the egg yolk. The flesh will be stained the whole way through. These eggs had a sweet pickled taste and you can just taste the beet a bit. They are just lovely. A tip: The yoke will stain purple AFTER you cut the eggs so if you plan on doing this for a party cut your eggs just before serving.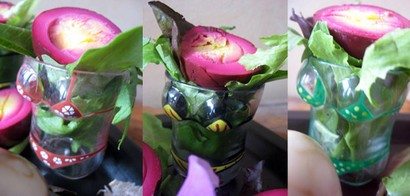 I bought these plastic bikini shooter glasses months ago waiting for the right recipe to showcase them. Finally! Are they not too cute! Got them at the dollar store.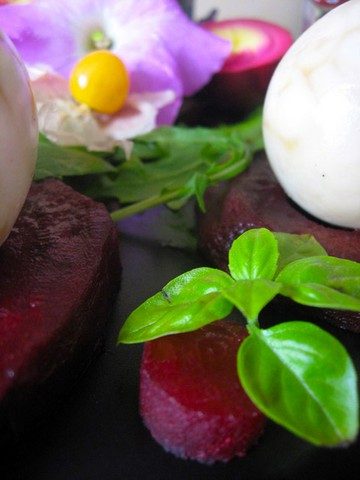 The Chinese Tea Eggs get stained in a web pattern where the cracks were. They also really give off an Asian soya sauce flavor, a delicate one. This is actually my favorite of the 2 recipes taste wise. This recipe is traditionally prepared during Chinese New Year and are a symbol of prosperity.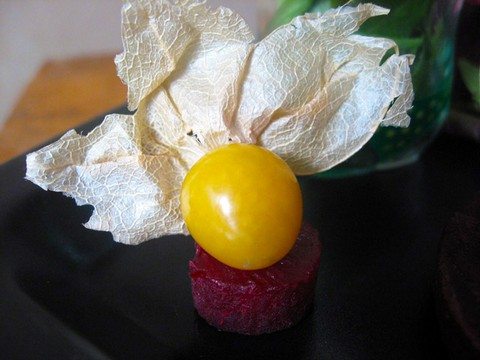 A tip on serving them without rolling: I served the Chinese Tea Eggs on a slice of cooked beet. I took out my apple corer and punched out a whole to sit my egg in. The  punched wholes were so cute why not use them in the presentation. I rested my basil and my Cape Gooseberries on them.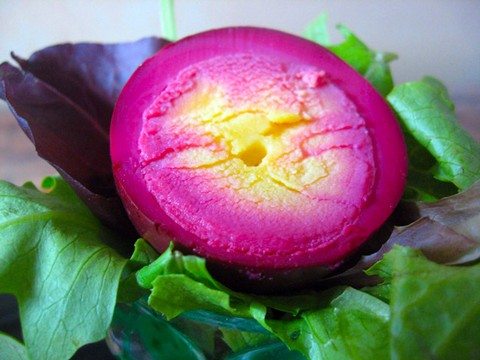 Oh and DO NOT throw away the cubed beet mix from the Beet Stained Eggs. Just drain off the liquid and serve the beets as a cold salad. Now where did I put my exfoliating gloves……my hands are stained too!