Yesterday I shared with you some holiday recipes I will be making. The cocktail's recipe contained 1 ingredient many of you may not be familiar with: Green Tea Liqueur.
Honestly, I just discovered it myself this summer while I was in Toronto. The Quebec liquor stores SUCK when it comes to variety so I had to pay a visit to the Toronto Liquor store and that is where I saw the bottle of Green Tea Liqueur. Since I actually have some left I wanted to include it in my holiday cocktail recipe.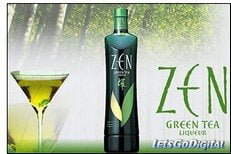 It appears from my quick online search only one company makes it and it is sold under the name of Zen Green Tea Liqueur. But I also came across some homemade recipes! Since most of you will not be able to find this product (and it's more expensive too) you can just make your own! I think I paid about $36 for the Zen bottle. Making it yourself will probably run you about $20 ish dollars. That is a savings of $16. Like making your own liqueurs? Check out my green almond liqueur recipe.
Homemade Green Tea Liqueur
6 tsp. green tea leaves (loose, good quality)
3 cups vodka
1 cup syrup
2-3 drops green food coloring
The tea leaves should be steeped in the vodka for only 24 hours; longer makes the liqueur bitter. Shake the jar or bottle well when you add the leaves. Add the sweetener and coloring the next day.
How easy is that! here is a sugar syrup recipe too!
Sugar Syrup
Equal parts of sugar and water, bring to a boil and simmer for five minutes. Cool before adding to the recipe.