I had a weekend from HELL. After an absolutely lovely dinner with the Cheap Ethnic Eatz group I went home. After the initial shock subsided and I confirmed I had not been robbed I realized there had been extensive water damage to my apartment.
I live in a high rise with a pool on top on the 20th floor. I live on the 18th. Apparently a pool pipe burst (actually heard rumors now some opened the wrong valve) and leaked in the building. Apparently visible damage in apartments were felt all the way down to the 6th floor. When I got home 3 area carpets where thrown in the bathtub, the bathroom still had 1 cm of water on half the floor, there were to mystery mops in the hall way, 2 pans where taken from my cupboards to collect dripping water from my pantry in the kitchen, and worse was the bedroom: the bed was pushed across the opposite side of the room, the mattress was standing up pushed against the commodes, my bedding (ALL OF IT) wet AND they used the cat's liter box as a water collector to for water dripping from the ceiling…a dirty wet liter box!! Thank god my mattress has a plastic wrapping on it. It smelled of dirty pipe water and half my place was affected.
Its 9h30pm on a Friday night. No one even tried to contact me about this during the day! I call the landlord and am told what happened…apparently 6 firemen and 3 employees where mopping up my place for a while. Nothing can be done till Monday we'll see then. Cats are hiding terrorized. I wanted to cry! Neighbors I met in the hallway over the weekend told me what they witnessed. The guy upstairs had his place destroyed and the firemen had to break down his door to get in.
Tally: I took pics and will see with the Quebec rental board before contacting the building owners. I only lost 10$ worth of food. Everything else is laundry or cleaning. But the apt is damaged in the kitchen, my bedroom floor has buckled up on 1/2 the floor surface, etc.
I was not alone with bad news. One friend had her car stolen Saturday night and my other friend was over for dinner last night got a call and got fired at 10pm from her part-time job. This week-end SUCKED! I twitted to death about all that was going on this weekend. Matt from Menu Musings sweetly offered to help.  Thanks, Matt, that was really sweet!
We actually just did an exchange I did not have time to post yet but this is appropriate now. he had told me before hand, but funny enough instead of getting local products I got all Asian products (not that he is Asian either). I got quite a package from him with unusual items. I got a spice mix to make Kimchi, chop sticks, a spice  mix to make a hot pot…and Jelly Fish.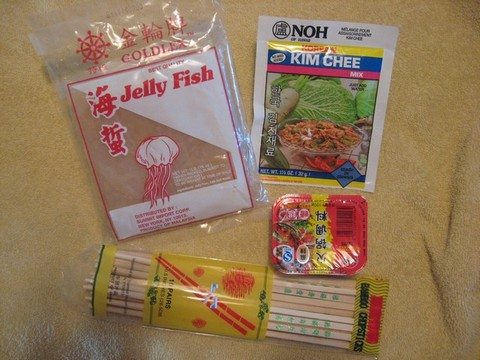 Yes jelly fish. I have actually already eaten jelly fish before in my life but its the first time I have some in my house. This will be interesting! I had posted a recipe for it a long time ago. It is mostly used for salads. I found this recipe to find out what I had been served at this restaurant…I guess now I can actually do it myself!