This past Wednesday was the first cold day announcing the possibility of fall. I had to wear socks and closed shoes. I hate socks and I hate closed shoes. I am happiest in sandals. I have been free of socks since like end of May. This weather also brought on my first craving for a hearty and warm dish. I would normally pack it with beef but my vegetarian friend was coming over for dinner…so vegetarian chili it was.
This is a quick post, simple phone pic and very simple diner to prepare. Right now comfort is my essential requirement. Enjoy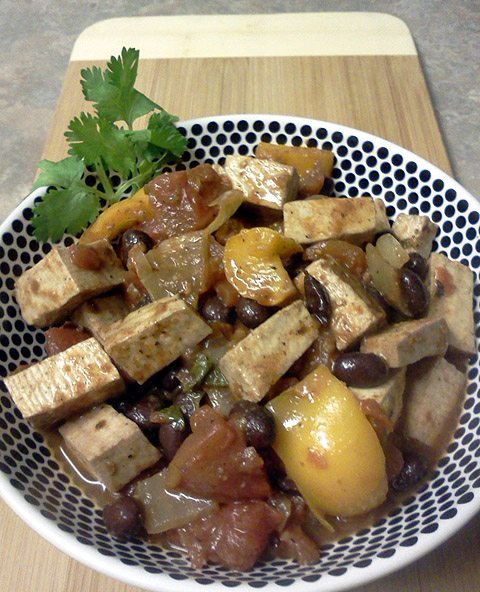 Ξ Hearty Vegetarian Chili Ξ
2 tbsp olive oil
1 onion, diced
3 garlic cloves, chopped
1 yellow pepper, chopped in big pieces
2 tsp cumin
1 1/2 tsp cinnamon
1 tsp chile powder
Sea salt and ground pepper to taste
1 can (15.5 ounces) black beans
1 pack of tofu, chopped
3 cans (14.5 ounces/400g) diced tomatoes
fresh coriander
In a large pot heat oil over medium-high and add the onion and garlic. Cook until onion is translucent, stirring often. Add yellow pepper, cumin, cinnamon, chile powder, salt and pepper and stir well. Add the black beans, tofu, coriander to licking and diced tomatoes. Bring to a boil, reduce heat and simmer for about 30 minutes. Add fresh coriander to taste.