I found some SCARY candies!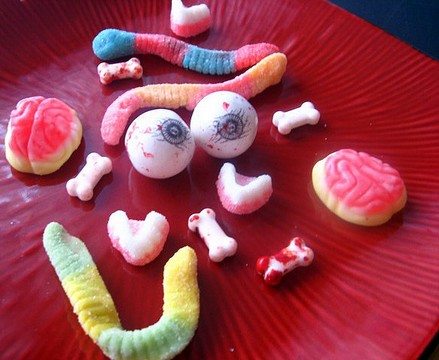 BOO to you with my brains, bloody bones, eyes, teeth and worms
OK fine, you won't let me get away with just store bought candy, right? Fine…I got a Gooooo-lish recipe that I adapted over at SusanV's blog.
Spooky Black Bean Hummus
1 cloves garlic
2 15-ounce cans black beans, drained and rinsed
4 tablespoons mayonnaise
3 tablespoons lime (or lemon) juice
1 teaspoon cumin
1/8 to 1/4 teaspoon chipotle pepper — to taste (I used Tabasco)
1/4 teaspoon salt
For Design: additional mayonnaise and food coloring
With food processor running, drop in everything but the beans until processed. Add the black beans, and process until pureed. Taste and correct seasonings, adding more as needed.
Spoon the hummus into a serving dish, smoothing the top. Using a pastry bag filled with a bit of mayonnaise pipe on the design. Place a plastic spider into the web or use food coloring to make the mayonnaise dark and pipe it out to. Refrigerate until ready to serve.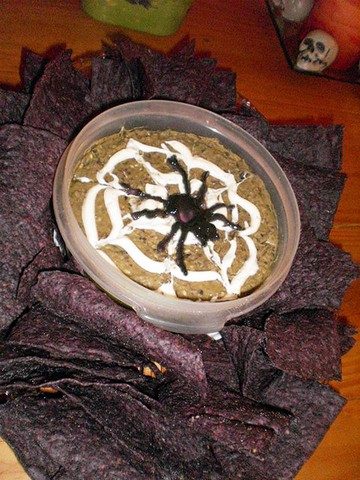 Bonus Gooooolish points: I served my with BLUE corn tortillas.
I actually went to 2 Halloween parties this year and I had a different costume for each. Last night I was a Domintrix. The other party I do have a pic but I will let you try and guess what I was ( and NO it is not chicken pox).