Yeah I know its the 3rd blog I am posting today but I really wanted to do this one.
By know you all know, unless you really live under a rock, that Haiti was hit with the worst earthquake in 200 years, registering at 7.0,  on Jan 12th, 2010. This country is already in constant turmoil and one of the poorest places on earth. 1/3 of the population has been affected…ONE THIRD!!!!!!
Now today I hear stories of fake organizations claiming to raise funds to for help just to make a buck. How absolutely dispicable. So i decidedd to post a couple of links from reputable places should you want help.
World Vision Canada
And why not prepare a traditional Haitian meal tonight wishing them to do able again to do the same as soon as possible.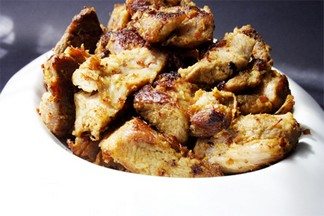 Fried Pork (Griot) with Rice & Beans
Ingredients
1 cup bitter orange juice
1/2 cup vegetable oil
1 tsp salt
1 tsp black pepper
Dash of thyme
1 hot green pepper, chopped
1/2 cup shallots, chopped
1 Large onion, finely chopped
3 lbs shoulder of pork, cut 1″ to 2″cubes
For Riz et pois
2 cups long grain rice
4 cups of water
1 cup red kidney beans
1 onion, finely chopped
1 green pepper, chopped
1 tbsp butter
2 tbsps vegetable oil salt
Griots Preparation
Put all ingredients, except oil in a large pot and marinate in the refrigerator. Place the marinated pork on the stove, add water to cover all ingredients. Simmer for 90 minutes.
Once cooked, drain the mixture, add oil and fry the pork in the pot until brown and crusty on the outside, but tender on the inside.
Riz et pois (Rice & Peas ) Preparation
Pour the 4 cups of water into a pot, pour the beans into the water and cook for approximately 2 hours or until tender. Drain the beans, but keep the water( in a clean separate pot) to be used to cook the rice.
Next, fry the chopped onion and green pepper. When the onion is tender, add the beans and season to taste. Next, add the water used to cook the beans, bring to a boil, add the rice and cook for 20 minutes.