I am just so delighted to welcome Maya from Foodiva's Kitchen today with a very special post. I became a fan of her blog very quickly. Not only are her recipes wonderful but Maya has a beautiful and fun personality that shines through her words and absolutely stunning photography. She resides in Brunei which is on the Island of Borneo in Southeastern Asia. Considering my blog's penchant for ethnic food you can see how I would be mesmerized by the exotic recipes and ingredients she has easy access too…like her presently overloaded mango tree in her backyard. OK now I hate her, kidding!
Recently we were both enchanted and inspired by a dessert the other had posted. This turned into a great idea of a guest post exchange. Below is her inspiration from my Sweet Potato Pudding Cake. My version of her Pull Apart Breads can be found right now on my guest post on her blog…so make sure to go visit after. I can't wait to see what she created, take it away Maya!
______________________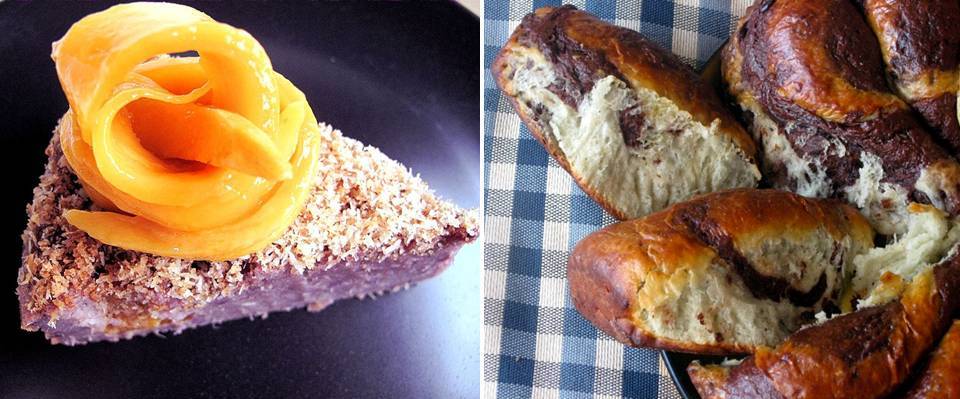 I first caught sight of this delicious sweet potato pudding cake on Evelyne's blog when she made it as part of a celebratory feast for her dad's 75th birthday party. Lucky dad and fellow guests… and poor me, left to stare longingly at the screen well after the party was over! Luckily Evelyne had supplied the recipe in her post and I looked forward to a free day, preferably after lots of hours in the gym, when I can make and taste this cake for myself. Well I didn't have to wait very long because soon after (but not 10 lbs-less after), Evelyne herself contacted me about doing this guest post exchange! Talk about being cautious what you wish for… Uhhh, diets are for wimps, anyway. Let's just get on with this and get the craving out of my system.
If you've followed me for a while, you'll know that I have quite a number of purple sweet potato recipes on this blog and if there is a legal limit, I've probably past it already. Purple sweet potato is one of the more versatile ingredients readily available to me here in the tropics, and honestly…. I love the color purple. Another thing you'll probably also know, but let me rub it in once again, is that I have a fully blooming mango tree in my backyard. So what more was there to think about? In a reverse color combo of Evelyne's (orange) sweet potato and blueberries pudding cake, I have made a purple sweet potato pudding cake dotted inside with mango cubes. It's moist and infused as well as topped with lovely coconut (and more fresh mangoes!) because let's face it, the coconut complements both the sweet potato and mango flavors like you wouldn't believe.
I wish I can impress you by saying how difficult it was to make this delectable dessert, but Evelyne has made the recipe so easy, it was really a breeze. So breezy in fact, that I don't have too many process photos to show you unless you're into slicing, dicing and mashing and all that mind-numbing stuff. Let me not insult your intelligence, okay, and just leave you with these shots.

Mashed purple sweet potatoes. Who can resist this color?
Thank you, Evelyne for suggesting this fun trip for both of us (and hopefully for those of you reading this too). If you haven't already checked out her amazing sweet-savory version of pull-apart bread, then please hop over to my site here. I can assure you the flavors of that bread really rock! As does she 🙂
Purple Sweet Potato and Mango Pudding Cake
(inspired by Cheap Ethnic Eatz)
Ingredients:
1 cup cubed ripe mango flesh
1 cup all-purpose flour
1/4 teaspoon ground nutmeg
1/2 teaspoon salt
2 cups of cooked and mashed purple sweet potato (about 1 large)
3 large eggs
400ml/14oz coconut milk
1 cup packed light brown sugar
2 tablespoons butter, melted
Topping
1/2 cup unsweetened dessicated coconut
1 tablespoon packed brown sugar
1/8 teaspoon ground cinnamon
Extra mango flesh, for garnishing
Method:
1. Preheat oven to 175C/350F. Coat a 9-inch spring form pan with melted butter.
2. To prepare cake: Mix flour, nutmeg and salt in a bowl.
3. Peel and boil purple sweet potato until tender, drain and mash in a large bowl. Add eggs, beat with an electric mixer on medium speed until combined. Add coconut milk, brown sugar and butter, beat until combined. Stir in the dry ingredients until evenly moistened. Stir in the cubed mangoes. Spread the batter in the prepared pan.
4. To prepare topping: Combine coconut, brown sugar and cinnamon in a small bowl. Sprinkle on top of the cake.
5. Bake the cake for 35-40 minutes. Let it cool for 10 minutes before running a knife around the edge of the pan. Do not remove the side ring yet. Let cool to room temperature, then refrigerate until cold, about 3 hours. Remove the ring carefully before serving. Garnish with fresh mango slices on top.