I am really enjoying this new group with a different monthly theme called Love Blog Hop. You can post on the theme any time of the current month and link up your post to the list (see all the entries at the bottom). So far I have participated in the citruslove and the chocolatelove. This month the theme is greensslove, as in a recipe featuring any leafy veggies.
OK I know it is St-Patirck this month so green is in, but leafy veggies, it did not bowl me over with ideas. Finally I settled on a recipe I knew I would probably not like so much but the concept was very cool: a green burger patty. My inspiration recipe was from Makiko's blog, Just Bento, with her Poppy seed encrusted green pea mini-burgers recipe.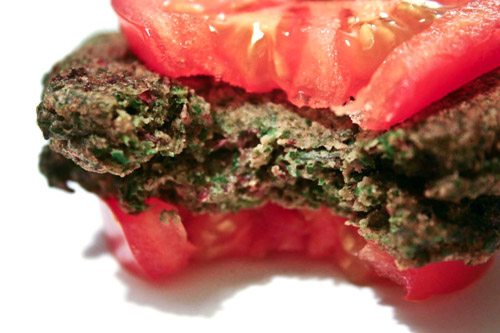 I just recently bought beets with their greens for last month's 5 star Makeover Beet challenge where I made Apples With Beet Hummus and Mint Yogurt Sauce. Granted the leaves were a tad wilted but who cares once they take a whirl in the food processor!
I served my patties with tomato slices in lieu of buns. I love the color contrast and it really keeps the dish veggie all the way.
The verdict? Best word to describe: Meh! They were actually better the next day after a quick warm up in the microwave. This would be great for hard core vegans if they find a way to substitute the egg.
March is #greenslove month!
Please join in on the #greenslove fun by linking up any leafy green recipe from the month of March 2012. Don't forget to link back to this post, so that your readers know to come stop by the #greenslove event! The twitter hashtag is #greenslove :).
Ξ Beet Greens Burger Ξ
2 cups beet greens (or any greens)
1 tbsp tahini
1 egg
1/4 cup rice flour (you can use wheat flour)
1 tsp black olive paste, or about 2-3 black olives finely chopped
1 tsp finely chopped fresh rosemary (1/3 tsp dry)
Salt and pepper
Put all the ingredients in a food processor or mixer and process until smooth. Adjust the amount of salt and pepper to taste. The mixture will be like pancake batter – but green.
Heat up a non-stick frying pan or griddle with a little olive oil on medium heat. Drop 1/4 cup of the mixture and spread the size of a burger patty. Cook on both sides for about 3-4 minutes each until are lightly browned.  Makes 4 patties.
Check out the following co-hosts for this months Love Blog Ho