Another successful exchange arrived in the mail. This one is from Andrea of High/Low Food/Drink. Andrea is originally from Toronto but now resides in New York City. We decided to do the care package exchange after she signed up for the Foodie Exchange Group.
Now I had fantasies of stree cart hotdogs and roasted nuts but I knew that was not gonna happen. I was so curious to see what she would send me. And I was beyond pleasantly suprised from the treats I received:
– a fat Fat Witch brownie
– Nulty's so delicious smelling and tasting tea
– Bagel-It topping (which is a bit ironic because only Montreal does real bagels…wanna pick a fight??)
– Mustard from Coney Island
– A chocolate square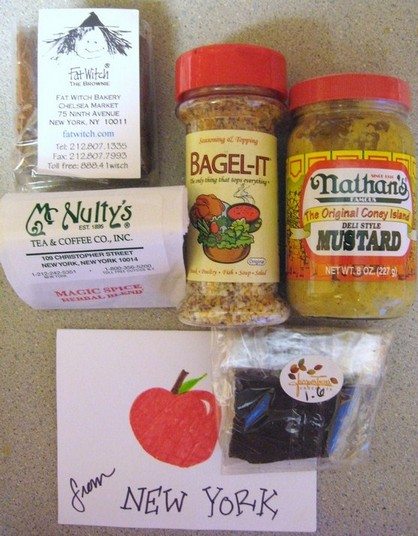 Andrea's attention to detail is amazing. She sent an adorable detailed handmade card and also sent a business card and bag of most places.
My package to her was a bit delayed as it was her package that was filmed for the TV segment  for Sunday Bite. Have not heard from her yet as to my package arriving.
Hoping to hear from you soon and a big thank you Andrea