It is Sunday night, 9:33 pm, I just finished cooking my challenge and I am about to have my dinner a. It has been a 2 weeks of procrastination, of being a general recluse. Blame it on fall? But I can honestly say I Gosh, cannot remember the last time I have been salivating over a home meal like this one.
Once again the cooking gods were with me and 2 challenge's deadlines crossed paths…2 challenges one post. The first challenge is the always inspiring and noggin crunching 5 Star Makeover where a theme or ingredient is announced and must serve as the inspiration of our dish. This month the theme was Cooking with Wine, this being the season of the wine harvest (sorry Maya yes there is booze again).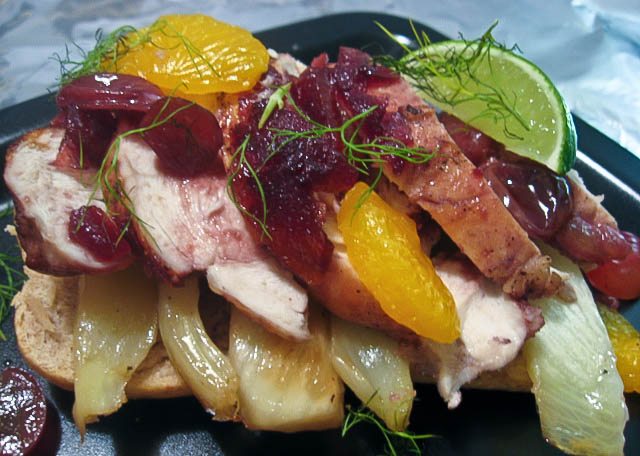 hosted by 5 Star Foodie & Lazaro Cooks!
The second challenge is the Secret Recipe Club and this is my group's reveal day! What is the SRC? Basically you are assigned a fellow participant's blog by the organizer and then you pick a recipe of your choice from that blog and make your version of it. But it is a secret, you cannot reveal whom you picked and what you made until the established posting date and time…. which is today! I can't wait to see who picked me.
This month I feel like I hit the jackpot with Taking on Magazines. This is a beyond entertaining blog authored by Christiane who has self baptized herself "The Mom Chef". The concept around her blog is brilliant: does that pretty magazine recipe really look and taste as good once you make it with kids running around you, your spouse hovering over your shoulder and the dog peeing in the corner. Well you get the idea!
Christiane and I share one thing in common, being the occasional lush. I found so many recipes with wine on her blog. Finally I settled on her  Sangria Chicken. Sangria requires a simple wine actually but I did go for a traditional pick, a Tempranillo. The dark grapes produce a ruby red wine with earthy notes of berries, plum, tobacco, leather and herb. I felt a Spanish meal was in order. I was just telling a friend today the only city I have traveled to that really felt like home was Barcelona. I had visions of enjoying a light lunch in a eatery along the beautiful main entertainment street, Las Ramblas.
Sangria Chicken

4 chicken breast halves
2 tablespoons olive oil
2 cups dry red wine
1 cup sweet orange marmalade
1 1/2 to 2 tablespoons fresh lemon juice
1 1/2 cups seedless red grapes, halved lengthwise
Preheat oven to 450°F. In a heavy skillet, briskly simmer wine and marmalade for about 50 minutes, stirring occasionally, until reduced to about 1 cup. Off heat, stir in lemon juice to taste.
In a large bowl, toss chicken with oil, 1/2 teaspoon salt, and 1/4 teaspoon pepper. Lay chicken, skin side up, in a large rimmed sheet pan and cook until pale golden, about 20 minutes. Pour off juices.
Brush chicken with the glaze and put grapes around the pieces. Roast another 10 minutes. Brush with remaining glaze and roast until chicken is just cooked through, about 10 minutes more.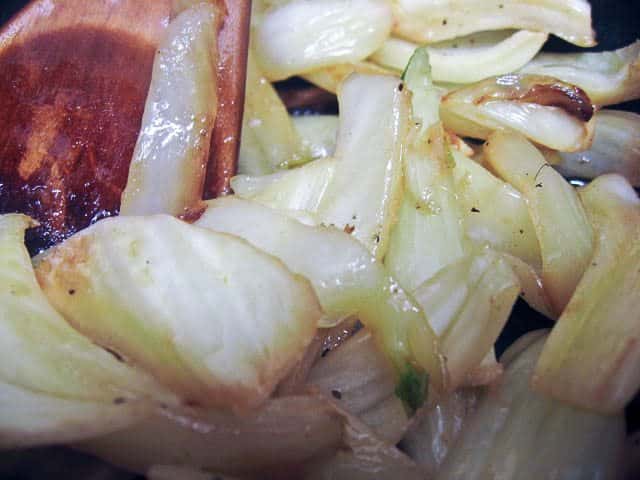 In this fantasy I saw on my plate an open faced baguette first lined with a gorgeous layer of caramelized fennel strips and then topped with the Sangria chicken nicely sliced on the diagonal. I made my own baguette from a traditional Spanish Rustic Bread recipe, the quickest bread recipe ever but not the most successful this time around. Finishing touches included slices of lime and mandarin. This is truly the closest recipe possible to glass of Sangria on a plate. Salud!