Funny how a simple comment on a blog can start a long conversation and eventually turn into a fabulous outing.
Towards the end of 2009 a new member joined the dinner group and she quickly took a liking to my blog and left many great comments. We actually started chatting a bit by email and looked forward to meeting in person soon at a dinner event. This day finally arrived during the group's Christmas dinner. Unfortunately when you host you cannot spend much time with one person. But emails kept flying between us. One series of comments following the Canolli Daring Bakers Challenge got very heated on my blog…with this lady leading the pack!
Controversy over Canolli! Well that started another set of email exchanges between Claudia and myself. The result: we promised to go on the Foodie outing together that would include canolli! of course life got in the way and it took about 6 months, June 5th 2010, to finally spend the day eating! The day was planned by Claudia (who incidentally started her own food blog since then) and I met her at a subway at noon on that Saturday morning.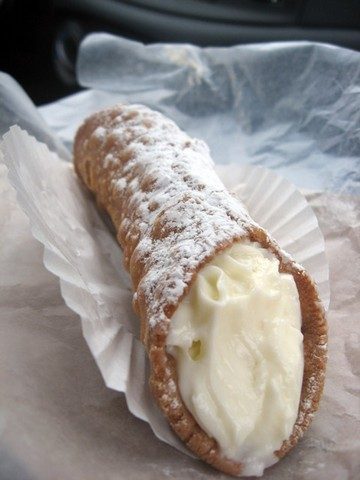 I stepped into her car and was quickly given…a canolli lol. What better way to start our adventure. We wolfed them down right in the car in no time. She had another gift for me that we will take a look at later in the post. Canolli are from…
Boulangerie Patisserie Lasalle, 2 locations
8591 Maurice Duplessis, RDP
1550, boulevard Daniel-Johnson, Laval
Next stop was a place Claudia had hear of. This lovely lady opened a stored specializing in stuffed dates. we really stayed quite some time and had a great chat with the owner. She uses two different dates: medjool and deglet nour that come from Tunisia or Algeria. A great tip: she quickly dips the dates in a mix of water and Orange blossom water. It adds a hint of a citrus scent and leaves the date glossy. She swears by Tunisian Orange blossom water alone. There are so many date confections: popular ones are cranberry, lemon, ginger, almond past, etc. Some are dipped ion chocolate (73% cacao exclusively).
Although not sold in the store you can make special savory (very salty is best) orders. Dates stuffed with blue cheese or salmon for example are delicious.
The owner also specializes in unique cookies and other pastries. She offered us scones made with soya flour, cranberries and Musk-mallow flowers. Really unique, I love it. This place is definitely worth the foodie detour.
La confiserie Thamar
168 rue Fleury Ouest, coin Esplanade
Now this next stop was a run in and run out. Claudia normally gets bread here on a weekly basis and we just picked up bread. She pre-ordered their amazing Olive bread. Since there was no more left she gave me one of her two loaves. THANK YOU! it was excellent and the bakery was impressive over all. Lovely huge olives all over the inside….so yummy.
La Petite Boulangerie
1412, Rue Fleury Est Montreal
Next on the tour? Lunch!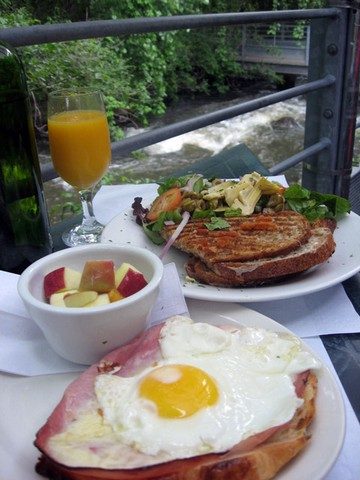 We went to a little hidden place in the Ile-de-la-Visitaiton park. Somewhere in the park are the ruins of the old mill that has been converted into a General Store museum up stairs and café-restaurant and adjoining terrace on the bottom floor. The terrace is set up along the small rushing river. You really feel like you are in the country almost. We even saw some local habitants: a few herons. Food is average OK but the location makes up for it. Really great choice.
We made sure to keep room for dessert as Claudia had another surprise in store: gelato! I blog enough about ice cream so she new this would be a guaranteed success stop wise. We went to a traditional Italian place which is a restaurant, a gourmet shop and has a gelato counter.
Great gelato bars but not earth shattering unusual flavors. But it was good. Front cup is mine: Gianducia, Cantaloupe and English Custard flavors. The cantaloupe gelato was phenomenal. Gianducia was a new discovery for me. Gianducia is a sweet chocolate containing about 30% hazelnut paste invented in Turin. basically its natural real Nutella before it was commercialized.
Gelateria Roberto's
2227 Rue Bélanger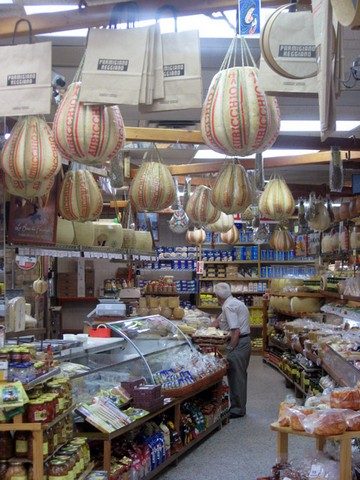 Last stop was La Baia de Fromaggi, a last minute decision. It was not suppose to be an Italian outing, just mostly turned out that way. What a shop! Look at all the cheeses hanging from the ceiling!
Turns out the owner served us and took a liking to us (and is a camera exhibitionist lol). Now most of the conversation was in Italian with Claudia and the owner. I caught on a lot but missed a lot too.  It really added also to the experience. The owner is very proud of his store's quality, its food…and right fully so! Love this pic of him showing cheeses to Claudia!
I did make a few purchases here which I'll describe just below as they became my light dinner.
La Baia de Formaggi
1715, Jean-Talon St. E
So I bought some of the best proscuito I ever had (the one the owner held in the picture above) called Proscuito Originale de Parma. Then I told Claudia to pick an Italian cheese I never tasted before for me to try. She chose a Torta al Mascarpone. OMG, its a 'layered cake' if you will of gorgonzola and mascarpone. Can you even imagine how divine and rich that was! I served up a slice of each on that olive bread we bought earlier for dinner. It was orgasmic!
So what was my 2nd surprise from Claudia? Shells for canolli…12 of them! She said they were for me to fill will my unique touch. Thank you so much again, Claudia; I was just so touched.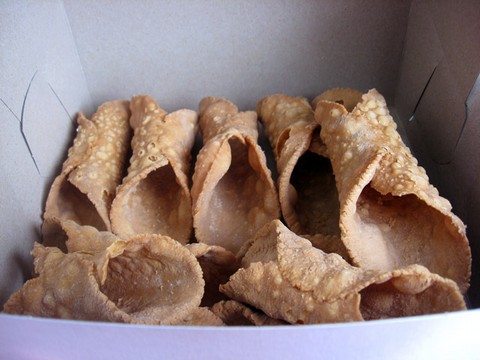 So on my way home I got some ricotta and my inspiration of the moment: blackberries.  See my recipe below.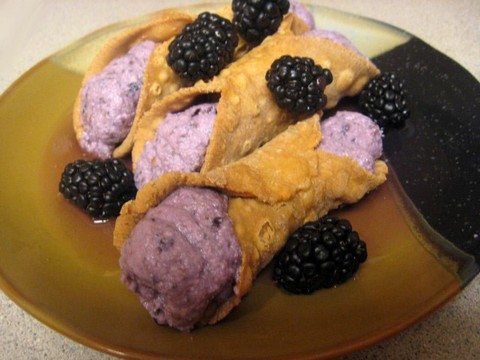 Blackberry Ricotta Filling
for canolli or what ever you fancy
2 cups ricotta cheese
1 cup powdered sugar
1 1/2 tsp vanilla extract
about 1 cup of blackberries
Put everything in a blender and puree.
Place mixture in a strainer lined with cheesecloth. Fold cheesecloth over the top.
Let drain overnight in the fridge.
Pipe your filling into the cannolli shells with a party bag or a large zip-lock with a corner tip cut off.
You can read her interpretation of our outing too.  Thank you Claudia for a fabulous day and letting me get to know you one on one…my new friend! To our next outing!