Have you ever heard of a sweet potato sesame seed balls? Buchi Ube is a traditional Filipino dessert made from purple sweet potato filling stuffed inside sesame balls.
The combination of the sweet mashed purple sweet potatoes with the chewy sesame seed balls made with glutinous rice flour is so tantalizing. And it's easier to make than you think. Let's take a look at how to make this colorful and tasty snack.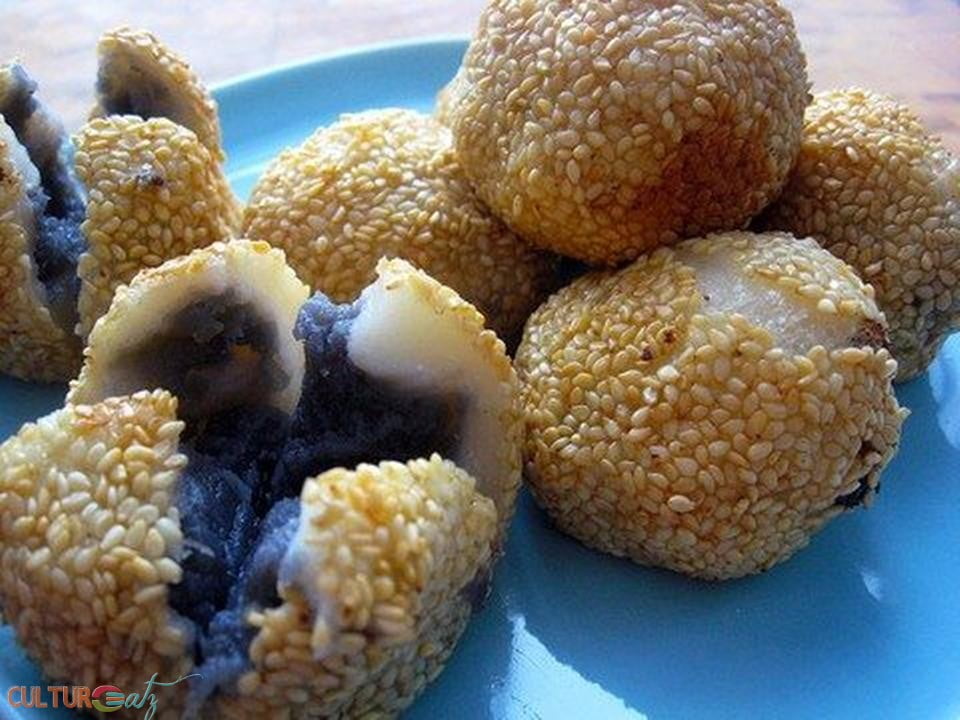 So, I am putting out a full disclosure here. This post was first published in 2010. I KNOW, crazy! The pics in this article are from before bloggers gave a S*#T about food photography or editing, and cameras maxed at 2MPs. Anywho, I entered this recipe as a contestant in the Foodbuzz Project Food Blog.
This recipe was for round 2 and our challenge was to pick an ethnic classic that is outside your comfort zone and to make sure it is as authentic as the real deal. Hello! That is the very definition of my site. I knew this was not a particularly difficult challenge for me.
But this recipe article was the very first time I actually made an effort to shoot the best pics. And at the time, these were pretty good. Oh, how times have changed.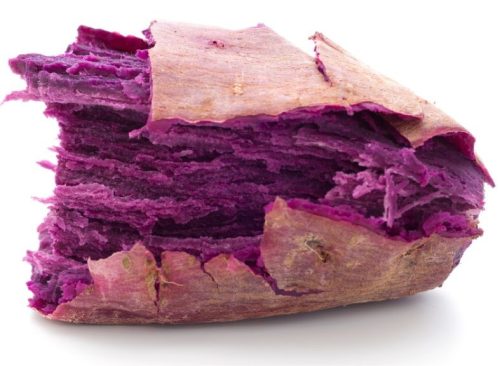 Food in the Philippines
I really think Filipino cooking is full of mystery and unknown to North Americans. Lucky for me, I have attended twice a Filipino potluck with the Filipino community.
The tastes, colors, and textures are very exotic.  You can be guaranteed that there will be an entire roasted pig called Lechón. Fish, chicken, pork adobo, rice, and curry dishes are common. For the brave, there will also be Dinuguan, a blood stew with pork offals.
I am particularly fascinated with the dessert options. They seem to consist mainly of flans or custard-like sweets that can be very starchy. And you have to try the famous halo-halo ice treat.
Today, we will explore Buchi Ube or sesame balls with a purple yam filling.
How to Make Purple Sweet Potato Filling
Ube Halaya, a purple sweet potato filling, is a very popular dessert in the Philippines and it is normally eaten as is. But it is also used for pies, tarts, and even ice cream.
Purple sweet potatoes (not to be confused with blue potatoes) taste exactly like yams. They just have a different color.
All you need to do is boil up a couple of ubes, and once soft, mash them. You are literally making mashed potatoes. Then we add coconut milk and condensed milk. This mixture is placed on the stove and cooked until thickened to a paste consistency.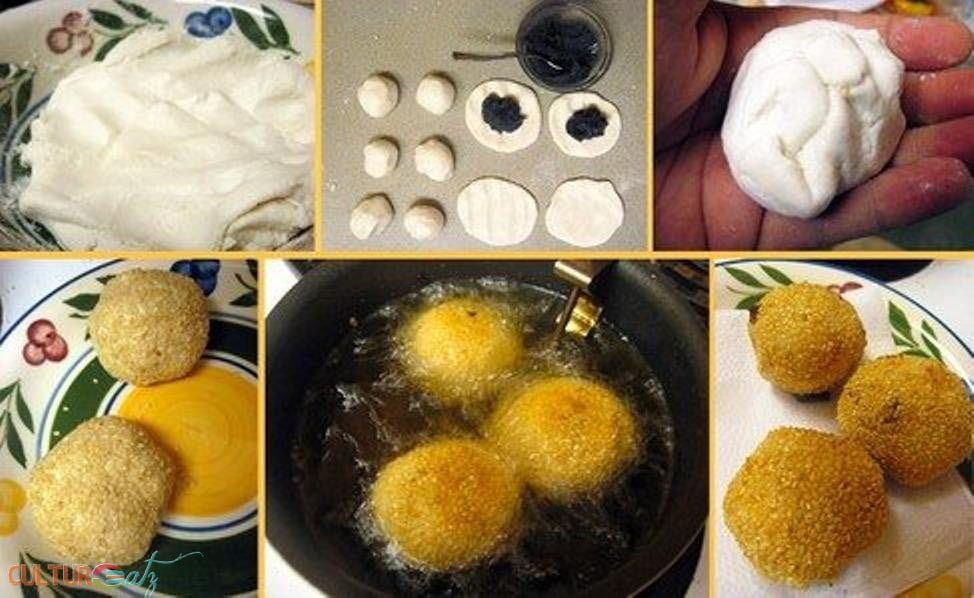 How to Make Sesame Seed Balls
At first glance, I bet you thought they were Chinese sesame seed balls. And you would be right. These balls are made from a dough made with glutinous rice flour which is flattened into a small disk, filled with a sweet paste, rolled into balls,  rolled in sesame seeds, and deep-fried until you get a golden crisp chewy treat. Check out the full recipe below for the complete instructions.
Traditionally, the filling used in Chine is sweet red bean paste. The Filipino version called Ube Buchi is made with the sweet ube dessert.
Sesame balls are usually served still warm. Here is a pro tip for you: snip them open with a pair of scissors. They are a bit oily, chewy and sweet once you get to the middle. Very rich and addictive!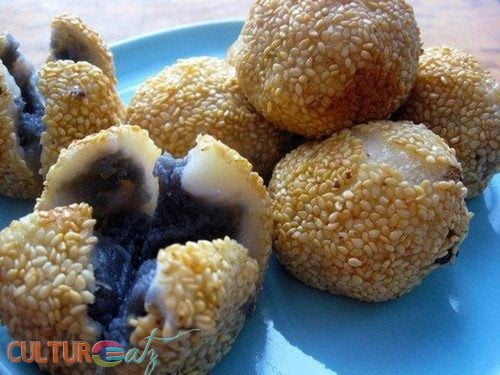 Purple Sweet Potato Sesame Seed Balls | Buchi Ube
Buchi Ube is a traditional Filipino dessert made from purple sweet potato filling stuffed inside sesame seed balls.
Ingredients  
Filling
3/4

cup

purple sweet potatoes

peeled and sliced

1/2

cup

coconut milk

1/2

a 14oz-can condensed milk

a pinch of salt

1/2

tablespoon

butter
Sesame Seed Balls
1 2/3

cups

+ 1 tablespoon glutinous rice flour

2

tbsp

sugar

1/8

tsp

salt

1/4

cup

water

1/2

cup

sesame seeds

1 1/2

liters

vegetable oil
Instructions 
Filling
Peel and slice the purple sweet potatoes into medium pieces and boil until tender. Drain and mash.

In a deep saucepan combine all the ingredients except the butter. Place on medium-high heat and stir non-stop while the mixture thickens, it can take anywhere between 10 and 20 minutes. After, add the butter and mix it in well.

When the mixture starts to pull away from the sides of the pan and a spoonful doesn't fall, it is ready. The goal is to achieve a paste consistency.

Keep 3/4 cup aside for the sesame seed balls and pour the rest into a well-buttered dish. Refrigerate for 1 hour before serving and spronkle toasted coconut on top.
Sesame Seed Balls
Mix the glutinous rice flour with the sugar, salt, and water. Knead just enough to form a ball. Divide dough into small pieces and form small balls, about 12.

Roll each dough ball into a flat disc then place 1 tablespoon of the filling in the middle. Wrap the dough around the filling and pinch shut. Roll the ball in moistened sesame seeds. Repeat.

In batches, deep fry in hot oil at 320 F for about 10 minutes, or until the balls float. Keep the balls submerged in the oil with a slotted spoon as you slowly increase the oil to 350 F, and fry until golden brown, about 5 minutes. Drain on a paper towel and leave to cool a bit before serving.