Leaf peeping is the perfect excuse for a day trip or weekend getaway. Here are some of the best places to see fall foliage around the world.
With fall already almost at our door in the Northern hemisphere, the colors of autumn will soon be in their full splendor in forest and parks across the world. They are usually at their peak in September or October, depending on your fall foliage destination of choice.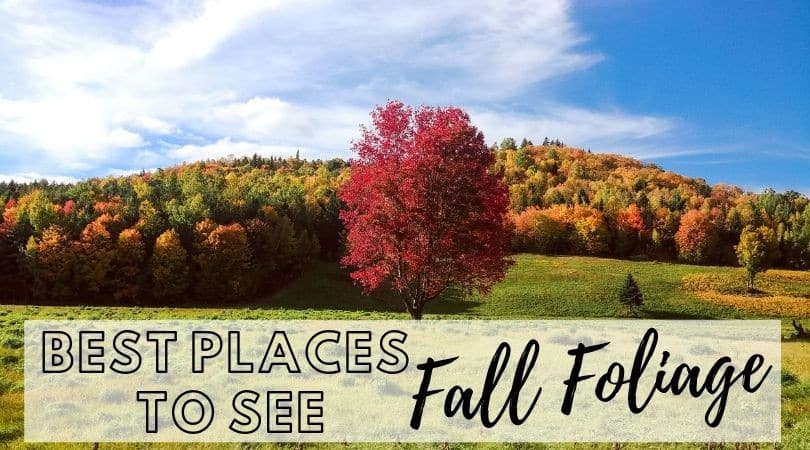 The Best Places to See Fall Foliage
I think we tend to forget that the leaves change color in places other than what we know. And one can actually travel to the other side of the planet to see gorgeous red, orange, and yellow leaf tableaux.
That is why I reached out to fellow travel bloggers and asked them to share some of their favorite leaf-peeping spots in North America and around the world.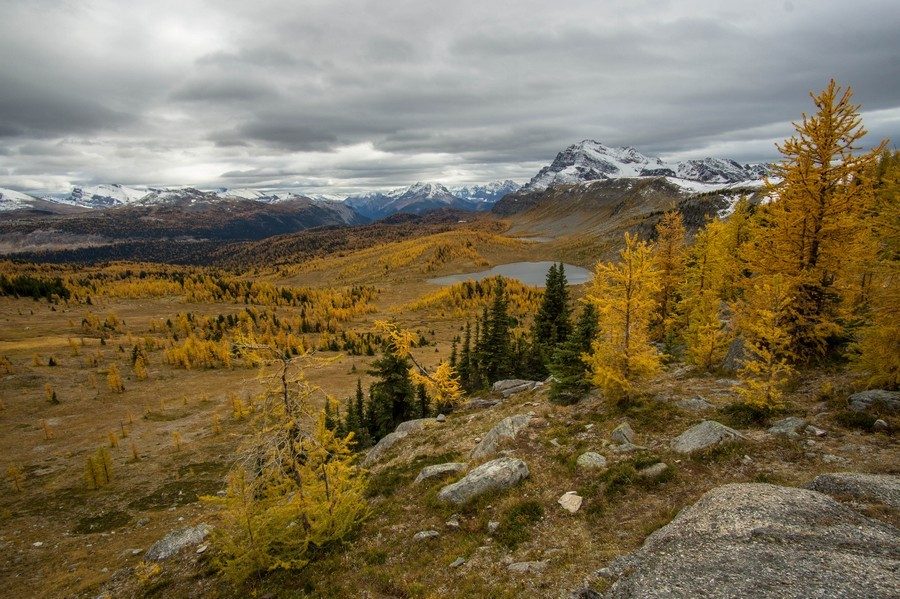 Banf National Park, Alberta
by Zen Travellers
While most people think of leaves changing color when they hear the words "fall foliage", Canada's oldest national park, Banff National Park is home to one of the most unique and spectacular displays of fall colors every year when its alpine larches turn to gold. Only found at high rocky mountain elevations, Banff's coniferous alpine larches turn bright golden yellow before losing their needles for the winter. They are the only coniferous trees that lose their needles and grow only between the elevations of 1,800 to 2,400m (5,900 to 7,900 ft). Larches are among the longest-lived trees in the world with one specimen in the Canadian Rockies to be an estimated 2000 years old.
Already famous for its dramatic mountain scenery, turquoise lakes, and diverse wildlife, seeing the larches change color in Banff National Park is a bucket-list item for many.
The awe-inspiring tableau of granite peaks jutting into crisp fall skies and flanked by golden larches draws so many visitors that locals call the last few weeks of September "larch madness." One thing for sure is, it would be madness to miss it.
While the crowds tend to stick to a few main spots to take in the golden view, there are many amazing hiking trails to see golden larches, such as Healy Pass where you can spend time amid the famous trees in peace.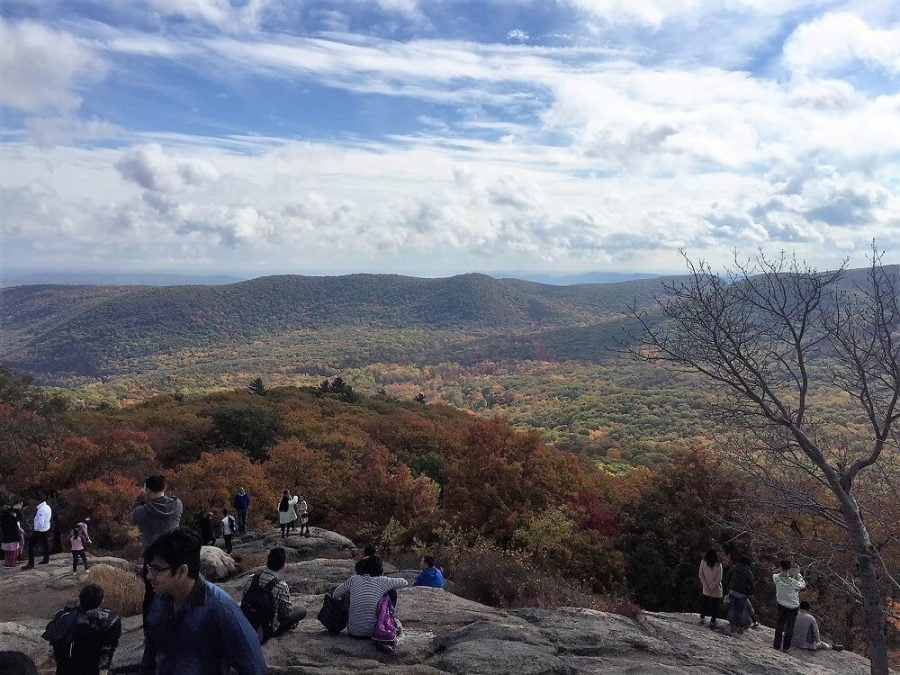 Bear Mountain State Park
by Two Traveling Texans
Bear Mountain State Park is beautiful all year round but it's at its best during the fall season. It is a fabulous place to see the fall colors and they even have their own Oktoberfest. Even if you don't like beer, it will be a fun time.
The park also has plenty of hiking and biking trails, but If you're short on time or energy, you can do the scenic drive to the top of Bear Mountain. The views are breathtaking! Climb the Perkins Memorial Tower for 360-degree views of the Hudson Valley.
It's not too far from NYC, so you can do it as a day trip but the area is so lovely that you will want to make a weekend out of it. The Bear Mountain Inn and Overlook Lodge which is actually inside the state park is the best place to stay.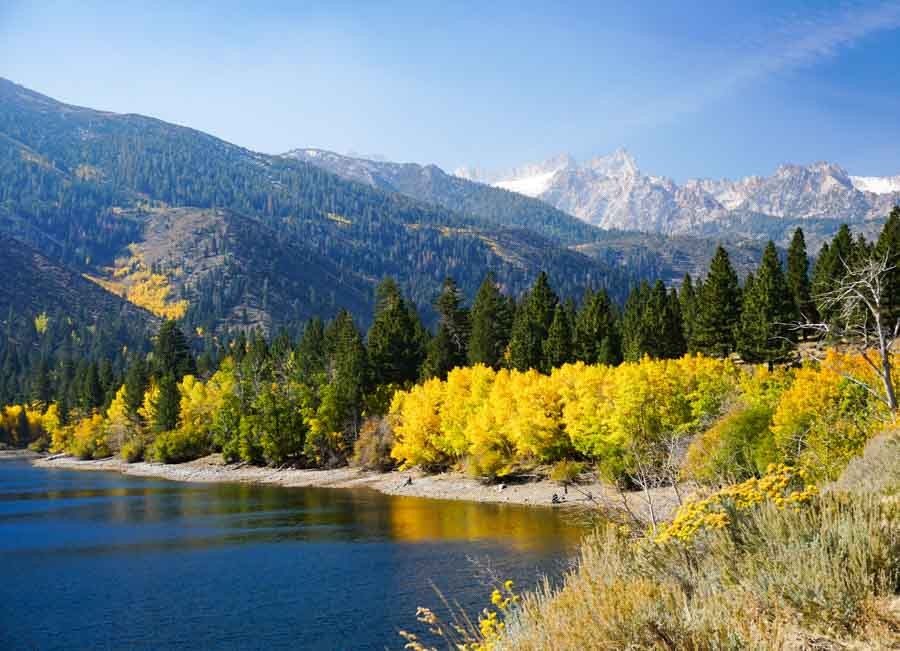 Eastern Sierra, California
by Dhara from It's Not About the Miles
One of the best places to go leaf-peeping in the USA is the eastern part of California. Come September, the hills and valleys of the Eastern Sierra start blazing with rich fall colors. Fall is definitely the time to consider a getaway to this region, whether it's a one-day drive along California SR395, or a week spent driving along the numerous backcountry roads in search of the best color show.
If you're thinking about a day trip, or a weekend, to see fall colors in the Eastern Sierra, focus on one place. Base yourself in South Lake Tahoe and drive to Hope Valley or the nearby mountain pass roads. Or visit Mammoth Springs and explore the June Lake Loop. Even further south, you can launch your fall color drives from the town of Bishop. Call ahead to find out which part of the Sierra is at peak when you wish to visit: the County offices monitor the color in their areas very closely!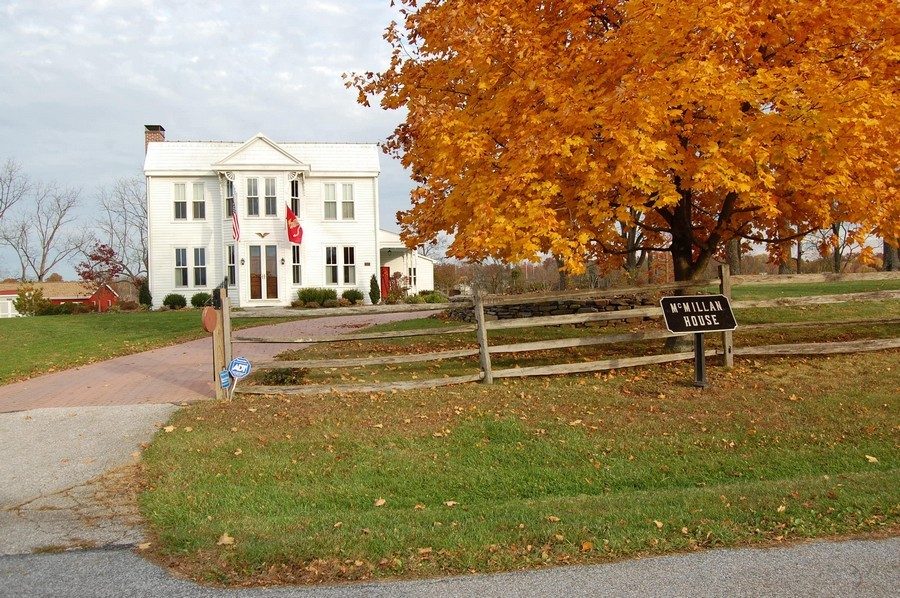 Gettysburg National Battlefield
by History Fan Girl
If you're in Pennsylvania, Delaware, or New Jersey, a day or weekend trip to Gettysburg is a great way to have a culturally rich experience, and enjoy a bit of fall foliage at the same time.
The battlefield that the Battle of Gettysburg was fought over is both a hallowed site and one protected by the National Park Service. The most common way to see it is to go on a self-guided driving tour of Gettysburg. This route can take a few hours or an entire day, depending on how often you want to stop and explore. Along the way, you'll see the stunning foliage along with battle memorials to the various events that took place during the Civil War.
You can purchase a guided audio tour ahead of time so that you can learn as you go. If you choose to stay overnight, there are many other places to visit in Gettysburg to learn more about the history of the site.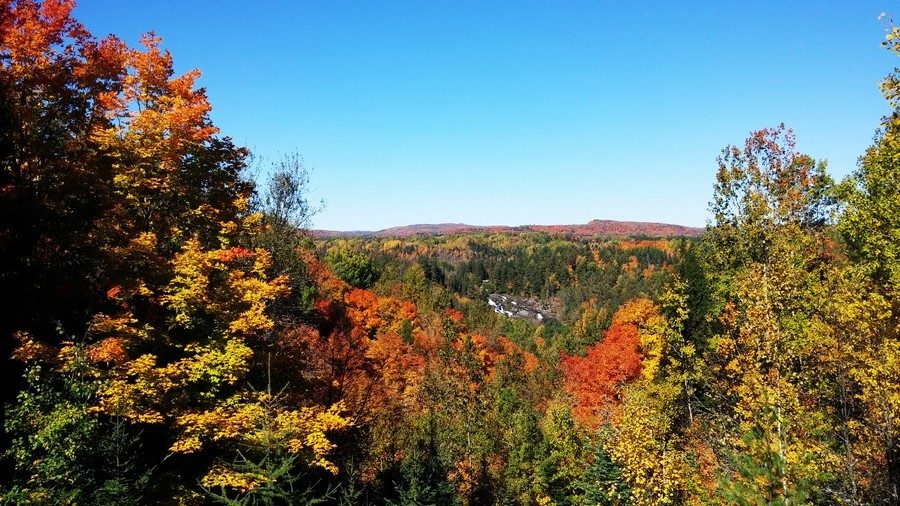 Lanaudière, Quebec
by CulturEatz
The province of Quebec in Canada is the most idyllic destination for fall foliage. While most locals and tourist head for the Laurentians, I like to recommend the more rugged Launaudière area. There will be fewer tourists and more untouched forest.
Lanaudière is also a well-known destination for 4-wheelers with many paths cleared for this activity. So whether you are on wheels or hiking on foot one of the many local trails, the magnificent fall colors are sure to impress. And one great fall activity to do is picking your own squash of pumpkins right in the pumpkin field. La Courgerie in Saint-Elizabeth is the perfect place for this super fun activity.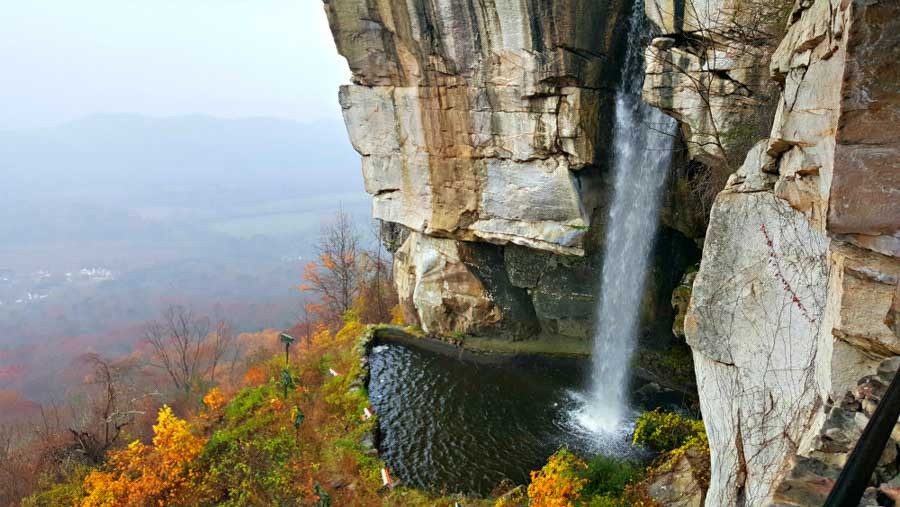 Lookout Mountain near Chattanooga, Tennessee
by Jillian Michelle of Adventure Dragon
Lookout Mountain near Chattanooga, Tennessee is one of my favorite places for a fall foliage getaway. A gorgeous, 90-foot waterfall lies at the top of the mountain, and it looks especially pretty surrounded by golden hues once the leaves of neighboring trees begin to change color. From a viewing platform at the top of the falls, you can see seven states on a clear, cloudless day. The trail to reach the falls will lead you through tiny crevices in moss-covered boulders and over a 180-foot suspension bridge where you'll be provided with incredible fall foliage views of the Chattanooga Valley below. Special fall festivities are also hosted on the mountain during this time of the year. There's storytelling for kids, pumpkin painting, live music, food, and dancing. I visit at least once a year and can't think of anywhere else I'd rather be during fall!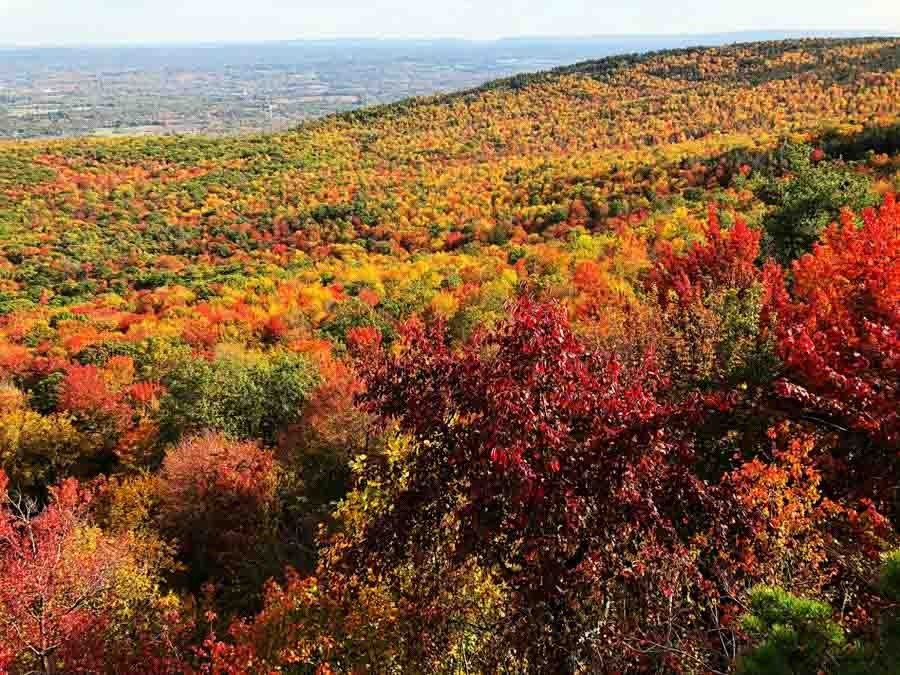 Minnewaska State Park, New York
by James Ian at Travel Collecting
Minnewaska State Park is the perfect day trip from New York City to see the fall foliage.  It is a small park centered around a beautiful lake.  Trees along the path circling the lake burst into gorgeous fall colors in October, creating a stunning kaleidoscope of colors.  However, the best views are actually over the surrounding woods.  To get there, walk in a counter-clockwise direction around the lake from the parking lot.  Just after halfway, as the path starts to climb, there is a small trail off to the right. Take this path a short distance to the edge of a nearby cliff.  You will be rewarded with breathtaking views of bright yellows, orange, and reds as the entire forest that spreads out below you.  Minnewaska State Park is about two hours by car north of New York City in the Hudson Valley.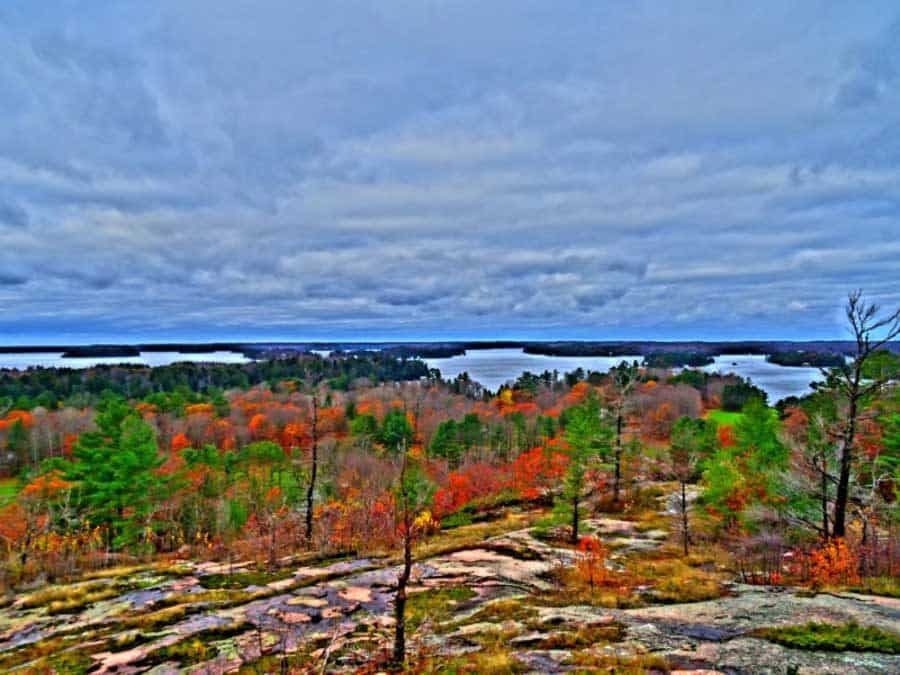 Muskoka, Ontario
by Stephanie from The World As I See It
If there is one fall getaway you choose, make it Muskoka, Ontario. Its been named the number one place in Canada to see the fall colors. Located a few hours north of Toronto, Muskoka is the ideal place to experience fall. With over 1500 lakes and forests for miles all ablaze in fall colors, there is plenty to do in Muskoka in the fall.
There are so many incredible ways to experience fall in Muskoka. Take a scenic drive down one of the many winding roads lined with colorful trees. Head to Bala for the famous Cranberry Festival. Jump aboard one of the many cruises to see the fall colors from the water. Or take a hike through the world-famous Algonquin Park. If you're looking for a fabulous fall getaway Muskoka is the place to be.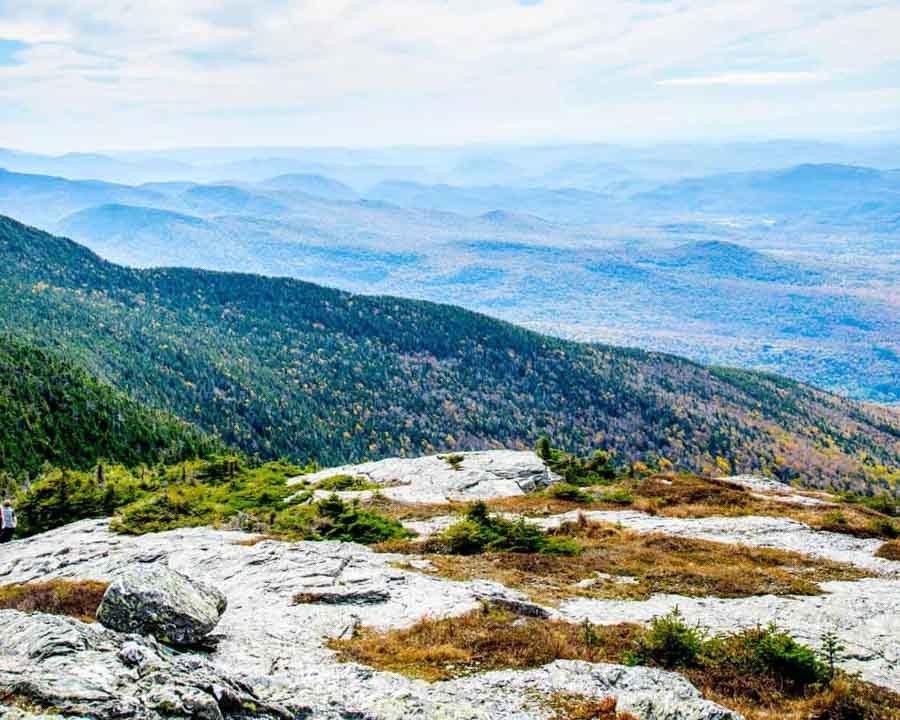 Stowe, Vermont
Stowe, Vermont is a must-see if you're looking to experience the best fall foliage. The town itself is decorated so nicely for fall and is very cozy, plus it's surrounded by the backdrop of mountains in vibrant shades of green, yellow, orange and red. Whether you're spending a few days in Stowe, or are just passing through on a day visit, there is a lot that you can experience. I suggest taking a stroll through the town to appreciate the charm that you would expect from Vermont, then going up Mount Mansfield. You can take a gondola up, or you can drive yourself up to the mountain. The ride up is amazing, as you are right in the middle of the splash of fall color. Once you get to the top, you can hike on the mountain, while taking in unobstructed views of the vibrant fall foliage all around you.
And now for some more worldly leaf peeping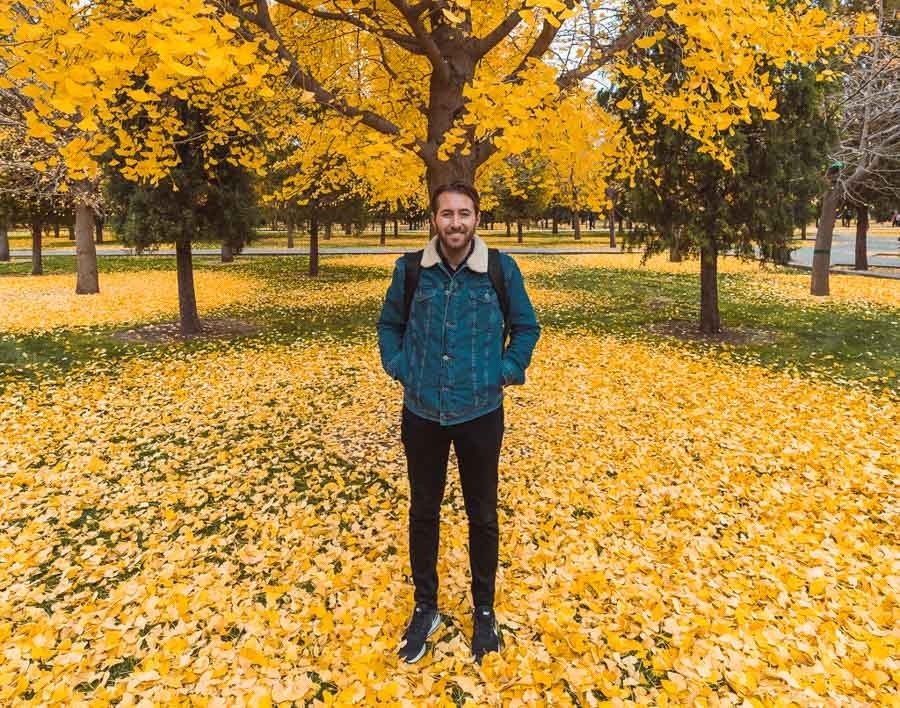 Beijing, China
Visiting Beijing in the fall is lovely and there is plenty of fall foliage to admire in the parks and temples around the city. The Temple of Heaven and the surrounding park is especially beautiful and it's full of the yellow ginkgo tree leaves.
The best time to visit for the fall foliage is in November. Another popular place to see the autumn leaves in Beijing is at the Ginkgo avenue and the Yonghe Temple. Most of the fall foliage in Beijing is with the yellow ginkgo leaves, but you'll also get the chance to see red and orange leaves here and there.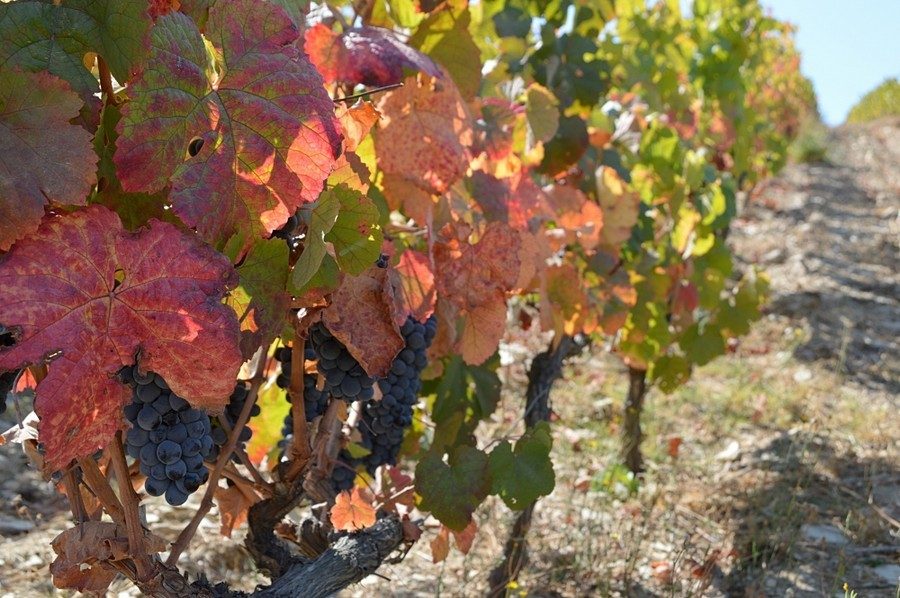 Douro wine region, Portugal
by Julie Dawn Fox in Portugal
The UNESCO World Heritage landscape of Portugal's Douro wine region is stunning at any time of year but in fall, it's bursting with rich, warm tones that make it truly magical. The endless slopes and curves of the hills surrounding the Douro Valley are ribboned with terraced vineyards that create a multicolored patchwork of stripes.
During the grape harvest in September, the vine leaves begin their transformation from vibrant greens to become deep burgundy and copper by late October, early November. A glass of 40-year old tawny port and a good viewpoint is all you need to fully appreciate this perfect autumnal location.
You can visit the Douro Valley on a day trip from Porto – there are several companies that offer both small group and private tours that include scenic viewpoints as well as winery tours. Alternatively, you can spend a night or two at a Douro Quinta (wine estate) and watch the mystical morning mists evaporate to reveal the colorful layers beneath.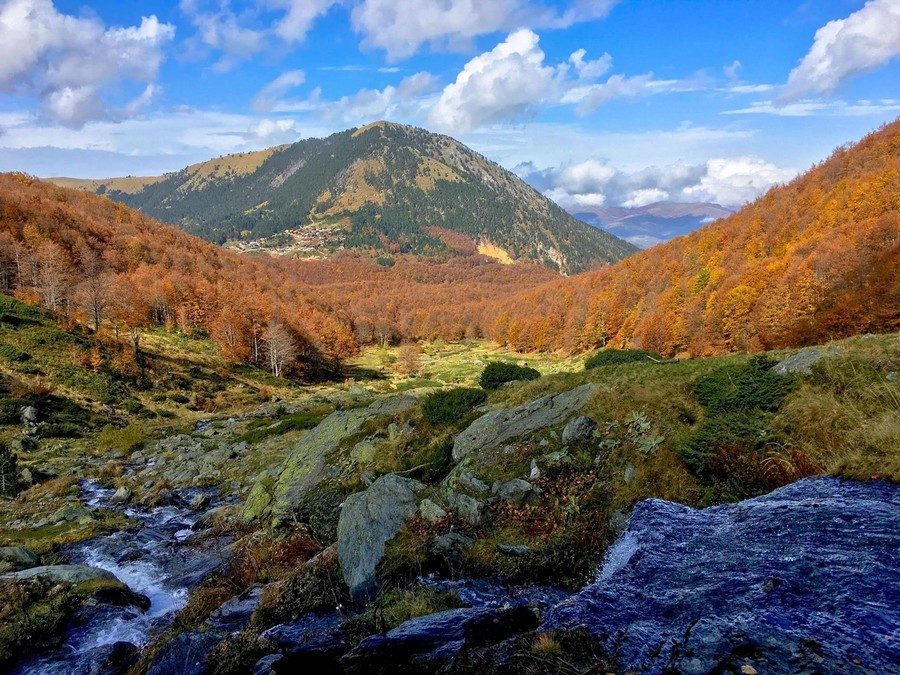 Kosovo
By Karen at Wanderlustingk
One of the most unexpected places to find beautiful fall foliage is Kosovo in the Balkans! Just an easy trip from the picturesque city of Prizren, you'll find the Sharr Mountains. These beautiful mountains are the home to many villages and hiking trails.
During the summer and falls, shepherds roam the mountains with their sheep. During a day hike after a short taxi/bus ride from Prizren, we found stunning fall foliage and absolutely nobody around in October. Although it is possible to go up further into the mountains, it depends on the weather how much is possible.
Prevalla is an accessible trip that requires just a fifteen-minute walk before you're ensconced within a beautiful and quiet relatively untouched forest full of changing colors. As you hike up further, you only see more and more beauty.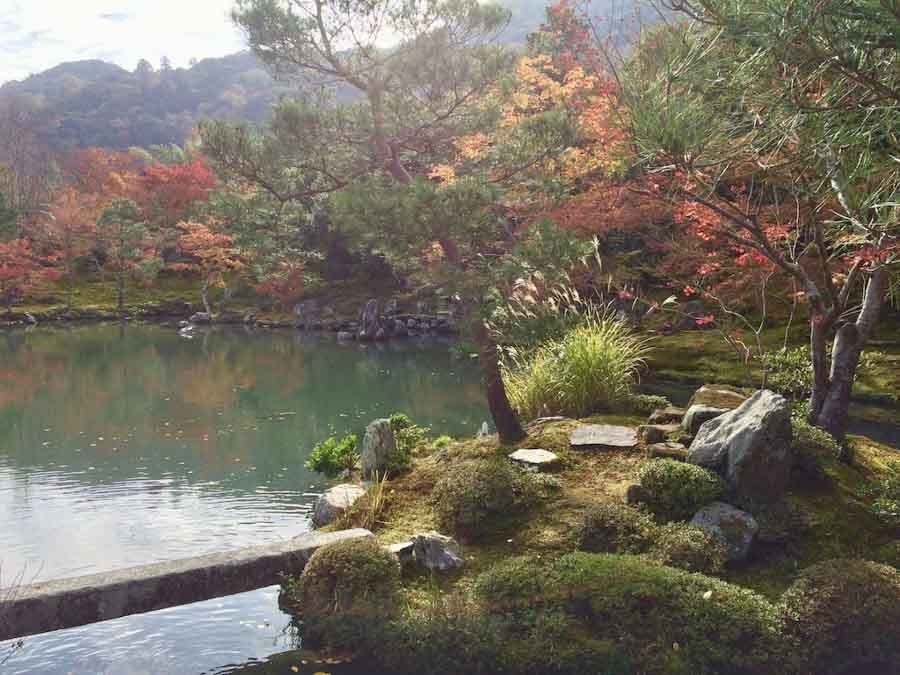 Kyoto, Japan
by Lena from Nagoya Foodie
There are many cities in Japan where you can enjoy the beautiful fall foliage, but none is more beautiful than Kyoto. The best area to enjoy the changing of the leaves in fall is Arashiyama, in the north of the city. An area with beautiful shrines and temples surrounded by mountains and rivers.
The best time to enjoy fall foliage in Kyoto is from end of November to the beginning of December when the temperatures finally drop the leaves turn beautiful shades of bright red and yellow.
After a long day of exploring Arashiyamas temples and shrines, you will crave nothing more than a hot meal and a relaxing bath at one of the cozy Ryokan in the city. This makes for a perfect fall foliage day trip, trust me.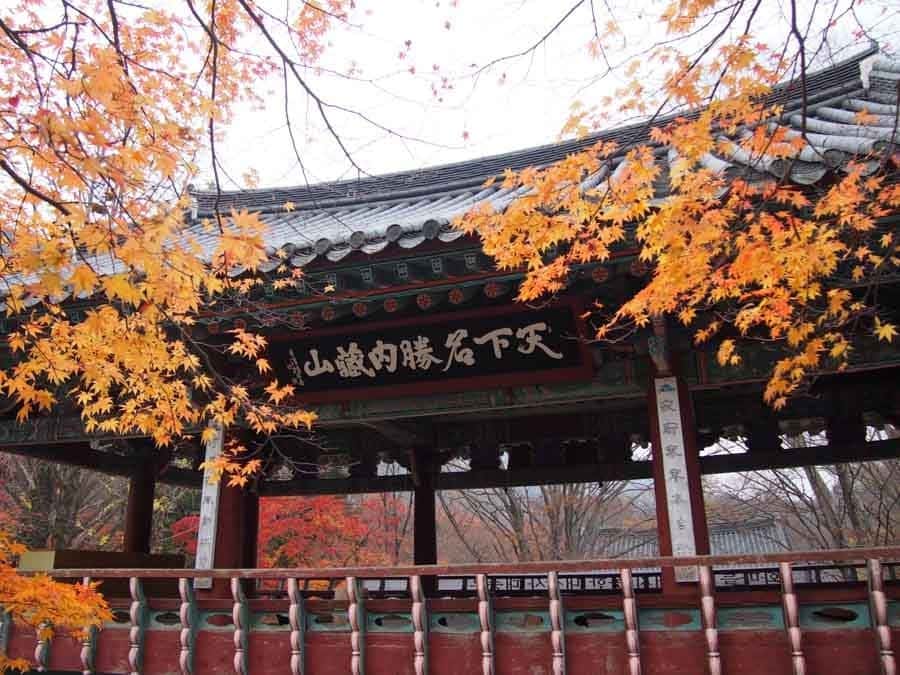 Naejangsan, South Korea
by Knycx Journeying
There are many places in South Korea celebrates the season change every year and one of my favorite locations is the Naejangsan National Park. There, the mountains convert its color palette from green to layers of red, orange and yellow in late October; it's a tradition for the locals to join the festival and get together, marveling at the wonderous mother-nature.
Naejangsan is located near Jeongeup and it takes about three hours by train from Seoul's Yongsan KTX station. The area offers a number of attractions and facilities which are popular to the visitors. Walk along the main road and go up to the Naejang Temple; there are few scenic hiking trails with beautiful sceneries behind the temple that takes about two to three hours to complete. Enjoy a picnic in the park and shoot photos by the stream; To have a panoramic view, take the cable car up to the peak and walk to the observation tower. Before heading back to Seoul, sit down in a food stall and try some delicious Korean street food and delicacies.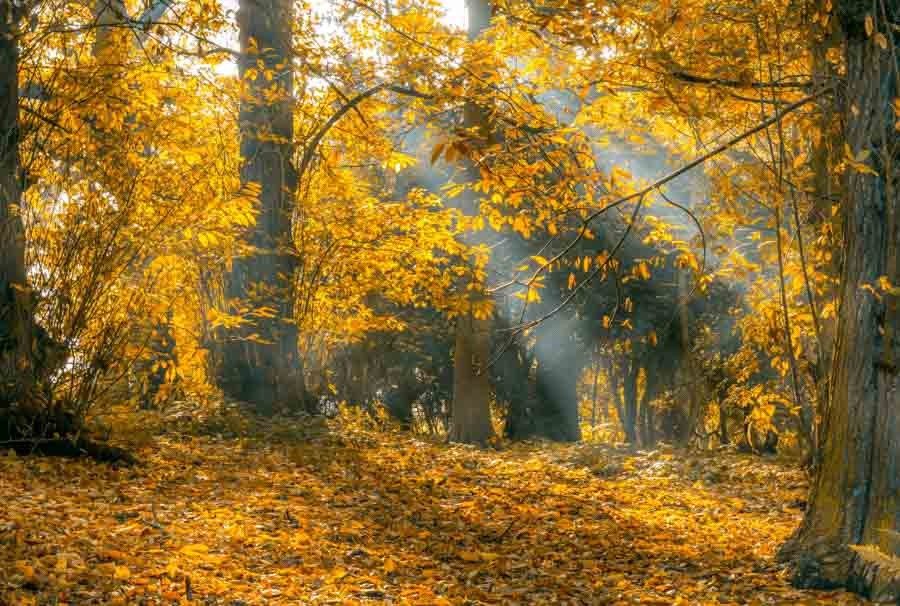 Srinagar, India
by Shalini Garnaik, A curious gal bitten by wander bug at www.eager2travel.in
Srinagar in Kashmir is the stairway to paradise in India. It is the golden season, everything turns into hues of yellow and orange and reddish and fiery chinar leaves are forming the most beautiful carpet in the world. The mornings are misty, the nights even more pleasant and the shikara ride down the Dal Lake is everything one could wish for. The autumn season in Srinagar lasts from mid-September to mid-November.
Things to do in Kashmir in autumn:
Have a warm cup of Kahwah tea.
Shop at your very first floating market.
Enjoy the sunset in a Shikara boat ride.
Pamper your taste buds with Kashmiri pulao
Buy crafts, woodwork made up of maple or walnut wood.
Enjoy a morning walk in Bethab valley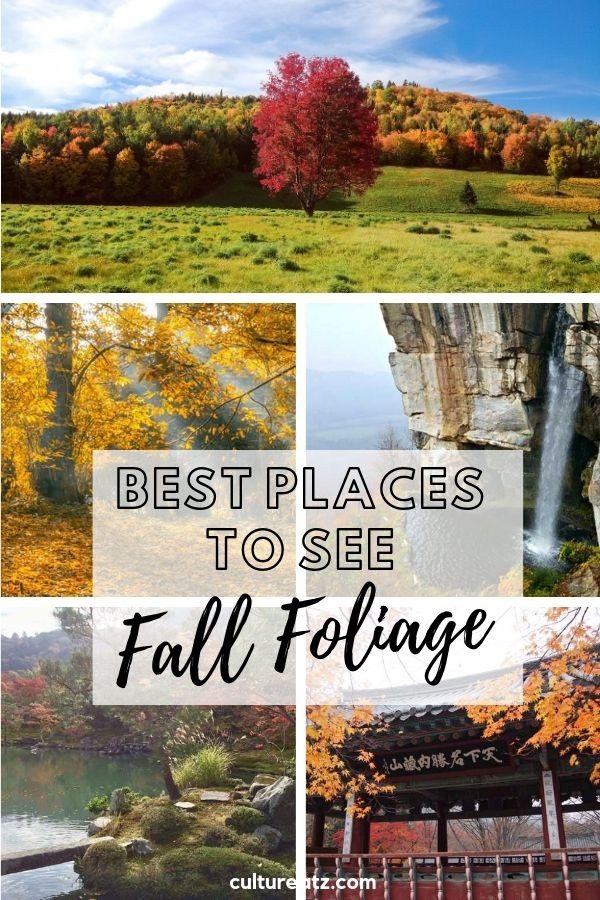 Did you make one of my recipes? I would love to see it. Take a photo and tag me on Instagram @cultureatz.
EDITOR'S NOTE: This post may contain affiliate links (disclosure policy). Please support CulturEatz by clicking on the links and purchasing through them so I can keep the kitchen well stocked. It does not alter the price you pay.