After a very long hiatus I finally am posting the first article of the New Year. Wow 2010 was tumultuous to say the least and the one thing that certainly helped stay a little more sane has been this blog. I am not big on resolutions but I will make one here: no more blog backlog! I have about 10 posts overdue so I hope to clear them out and stay on top of things for 2011. The bets are open for how long my resolution will last!
This one is WAY overdue and should not have been neglected so long as it is in reference to my last received Foodie Exchange. I honestly have to say this is on my top 3 favorite not only because Nicola of the Wots for Lunch? ,with whom I exchanged, is just wonderful but because she is in South Africa. Talk about the exotic and the unknown!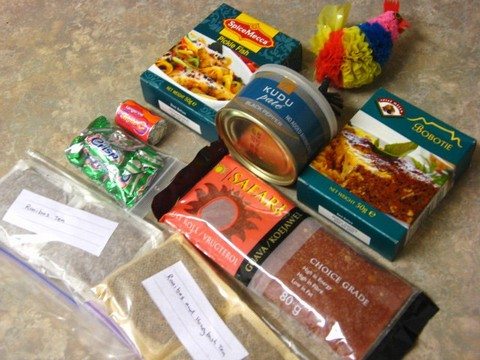 I received my package and could not wait to explore its contents. Inside I found 2 boxes of spices and herbs for recipes, Kudu paté, candies, a fruit roll and 2 kinds of Roobios Tea – my favorite kind of tea. Oh and a decorative handmade rooster!
Now who can I invite who is adventurous enough to try an exotic South African meal? Why my friend Johanne of course. We had the Kudu paté as a starter to our meal. Yes I had to Wiki the Kudu: it is a type of antilope. And I must say spread of the freshly cut slice of French bread it is mighty tasty!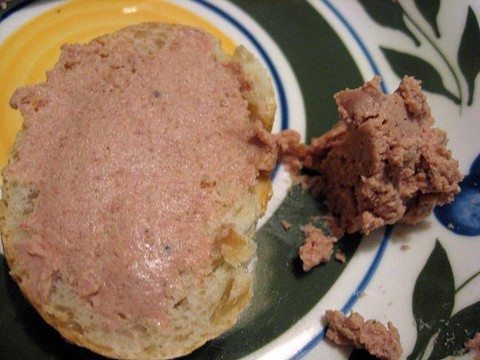 The main dinner was the preparation of one of the spice box recipes, Bobotie. This is basically a South African meat loaf with wonderful spices and is topped with an egg-baked layer. It is not a spicy dish but rather a complex mix of spices which include curry, sugar, marjoram, tumeric, pepper and more. We followed the box for the full recipe but in mainly consisted of beef, bread, spices, fruit chutney, onions and milk with eggs for the top which if baked after the meatloaf is cooked.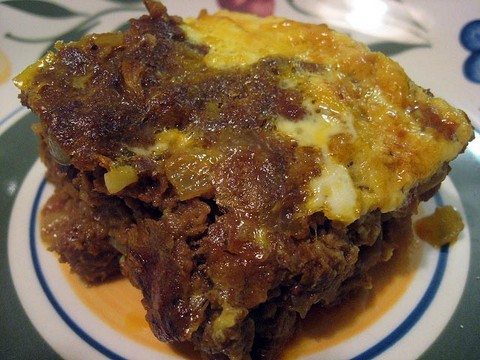 The result was a very tender and delicious meat loaf that I pared with a Banana Flower Salad. Odd combo but it worked well. We finished of our wonderful meal with a Parisian cake my friend had brought and a cup of Roobios tea. We were both quite content!
Foodie Exchange is a group for foodies from around the planet who wish to exchange their local food specialties as a care package with other foodies.