You will crack in love for these two sour egg cocktails which are topped with a frothy egg white foam: Green Tea and Apple Harvest Sours.
The concept of using eggs in a cocktail may sound odd but you will love for the frothy white topping and the protein you will get from a boozy treat. Egg cocktails are nothing new, the most classic one being the Pisco Sour. Here are 2 modern drinks; a nice refreshing one with the taste of green tea and another with crisp notes of fall with apples.
Looking for a bit to eat with these luscious drinks? Here is an unusual quick recipe that will please the taste buds: Banana Cheddar and Cinnamon Pinwheels. Find it at the end of the post.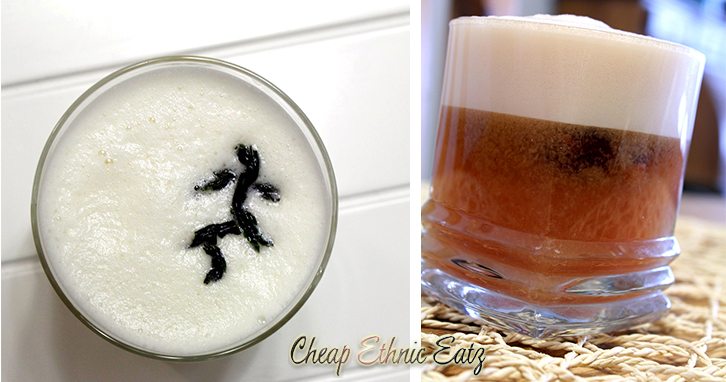 Now why on earth would any one put an egg in a cocktail? There is only one very simple answer: texture. Who would not like to take a sip from a foamy topped drink, it is like drinking the sweet nectar of a cloud. How does one achieve this foamy cap? Just put all your ingredient together – minus the ice cubes – and shake well for a good minute. When you do this you are breaking the protein in the egg white with air resulting in tiny packed bubbles. Never add ice to the first shake, add it to the second.
Reducing the risk of Salmonella from eggs
Yeah there is a possible risk of getting Salmonella from consuming a raw egg. But with a few preventive steps you will reduce the risk to almost nothing. I personally have never gotten ill from such cocktails. To prevent infection do the following:
use eggs right out of the fridge while cold
pasteurized eggs are available as well nowadays
only use eggs with intact and clean shells
wash your hands
do not separate egg whites from yolks with shell. Instead separate though a clean hand, an egg separator, a small funnel, or a glass bowl and remove yolk with a spoon.
Now that we know how to play safely with raw eggs…on to the cocktail recipes!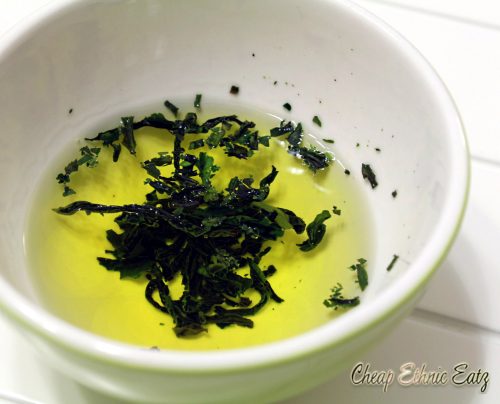 Aw, Evelyne, why is your gin yellow? Because it is Ungava Gin, a fabulous naturally tinted Canadian gin made from Canadian arctic plant ingredients which includes Nordic Juniper, Wild Rose Hips, Cloudberry, Crowberry, Arctic Blend and Labrador Tea.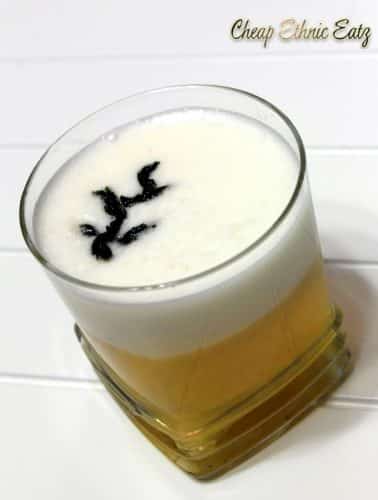 Green Tea Sour
2 ounces green tea infused gin **
1 ounce lemon juice
3/4 ounce simple syrup
dash peychaud bitters
1 egg white
2 ice cubes
Fill a shaker with all of the ingredients except ice. Shake vigorously for one minute at least. Add ice to shaker and shake until chilled. Strain into a lowball glass.
**green tea infused gin: steep 2 ounces of gin with 3/4 teaspoon of green tea for 1 hour, strain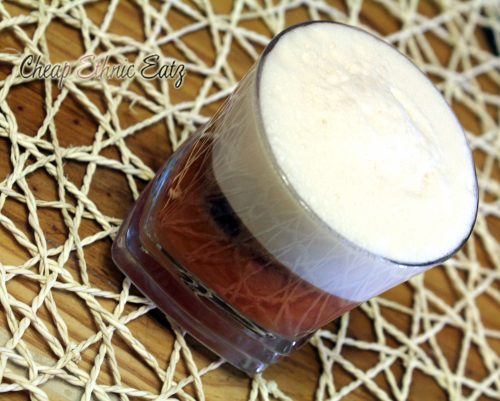 Apple Harvest Sour
1 ounce bourbon
1 ounce unfiltered apple juice
1/2 ounce of lemon juice
1/2 ounce of simple syrup
1 egg white
2 ice cubes
3 frozen sour cherries (optional)
Fill a shaker with all of the ingredients except ice. Shake vigorously for one minute at least. Add ice to shaker and shake until chilled. Strain into a lowball glass.
—————————————————
This post was written and set to go. Then the Creative Cooking Crew announced this month's theme: create a cocktail and pair it with an hors d'oeuvre. This month of March will be insane for me so I am doing things ahead, I figured half the challenge was done. I had to think fast but wanted something fun and off-beat. That is how these pinwheels were born. The cheese cuts the tart Apple Harvest Sour cocktail beautifully and the banana adds a touch of sweetness. And how can you go wrong with a dash of cinnamon for the apple?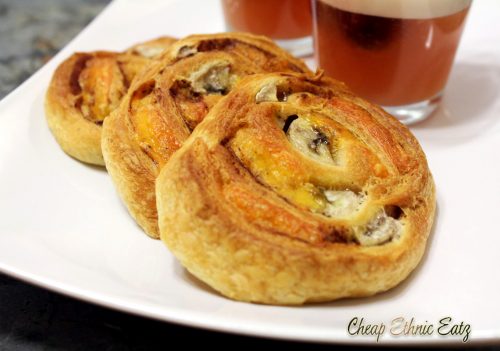 Banana Cheddar and Cinnamon Pinwheels
1 Pillsbury crescent roll dough
1 banana
aged cheddar
cinnamon
Roll out crescent roll dough in one sheet. Slice banana in 4 on the length. Slice cheese. Arrange evenly on dough and sprinkle liberally with cinnamon. Roll back up into a cylinder. Slice into 12 pieces and lay on a cookie sheet. Bake at 375F for about 10-15 minutes.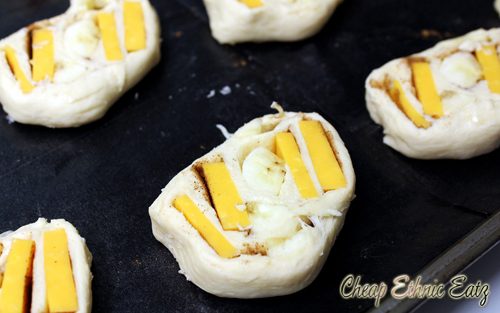 Thank you Lazaro Cooks and Foodalogue for this month's fun challenge. Check out what the other members have created on our Pinterest board by clicking on the banner below.