Arancini is an Italian specialty, from Sicily to be precise, dating back to around the 10th century. The word Arancini actually means "little orange" as the traditional fried rice ball are very round and resemble small oranges. You will find many recipes online giving you the supposed original version but as any Italian family can attest, every Italian mother or grandmother has her own secret recipe.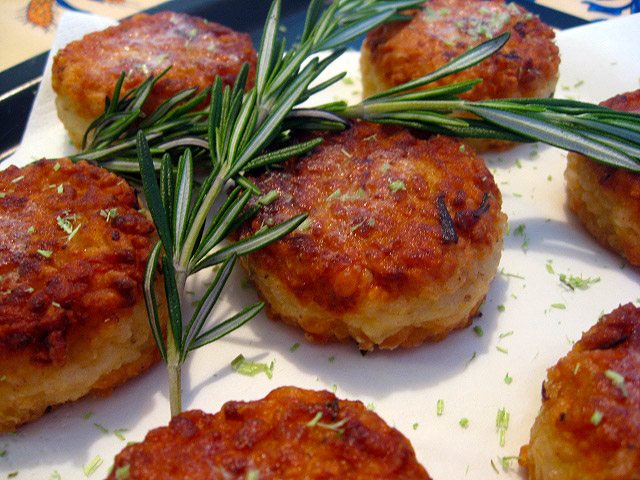 I have taken the Arancini concept and ran with it to create a very modern, fusion style rice ball. Instead of an Arborio rice I used short grain brown rice which has a mild nutty flavor. The Parmesan was replaced by a stronger, full bodied sheep's milk hard cheese called Pecorino Crotonese. And finally we find in my recipe a seemingly odd herb combination, rosemary and lemon grass, which actually marry very well in small doses.
I shaped my Arancini smaller then normal. I made patties about 2 inches wide making them the perfect size for an hors d'oeuvres or a snack. Once they are prepared you can refrigerate leftovers and bring them for lunch at work or on a picnic. In other words they are completely portable, hence this recipe is my entry for the the USA Rice Federation Brown Rice Blogger Challenge with the theme of best portable recipe made with brown rice.

Ξ East meets West Arancini Ξ
1 1/3 short grain brown rice
3 1/4 cups water
1 cup Pecorino Crotonese cheese, grated
1 tsp fresh rosemary, chopped
salt and pepper, to taste
2 eggs, beaten
3/4 cup flour
1/4 cup olive oil
1/4 cup butter
lemongrass, chopped fresh or dried
In a pot bring the water to boil. Add rice to pot, bring to a low simmer and cook for 30 minutes covered. Once the rice is ready spread it out on a large plate to cool. It is important to break up the rice clumps with a fork or shamoji (flat rice paddle) once in a while, as it cools enough to handle with your hands.
In the mean time combine in a bowl the brown rice, cheese, rosemary, egg, salt and pepper. Mix everything well with a wooden spoon. Shape into rice balls about 2 inches wide, in your hands or with a small mold. Put them on a plate and in the fridge for about 30mins to firm up.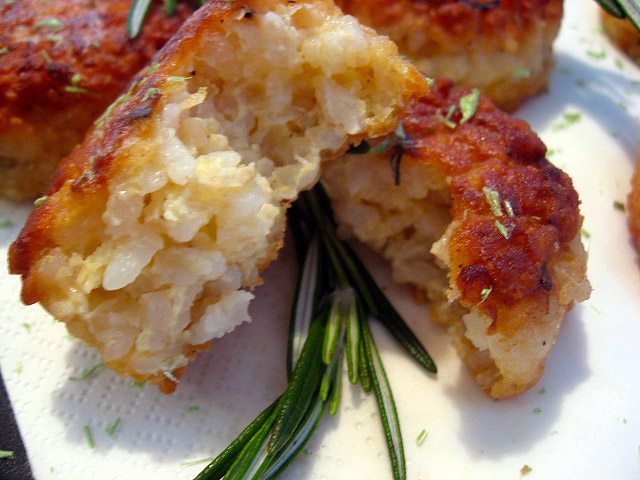 Take out rice balls from the fridge and pour flour into a bowl. Heat oil and butter in a skillet to 350F (180C). Coat lightly each rice balls with the flour and gently shake off any excess.  Fry rice balls in small batches, about on 4 minutes each side, turning them only once, until they are golden brown. Place the fried rice balls paper towels to drain the excess oil.
Serve with a sprinkle of lemongrass to give a zesty, lemony zing.
Makes 14 Arancinis
I hope you will enjoy my entry for the event. If I may be so bold to pass judgment on the rice balls, I have to say they were out of this world, melt in your mouth, all cheesy and buttery happy explosions with just a delicate hint of the rosemary and lemongrass. For centuries we argued whether tomatoes and pasta actually came from Asia or Italy. In this recipe the East meets the West perfectly in agreement.

To learn more about rice and its nutritional facts please visit the USA Rice Federation website.