Quebec is famous for July 1 st moves. Many apartment leases end on June 30th and everybody moves July 1st. So in that spirit the Foodie Exchange has moved, granted a bit before July 1st.
The Foodie Exchange, a place where foodies from around the planet can exchange their local food specialties as a care package with other foodies, has now its very own independent domain:
***please UPDATE your links and badges!***
Now the dust is still settling, not all the boxes are emptied and not all the decorations are up. But the site is ready for some action!
And if you do then you can receive some great food from other countries like I just did with Marthe of Culinairy Delights. Marthe is in the Netherlands. Here is what I got….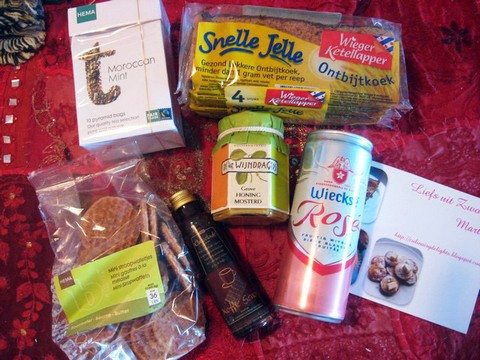 coarse honey mustard
miniature stroopwafels, molasses waffle cookies, so good!
Moroccan mint tea
chocolate liqueur for coffee
coffee cake bars called Ontbijkoek
a light rose beer
Thank you so much Marthe! Want to do a similar package with someone? Then join the Foodie Exchange!