It's time for my annual Christmas holiday cookie bake-a-thon! 297 treats were made and I am sharing two recipes: Devil's Food and Austrian Linzer Cookies.
My friend Catherine and I got together for the 3rd year in a row and baked up a storm of cookies once again. We made 6 types of cookies, some mixed nuts and pretty homemade chocolates. Our final count was 297. I have links to all the recipes and I will be sharing two of them with you today: the Austrian Linzer Cookies and the Devil's Food cookies.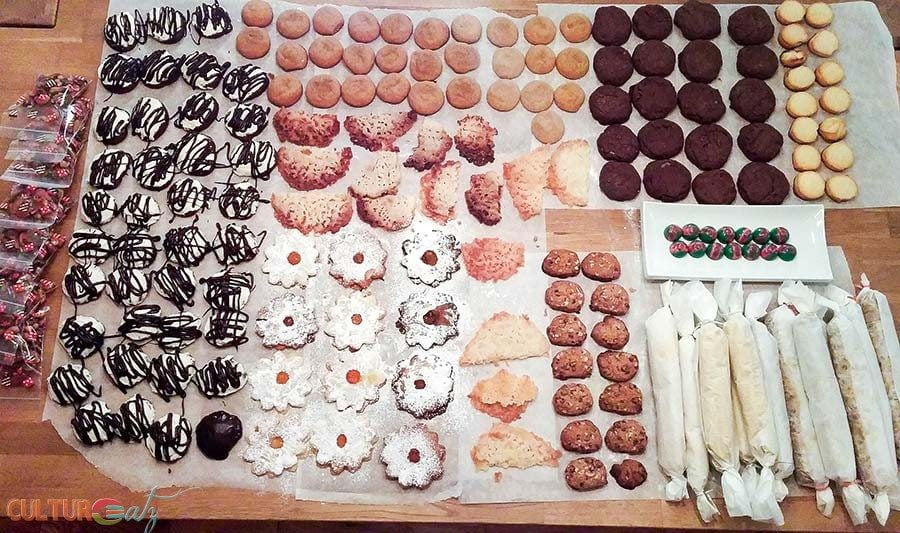 Left to right, top to bottom:
Lemon Rosemary and Black Pepper Nut Mix
Devil's Food Cookies – recipe below
Bacon Fat Gingersnaps
Linzer Cookies -(and made tuiles with the dough too) recipe below
Chocolate Chip and Pecan Cookies
Peanut Butter Surprises
Orange Sable Cookies
Homemade chocolate made from chocolate melts.
I am so impressed with my first attempt ever at fancy chocolates!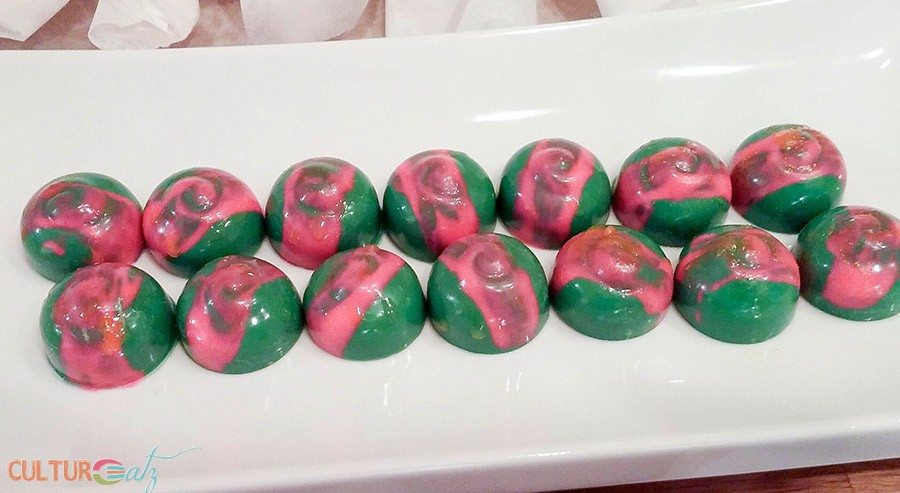 These cookies are so good…even the cat eyes them closely!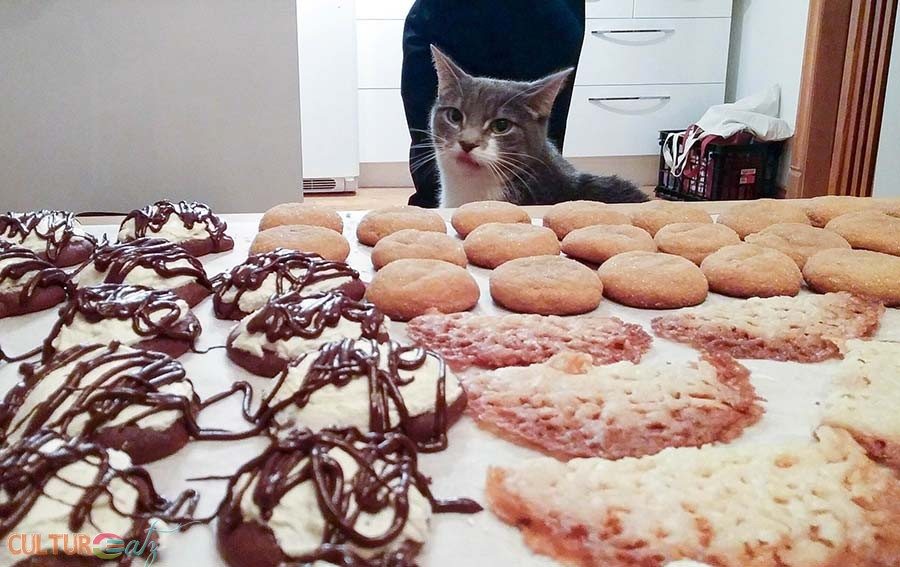 Austrian Linzer cookies
This year I am wrapping up my Austrian Christmas cookies trilogy. I had three recipes to make so I made one Austrian Christmas cookie per year. The last couples of years I made Husarenkrapferl cookies and Vanillekipferl cookies. My last ones are Austrian Linzer cookies.
I am dedicating these cookies to my dad who passed away this September. He was Austrian and I always made these Austrian recipes with him in mind. Who knew my trilogy would end with his grand departure. I am sure he is eye these closely where he is!!! And they would go great with this green almond liqueur recipe.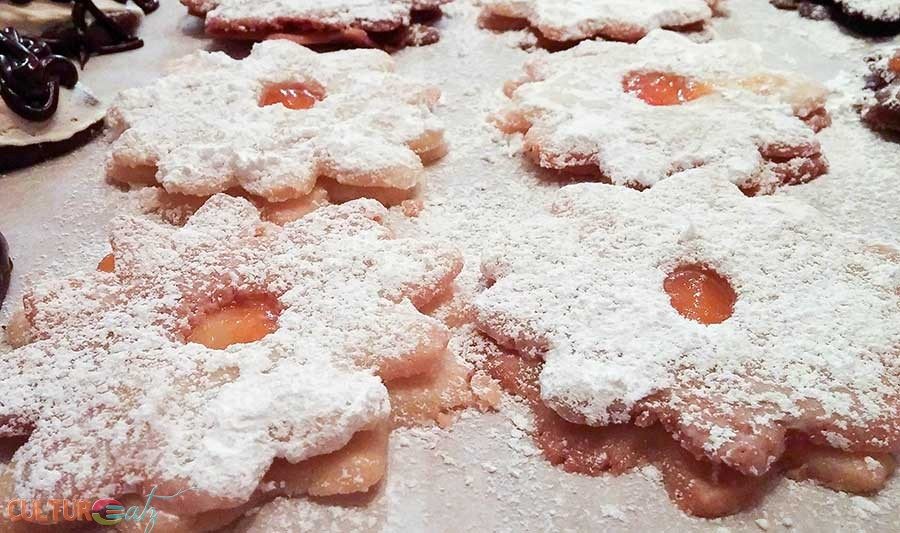 PIN IT FOR LATER! https://www.pinterest.ca/pin/266275396702615392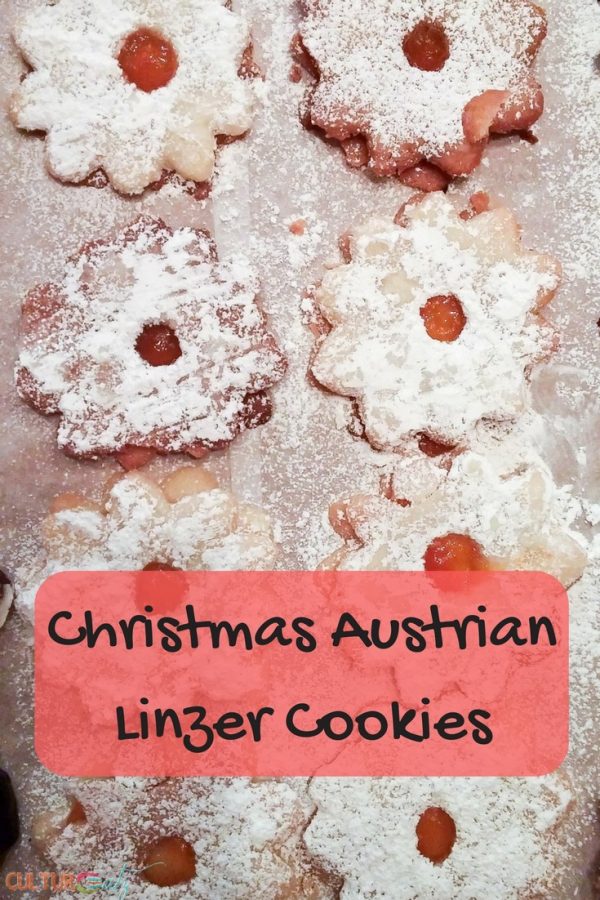 Helle Linzer Plaetzchen, or Austrian Linzer cookies, originated in the Austrian city of Linz. I am sure you have heard of the Linzer Torte, a pastry that has a dough lattice over a jam filling. This is the cookie version: two butter-laden shortbread cookies sandwiched together with apricot jam that peeks out through the cutout. Austrian Linzer cookies are a staple around Christmas time.
Yields 2 dozen cookies
Austrian Linzer cookies
Ingredients
4 ounces/113 grams butter, room-temperature
3/4 cup/75 grams confectioners' sugar + for dusting
1/4 teaspoon vanilla extract
1 cup/125 grams flour
1/2 cup apricot jam
Instructions
In a medium bowl, cream together butter, confectioners' sugar and vanilla extract.
Stir flour into the creamed btter and knead just until mixture forms a ball. Wrap in plastic and refrigerate for 30 minutes (or up to several days).
Heat oven to 350 degrees F. Line a cookie sheets with parchment paper. Dust work surface with confectioners' sugar and roll out cookie dough to about 1/8 inch/3 mm thick. Using a cookie cutter, cut an even number of bottoms (without the cutout) and an even number of tops (with a hole in the middle). Transfer with a spatula to the prepared cookie sheets. ?
Freeze each tray 10 minutes before baking.
Bake for 10 to 12 minutes. Let cool on cookie sheets for 5 minutes before transferring to wire racks to cool completely.?
Spread the bottom half of the cooled cookies with 1-2 teaspoons apricot jam Place a cookie top on the jam-coated bottom cookie and press lightly. Sift confectioners' sugar over the cooled cookie tops.
7.8.1.2
479
https://cultureatz.com/devils-food-and-austrian-linzer-cookies/
Check out this short video of the 3rd annual Christmas holiday cookie bake-a-thon!
Devil's Food Cookies
I am back with a Food N Flix post after a long hiatus. Food 'n Flix is hosted this month by Heather at All Roads Lead to the Kitchen! In this monthly group, a host picks a movie of their choice that pertains to food. Everyone watches the movie and then makes a recipe which the film inspired. It can be any recipe you want. Join us!
And this month we watched a classic teenage angst film, Clueless. I was four years out of high school when this came out but I still loved it. Classic cool girls, new looser girl taken under the wing, stupid boys, some good boys. It stars It stars Alicia Silverstone, Stacey Dash, Paul Rudd and Brittany Murphy.
It is a fun watch this again (like my 4th time now). You can see how the movie has aged when the girls in the movie faun over Mel Gibson, Luke Perry, Christian Slayer!
PIN IT FOR LATER! https://www.pinterest.ca/pin/266275396702615395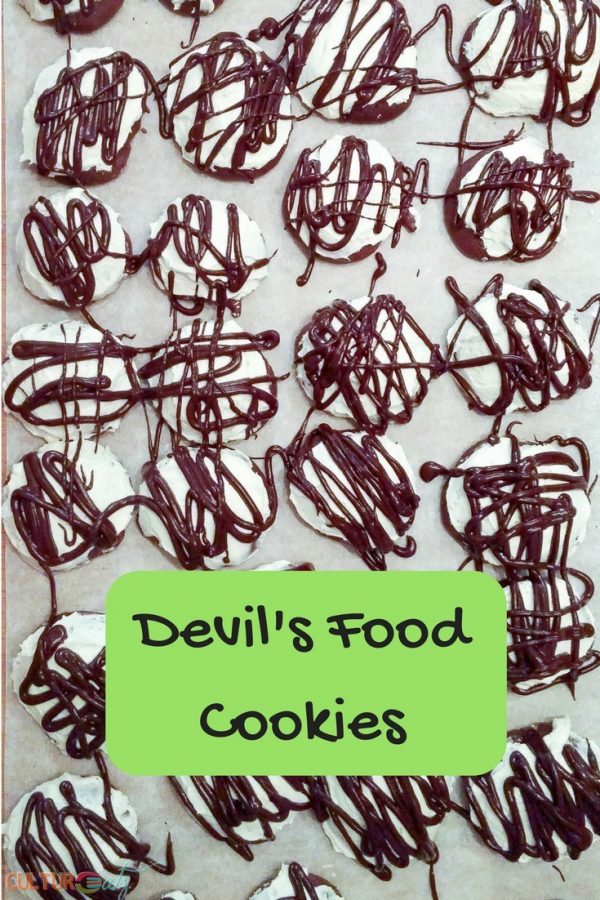 Food is a prop in this movie, but nothing more. There are a lot of food props though: cherry, milk shake, fresh orange juice, sliced red bell pepper, Starbucks coffee, naya water, coke, Minute Maid OJ, orange, apple, yogurt, carefree gum, high school cafeteria food, cholesterol low dinner…lots of mystery home meals, beer, spiked punch, weed, pretzels, chips, chocolate boxes, fritos, lays chips, doritos, fries, subs, salad, prepared cookie dough, bread, wine, capuccino, Snackwells devils food cookie, sprite, lolipop, ceral box, canned goods, and red caviar.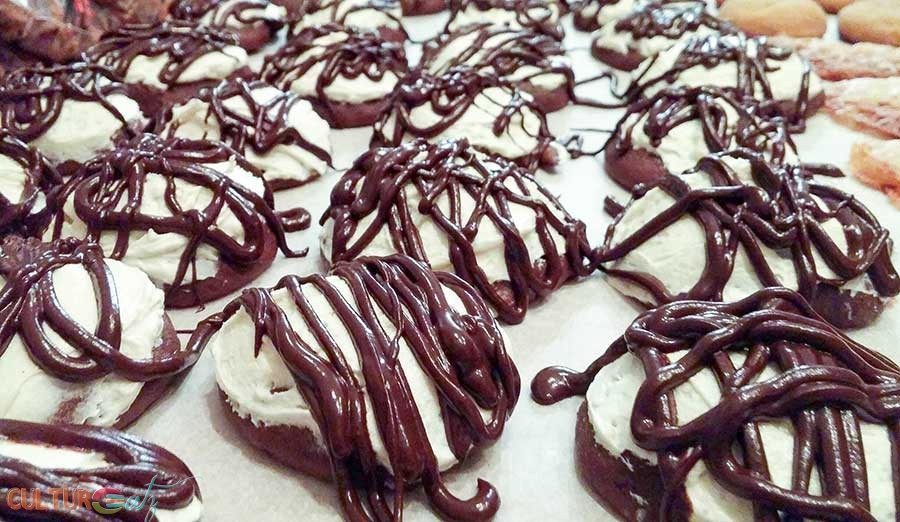 Clueless Company
My inspiration was a cookie I know about but never tried. I know America had a slight obsession with Snackwell's Devil's Food cookies for a while. Imagine pillowy chocolate cookie cakes, topped with a layer of marshmallow frosting, finished off with a coat of chocolate. This is a copycat recipe basically but I did not totally dip my cookies in chocolate. I opted for a heavy decorative drizzle instead.
And this is like the original cookies. I read that Snackwell's changed up the recipe in recent years to make it "healthy." I heard they are a weak match compared to the original cookie. Clearly, Nabisco was Clueless when they made this decision!
Yields 18 cookies
Devil's Food Cookies
Ingredients
1 cup all-purpose flour
1/4 cup cocoa powder
3/4 teaspoon baking soda
1/4 teaspoon salt
1/2 cup brown sugar, packed
1/4 cup (1/2 stick) unsalted butter, at room temperature
2 eggs, at room temperature
1/4 cup buttermilk (or combine milk with 1/4 teaspoon lemon juice)
1/2 cup (1 stick) unsalted butter, at room temperature
1 cup confectioners' sugar
1 teaspoon vanilla extract
1 cup marshmallow spread
4.5 ounces milk (or semi-sweet) chocolate
3 tablespoons unsalted butter
1 tablespoon corn syrup or honey
1/2 teaspoon vanilla extract
Instructions
Preheat oven to 350 degrees. Line baking sheets with parchment paper.
In a medium bowl, combine the flour, cocoa powder, baking soda, and salt.
In a large bowl, cream the butter and brown sugar together until light and fluffy. Add the eggs, one at a time, and beat until just combined. Stir in the vanilla extract. Sprinkle 1/3 of the flour mixture over the butter mixture and beat until just combined, then add half of the buttermilk and mix until just combined. Repeat with the remaining flour mixture and buttermilk, ending with flour.
Place 1-2 tablespoon scoops of the batter about 3-inches apart on the prepared baking sheet and bake for 10 minutes, until the centers are no longer soft. Allow to cool on the baking sheet for 2 minutes, then transfer the cookies to a wire cooling rack and allow to cool completely.
Cream the butter and sugar together until light and fluffy. Stir in the vanilla extract until combined, then stir in the marshmallow spread until thoroughly mixed. Spread a layer of the marshmallow icing on top of each cookie. Chill the cookies for 30 minutes.
Combine the chocolate, butter, and corn syrup in a medium bowl. Place in the microwave on high for 30 seconds at a time, stirring each time, until all the chocolate has melted bits of chocolate. Once the mixture is smooth, stir in the vanilla. Fill a pastry bag or a zip-lock bag with the chocolate, snip off the end, and drizzle over the cookies. Allow to set up for 2 to 3 hours on the counter.
7.8.1.2
480
https://cultureatz.com/devils-food-and-austrian-linzer-cookies/
Looking for another amazing cookie recipe to try. Check out these Argentinian Alfajores Cookies or these delicious Italian Amaretti cookies.
Did you make one of my recipes? I would love to see it. Take a photo and tag me on Instagram @cultureatz.
EDITOR'S NOTE: This post may contain affiliate links (disclosure policy). Please support CulturEatz by clicking on the links and purchasing through them so I can keep the kitchen well stocked. It does not alter the price you pay.