The January 2011 Daring Bakers' challenge was hosted by Astheroshe from the Blog, accro. She chose to challenge everyone to make a Biscuit Joconde Imprime to wrap around an Entremets dessert.
Where does the name Joconde come from? The painting Mona Lisa by Leonardo da Vinci is the portrait of the wife of an Italian merchant named Francesco di Bartolomeo del Giocondo. The Mona Lisa is also known as La Gioconda, or La Jaconde in French. The name of this cake, joconde, was given to indicate how highly regarded the cake was among pastry chefs.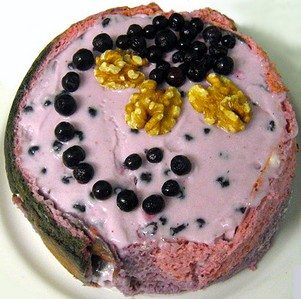 Yeah, it has not been my day, nor yesterday, nor the past two weeks. I caught a cold and now I have laryngitis – like days 7 of it – and I came very close to bailing out this month. But I decided I was going to do it still on the 26th in time. Well wouldn't you know it for what I assume is a construction worker's error the whole building was out of electricity for 24 hours. Yes from 9 am yesterday till about 8 am this morning. Obviously I did not bake. I did it this morning.
I did not follow the DB recipe given here but instead used a Hungarian Sponge Cake recipe, it just seemed easier. SEEMED is the key word, it was a total FAIL. The cake was completely stuck to the silicone mat and the design that I did manage to peak at was awful. I had written Cheap Ethnic Eatz. I don't know why the recipe did not work at all, maybe because I was hacking cough left right and center? Anyways I am posting my challenge still because it took every once of effort to make it so I will at least post it. No chef is perfect all the time lol. Also the blueberry mousse looked so good I wanted some lol. Now I am happy with the look of my final entremet…but it is a fail as far as the challenge goes.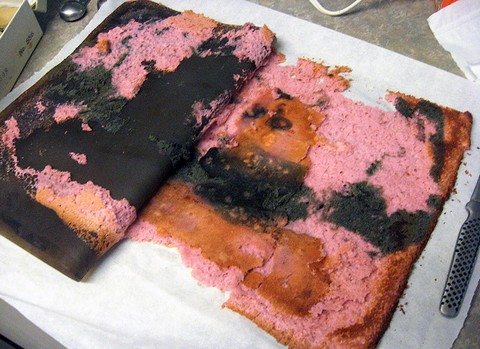 Blueberry Mousse
Ingredients:
1 cup frozen blueberries
1 cup hot water
1/2 cup sugar
1 tablespoon lemon juice
1 gelatin envelope
1 cup whip cream
Preparation:
Add frozen blueberries to hot water and let stand 15 min. Drain blueberries and reserve juice. Soften gelatin in 1/2 cup of reserved juice; then dissolve it over heated remaining reserved juice. Add blueberry, sugar and lemon juice; stir until completely dissolved. Put in the fridge and let it set a bit. Whip the cream until it peaks. Fold into blueberry mixture. Pour into chilled mold or joconde and refrigerate for 1 hour.
See my very sad joconde….