Voting starts today 6am PST for Project Food Blog. Please cast you vote for me to be the next food blog star! Just click this link to my 2nd challenge. Thank you! Voting end Sept 30rd 6pm PST, hurry!
I was kind of really surprised when I saw this month's challenge. It felt more like a Holiday Season thing: sugar cookies. OK so I was not super pumped but at least it would be an easy challenge which in the summertime is great. The biggest challenge for me was following the mandatory item : You must decorate your cookies with theme of September.
Oh boy, September means nothing to me. I had zero inspiration. I was going to go to a cooking supply store near work, Les Touilleurs, and was hoping a cookie cutter would strike some inspiration. Well it did, sorta, a bit of a long stretch. September means to me DENIAL! I refuse to accept the arrival of fall, of not wearing shorts soon anymore, of not bringing a sweater. So my palm trees and ice cream cones represent my stubbornness of this month seasonal change!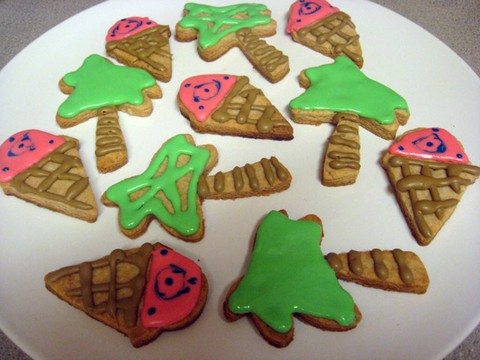 The September 2010 Daring Bakers' challenge was hosted by Mandy of "What the Fruitcake?!" Mandy challenged everyone to make Decorated Sugar Cookies based on recipes from Peggy Porschen and The Joy of Baking. This is a condensed version of the recipe notes we had…but they are all you need.
Preparation Time
30 minutes: Making dough & rolling, 1 hour min: Refrigeration,  8-15 minutes: Baking per tray
Basic Sugar Cookies:
Makes Approximately 36x 10cm / 4″ Cookies
200g / 7oz / ½ cup + 6 Tbsp Unsalted Butter, at room temperature
400g / 14oz / 3 cups + 3 Tbsp All Purpose / Plain Flour
200g / 7oz / 1 cup Caster Sugar / Superfine Sugar
1 Large Egg, lightly beaten
5ml / 1 tsp Vanilla Extract / Or seeds from 1 vanilla bean
** I added 1 tsp of all spice

Directions
• Cream together the butter, sugar and any flavorings you're using. Beat until just becoming creamy in texture.
• Beat in the egg until well combined, make sure to scrape down the sides of the bowl.
Add the sifted flour and mix on low until a non sticky dough forms.
• Knead into a ball and divide into 2 or 3 pieces.
• Roll out each portion between parchment paper to a thickness of about 5mm/1/5 inch •Refrigerate for a minimum of 30mins.
• Once chilled, peel off parchment and place dough on a lightly floured surface.
• Cut out shapes with cookie cutters or a sharp knife.
• Arrange shapes on parchment lined baking sheets and refrigerate for another 30mins.
• Re-roll scraps and follow the above process until all scraps are used up.
• Preheat oven to 180°C (160°C Fan Assisted) / 350°F / Gas Mark 4.
• Bake until golden around the edges, about 8-15mins depending on the size.
• Leave to cool on cooling racks.
• Once completely cooled, decorate as desired.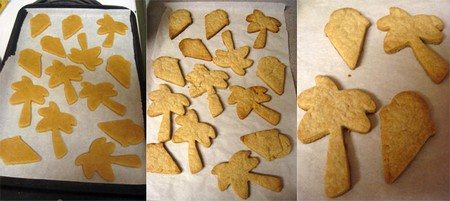 Royal Icing:
315g – 375g / 11oz – 13oz / 2½ – 3 cups Icing / Confectioner's / Powdered Sugar
2 Large Egg Whites
10ml / 2 tsp Lemon Juice
5ml / 1 tsp Almond Extract, optional
Directions
• Beat egg whites with lemon juice until combined.
• Sift the icing sugar to remove lumps and add it to the egg whites.
• Tip: I've listed 2 amounts of icing sugar, the for a flooding, and the larger is for outlining
• Beat on low until combined and smooth.
• Use immediately or keep in an airtight container.
Same Consistency Method
• Mix your royal icing according to the recipe/instructions
• Drag a knife through the surface of the Royal Icing and count to 10
• If the surface becomes smooth between 5 & 10 seconds, the icing is correct
Prepping and Filling Your Bag
• Attach your icing tips to the piping bags using couplers
• Stand the piping bags in glasses with the tops of the bags folded over the top of the glass.
• Fill your icing bags with each colored icing.
• Tie the ends of the piping bags with elastic bands.

Decorating Your Cookies: Flooding
"Flooding" a cookie is a technique used when covering a cookie with Royal Icing.
1. You outline the area you want to flood which helps create a dam
2. Then fill or flood inside the area you've outlined
3. If you're doing a different color border, eg a black border, let the outline dry before flooding.
4.Using a toothpick or clean paintbrush, push the icing around into the gaps.
Decorating: Melding Colors
• If you would like to add lines or dots to the base color that you flooded the cookie with so that they meld and dry as a smooth surface, you need to add the lines/dots/patterns as quickly as possible after flooding and smoothing the surface of the cookie.
• Simply pipe other colors onto the flooded surface in patterns or lines which you can either leave as that or then drag a toothpick through to make marbling patterns.
Decorating: On top of flooding
• If you'd like to do other patterns/outlines or writing on top of the flooded surface so that they are raised above the flooded background, simply allow the icing to dry, preferably over night.
Once fully decorated, allow cookies to dry for 24 hours in a cool and dry area.
General Royal Icing Tips
• Keep a damp cloth handy while decorating your cookies so that if you're switching between different icing bags, you can keep the tips covered with the damp cloth so that the icing doesn't dry and clog them.
• If your icing tips do clog, use a toothpick or pin to unclog them.
• Always pipe a little bit of icing onto a paper towel before you begin to make sure there are no air bubbles.
• Remember to always cover bowls containing royal icing wither cling wrap, a damp cloth or sealable lid so that the surface doesn't dry.