Ah two of my favorite desserts! I only recently made panna cotta when I did a gorgeous layer verrine treat but I have never made florentine cookies before.I am however familiar with them as it was my favorite treat to purchase when we would go through St-Sauveur, a popular ski resort area 45min outside of Montreal. There is this amazing bakery there and they have the best florentine cookies.
Now you would assume this challenge is all 100% pure Italian, but you would be wrong. Yes the panna cotta is of Italian origin, specifically from Piedmonte in the north. But the Florentine, as much as it inspires an Italian origin, it is actually French…or of Austrian bakers. Yep there are 2 dueling stories to the origin. One story claims the cookies where invented by Austrian bakers in the city of Florence, the other story claims that the cookie was created in Versailles under Louis XIV for the Medici family of Florence.
Well we have a great cookie in the end anyways! And just to complicate things and make it that much more international my panna cotta will be of Asian inspiration with matcha and lychees! Mandatory in this challenge was to make a panna cotta and a florentine cookie….not necessarily the specified recipes. So I chose a different Florentine cookie recipe, a more traditional one, that I found on the Food Network. This time I again had a wonderful assistant with me in the kitchen, Stef's 13 year old daughter, some pictures are to her credit.
The February 2011 Daring Bakers' challenge was hosted by Mallory from A Sofa in the Kitchen. She chose to challenge everyone to make Panna Cotta from a Giada De Laurentiis recipe and Nestle Florentine Cookies. You can download the complete printable .pdf of the challenge HERE!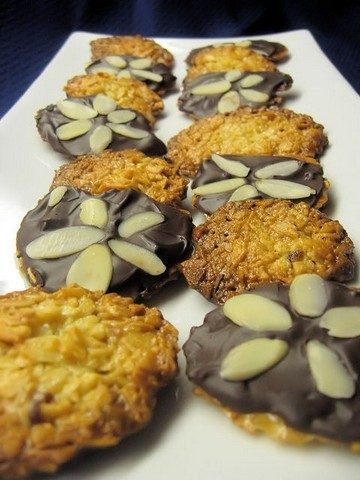 Preparation time:
• 20-25 minutes to prepare the Panna Cotta – at least 6 hours to chill
• 20-25 minutes to prepare the cookies 10 minutes to bake
Giada's Vanilla Matcha Panna Cotta
Ingredients:
1 cup (240 ml) whole milk
1 tablespoon (one packet) (15 ml) (7 gm) (¼ oz) unflavored powdered gelatin
3 cups (720 ml) whipping cream (30+% butterfat)
1/3 cup (80 ml) honey
1 tablespoon (15 ml) (15 gm) (½ oz) granulated sugar
2 teaspoons(10 ml) (10 gm)  matcha powder
pinch of salt
Directions:
Pour the milk into a bowl or pot and sprinkle gelatin evenly and thinly over the milk (make sure the bowl/pot is cold by placing the bowl/pot in the refrigerator for a few minutes before you start making the Panna Cotta). Let stand for 5 minutes to soften the gelatin.
Pour the milk into the saucepan/pot and place over medium heat on the stove. Heat this mixture until it is hot, but not boiling, about five minutes. (I whisk it a few times at this stage).
Next, add the cream, honey, sugar, and pinch of salt. Making sure the mixture doesn't boil, continue to heat and stir occasionally until the sugar and honey have dissolved 5-7 minutes.
Remove from heat, allow it to sit for a few minutes to cool slightly. Then pour into the glass or ramekin.
Refrigerate at least 6 hours or overnight. Add garnishes and serve. Makes 8 servings
Note: when you sprinkle your gelatin over your milk, be sure that it's a thin even layer of gelatin, no clumps. When you heat it up after it's soaked a bit, you'll be less likely to get any lumps of gelatin in the finished product.
Lychee Gelée
Ingredients:
1 cup (240 ml) (230 gm) (8 oz) lychee
3 tablespoons (45 ml) water
1/4 cup (60 ml) (60 gm) (2 oz) granulated sugar
3/4 teaspoons unflavored powdered gelatin
Directions:
Sprinkle gelatin over water.
Purée lychees
Place fruit and sugar in a small saucepan and simmer until sugar has dissolved. Now mix the gelatin into the strawberry mixture and stir until gelatin has dissolved.
Remove from heat and allow to cool (close to room temp, again, if you're planning on layering on pouring on top of your Panna Cotta, a hot mixture will also heat up your chilled Panna Cotta).
Florentine Cookies
Ingredients:
1 cup sliced, blanched almonds
1 1/2 tablespoons all-purpose flour
Finely grated zest of 1/2 orange (about 1 tablespoon)
1/8 teaspoon fine salt
1/3 cup sugar
1 tablespoon heavy cream
1 tablespoon light corn syrup
2 1/2 tablespoons unsalted butter
1/4 teaspoon pure vanilla extract
150 g (5 oz) dark chocolate
Directions:
Position a rack in the center of the oven and preheat to 350 degrees F. Line a baking sheet with a silicone baking mat or parchment paper.
Pulse the almonds in a food processor until finely chopped, but not pasty. Stir together the nuts, flour, zest and salt in a large bowl.
Put the sugar, cream, corn syrup and butter in a small saucepan. Cook over medium heat, stirring occasionally, until mixture comes to a rolling boil and sugar is completely dissolved. Continue to boil for 1 minute. Remove from heat and stir in the vanilla, then pour mixture into almond mixture and stir just to combine. Set aside until cool enough to handle, 30 minutes.
Scoop rounded teaspoons of batter and roll into balls. Place on prepared baking sheet, leaving about 3 to 4 inches between each cookie since they spread.
Bake 1 pan at a time, until the cookies are thin and an even golden brown color throughout, rotating pans halfway through baking time, about 10 to 11 minutes. Cool on baking sheet for 5 minutes, then transfer to racks to cool. Repeat with remaining batter.
While the cookies are cooling melt your chocolate until smooth either in the microwave (1 1/2 minutes), or stovetop (in a double boiler, or a bowl that fits atop a saucepan filled with a bit of water, being sure the water doesn't touch the bottom of the bowl). Spread a tablespoon of chocolate on the bottom/flat side of your cookie.
This recipe will make about 16 cookies.