Subscribe to my CulturEatz YouTube channel to see exciting and fun videos of me in the kitchen, around Montreal and on any trip I go on. This is not your usual food vlog, expect the unexpected!
I have a long wishlist of 'to-dos' for the blog. I think most bloggers will relate to that statement. One item that has been on that list (for quite some time) is to start a CulturEatz YouTube channel and, guess what, I finally did it! My own YouTube channel! What seemed like an impossible chore has very quickly turned into a new obsession. What a way to start the New Year for 2017!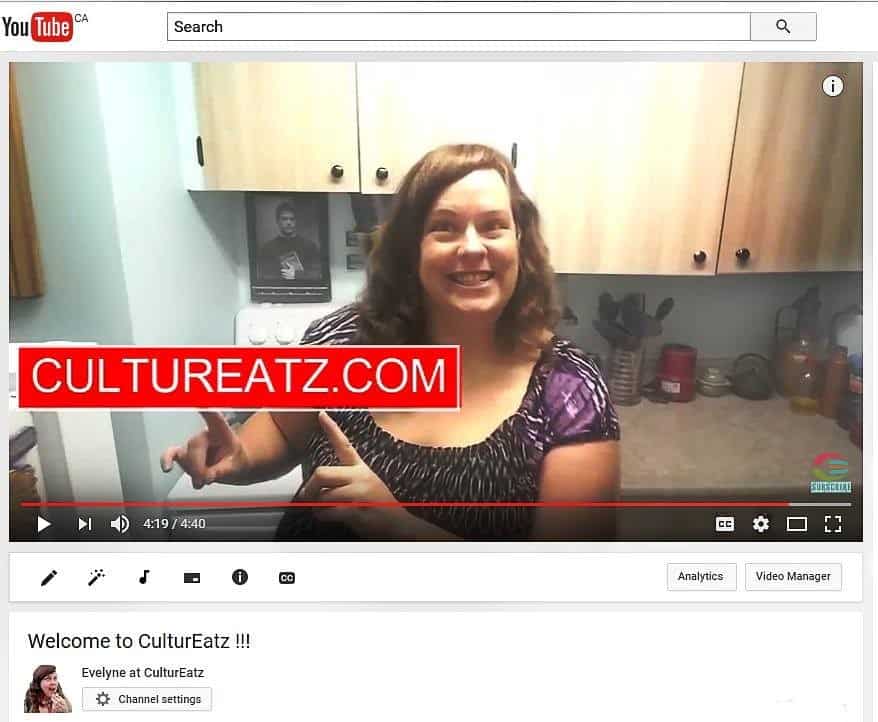 So what happened to make me grab the video bull by the horns? Well it really started with the Food Bloggers of Canada conference I attended this past October. One item they really tried to drive into us was we really should get into the video game as bloggers. That conference planted the seed in my mind.
Sure I had thought about it for some time already but now it seemed more important. But I still din't know how to do videos. How do I make a video and edit it? What kind of videos do I want to do? I know I am not a huge fan of recipe videos for myself so what can I do? These were the questions without answers that kept me from starting to vlog. In other words I was scared. Then something happened…
The seed took root!
A friend was suppose to come to China with me but a medical emergency in her family has forced her to cancel her trip. And I had a mini week long panic attack. OMG I am going to China all by myself! On Youtube I went to find videos of non-Chinese people living or traveling in China. I found some channels that had plenty of videos with the answers I was seeking. I became obsessed with watching a few vloggers, like entire evenings.
Watch CulturEatz's first vlog ever… just a fun day in my life!

Some showed videos on food etiquette, how to buy a subway ticket, a video tour of a tourist attraction, tourist scams in actions, etc. And all these vloggers chatted very naturally and included tidbits of their everyday life. That is when I started seeing my channel take shape in my mind. The seed was taking root.
What I really want to do is connect with you as a person! I want us to share slivers of our lives together. I want to take you along in my kitchen and just talk to you while I do a recipe. You want the recipe? No problem I will link to it in the video but on my YouTube channel I want to talk with you. I want to take you along when I go out like to museum or events, to meals out with friends, do reviews in a casual way, definitely slides show videos of recipes, take you on my holidays…I have so many ideas. And lots of videos may not have food in them because sometimes I don't eat ha ha.
YouTube Fears? Just Do It!
A perfect example is my first 'official' CulturEatz YouTube channel video where I filmed my day going to work and then the hairdresser. Yeah it sounds silly but it felt natural, it felt good. My vlog niche possibly found me. I did not know what I was doing really that day. I edited the best I could. Uploading that video was a little terrifying.
Why not do a tour of your kitchen, like I did here…

I was scared but I did it. I posted my first vlog. And it was fun! Did I get bit by the vlog bug! HELL YES! I have already uploaded 2 more videos since then and I have 3 ready to go in the next days! Seriously I am addicted. I tried a bunch of video editors and found one I like. And now I am researching a lot on how to improve my work. I love every minute of it.
So if you have been putting off starting a YouTube channel because you are scared…JUST DO IT! You will not regret it.
A recipe slide show with one of my favorite posts: the Montreal Bagel. More to come!

Oh and do not be afraid to reach out to the vloggers you like and inspire you. I contacted 2 of them: both responded and answered my questions about their videos and vlogging tips.
I really hope you will join me in my CulturEatz YouTube channel adventure and SUBSCRIBE NOW with this link. Definitely expect me to be a little crazy, a little funny, and very informative. Good times for all!