If you are looking to have a taste of sunshine on your plate, try this Chuletas de Cerdo y Yuca con Mojo recipe, or Cuban Mojo Pork Chops and Yuca. Both the chops and yuca are dripping with the incredibly zesty and flavor punched mojo Criollo sauce. Winter blues will be chased away instantly.
What an amazing dinner this Cuban mojo pork chops and yuca was. Mojo Criollo is hands down one of the best marinades I have ever tasted. This was not my first taste but the first time making it. Mojo Criollo translates as Créole garlic sauce. This sauce cannot get any more Cuban and I am happy to introduce this sauce and dish to you as part of the inaugural Eat the World Recipe Challenge. Read on to learn more about this group and the dish…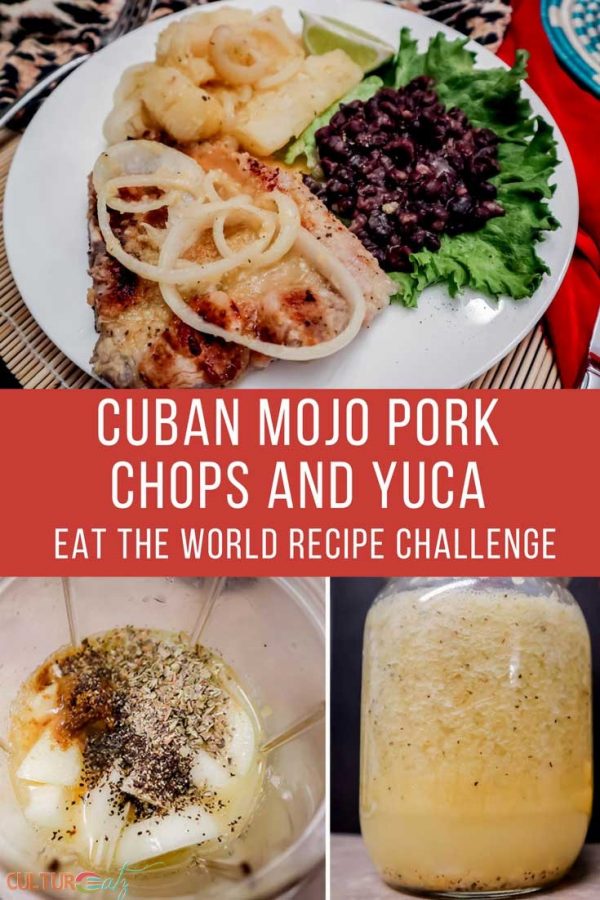 Eat the World Recipe Challenge
I am absolutely over the moon to introduce you to this new monthly group: Eat the World Recipe Challenge. I have been toying with the idea of creating my own monthly challenge for YEARS! But I was scared and never got around to it. In December a similar group that I was in ended, Around the World in 12 Plates. It was the perfect catalyst to light my challenge fire.
So we are in it for the long haul as we will cook a dish from every country on planet earth at the rate of one country per month. Anyone can join and you can participate when it suits your schedule. No monthly obligation but I hope that you will cook along with me as often as you can. Want to join the challenge? Check out the Eat the World Recipe Challenge page with all the details and join the Facebook Group.
Have you ever been to Cuba? It is one of the most popular Caribbean islands to visit. In Canada people flock there to stay in boring all-inclusive hotels. Not my thing. I did it once in my naive days when I was 19 and we went for 4 days once with work. That one was fun but we were like 25 in the group. Next time I want to do Cuba on the cheap and out of resorts, I especially want to go to Havana.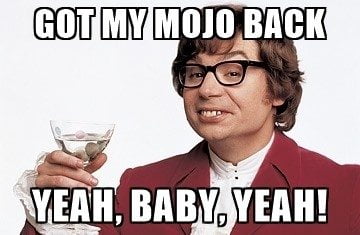 Oh, behave!
Yeah baby, I am managing to squeeze in another sexual pun even if the Getting Sexy in the Kitchen Series is over…well for now. You guys LOVED the aphrodisiac recipes so it may become a regular feature.
Mojo is a term often associated with voodoo practice and it refers to a magic charm or an amulet. But thanks to Austin Powers, mojo also implies one's libido aka personal confidence and sexual charisma.
And finally, in Cuban cooking, mojo is used to describe a sauce that is made with lots of garlic, onion, the juice of a bitter orange (use half lime half orange juice), oregano and cumin. This sauce or marinade is absolutely kick-ass and so zesty. I have had it once before (don't remember when ) and I knew when the day would come to make a Cuban dish, it was going to be pork marinated with Criollo mojo. Turns out that the sauce is often used to flavor yuca as well.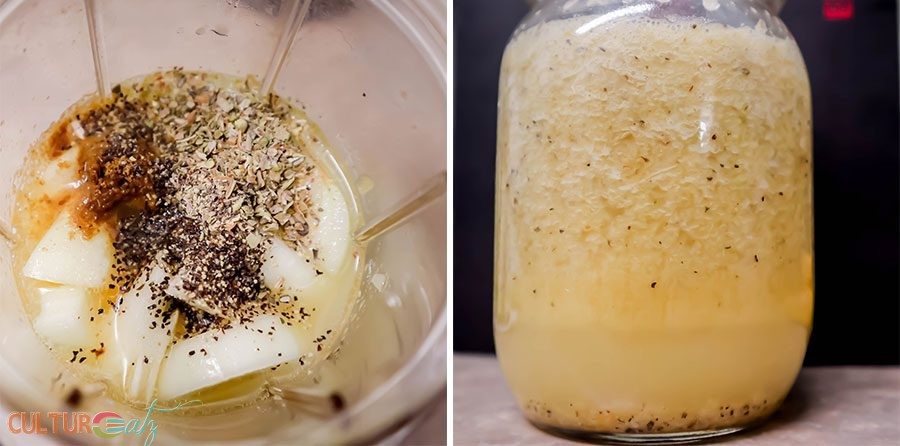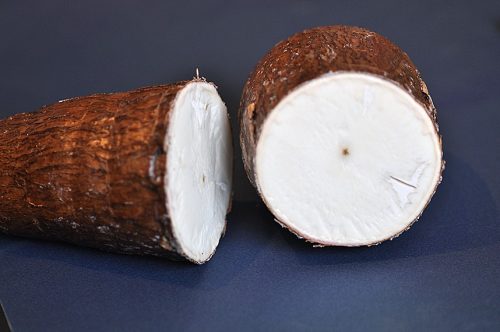 The Potato Alternative
Have you ever tried yuca before? It also goes by the names manioc, arrowroot, and cassava. Tapioca is the starch extracted from this root. Yuca is a very common starch used in recipes in South America and the Caribbean. I have had it a couple of times and personally, I prefer it a lot more to potatoes.
One very important thing to note about yuca: you MUST remove the skin and the purplish layer just under the skin AND cook it, otherwise you could get a cyanide intoxication. You can read more about it here. If you can get your hands on frozen yucca that has already been peeled, like I did, do it. And remember to remove the though fiber right in the center once the yuca is cooked because it is like a string of wood.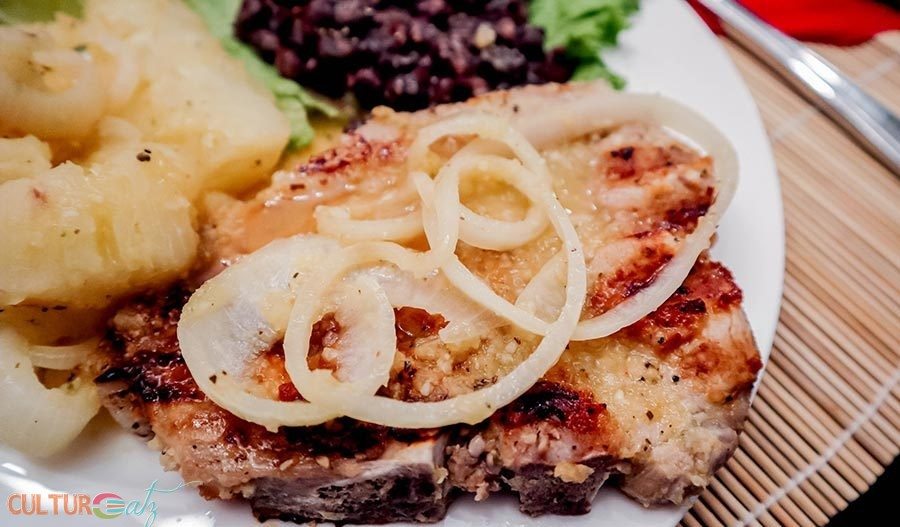 Besides the classic rice and black beans recipe, pork and yuca cooked and slathered with mojo Criollo are as Cuban as any main dish can get. I just loved the result. This mojo pork chops and yuca dish was just what I needed to shine some sun on this absolutely cruel winter. I prepared it for a friend who definitely needed a pick me up due to a personal tragedy and I did manage to get a smile out of her with my dinner.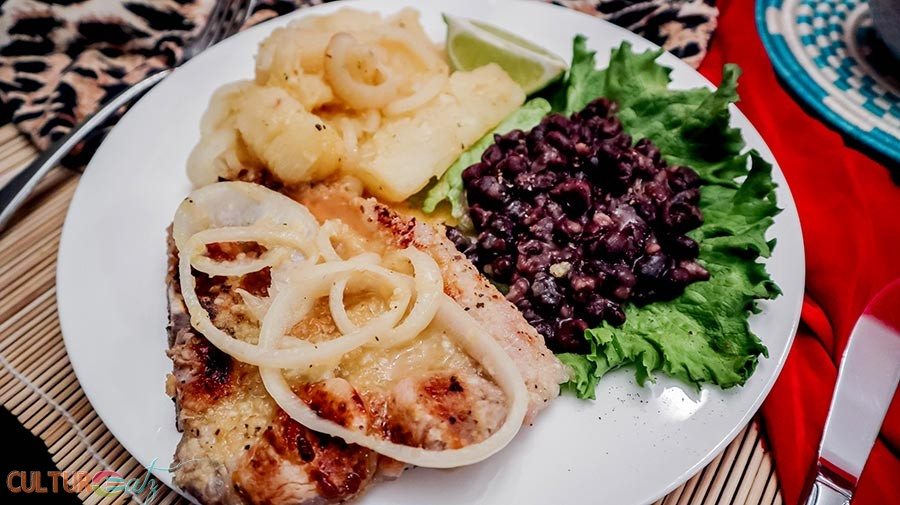 Cuban Mojo Pork Chops and Yuca
If you are looking to have a taste of sunshine on your plate, try this Cuban Mojo Pork Chops and Yuca. Both the chops and yuca are dripping with the incredibly zesty and flavor punched mojo Criollo sauce.
Ingredients  
10

garlic cloves

1

large onion

sliced

2

cups

sour orange juice

1 cup orange juice + 1 cup lime juice

1

teaspoon

oregano

1

teaspoon

cumin

2

teaspoons

salt

1/2

teaspoon

black peppercorns

4

pork chops

1/4

olive oil

2

lbs

fresh yuca or 1.5 lbs frozen

juice of 1 lime

1/2

tsp

salt

2

teaspoons

oil

2

large onions

sliced
Instructions 
In a food processor or blender, puree the garlic cloves, onion, sour orange juice, oregano, cumin, salt, and pepper. In a sealable bag, place 1/4 of the mojo marinade with the pork chops and refrigerate for 8 hours. Add olive oil to the remaining mojo marinade.

For fresh yuca, cut off both ends, then peel away the skin, removing all traces of the pink/purple layer. For frozen yuca just thaw it out. Cut the yuca into 3 inches long pieces.

In a medium pot, fill with water, add the lime juice and salt. When the water comes to a boil, add the yuca pieces and cook uncovered for 20-30 minutes, until easily pierced with a fork. The yuca pieces will crack a bit. Drain and remove the fibrous core.

Slice onions into thin rings. Heat the oil in a skillet over medium heat and add the onions, cooking until just tender. Add the remaining mojo marinade and bring to a simmer. Pour half the marinade and onions in a bowl and set aside. Gently add the yuca to the skillet, toss with the marinade and leave to simmer for 2 minutes and turn off the heat.

Heat a grill or grill pan over medium-high heat. Discard meat marinade and cook the pork chops about 3-5 minutes until lightly golden, then flip the pork chops and grill another 3 minutes or until done.

Serve the yuca, a side such as black beans, and the pork chops on a plate. Pour a little bit of the mojo marinade set aside over the chops and top with some onion rings.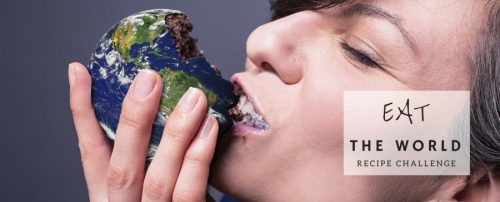 Check out all the wonderful Cuban dishes my fellow Eat the World blogger friends have prepared #eattheworld:
Wendy: Ropa Vieja in Slow Cooker
Camilla: Baked Picadillo Empanadas
Sarah: Slow Cooker Cuban Mojo Pork
Karen: Cuban Bread {Pan Cubano de Manteca}
Amy: Slow Cooker Cuban Ropa Vieja
Loreto and Nicoletta: Cuban Sandwich
Bernice: Huevos Habaneros – A Cuban Breakfast
Evelyne: Cuban Mojo Pork Chops and Yuca