A healthier take on the classic Fish and Chips, I baked a chips-battered fish and accompanied it with baked veggie chips!
It's Food 'n Flix time again! In this monthly group a host picks a movie of their choice that pertains to food. Everyone watches the movie and then makes a recipe which the film inspired. It can be any recipe you want. This month's pick is hosted by Heather from girlichef and she challenged us watch The Goonies! And this month I am also combining my post with the monthly Creative Cooking Crew group with this month's theme: "a fish n' chips makeover, take it some place it's never been before".
So what is a girls that just started watching her calories to do with 2 calorific inspirations? Find a healthier twist of course! The resulting creation: a baked Crisps Fish and Veggie Chips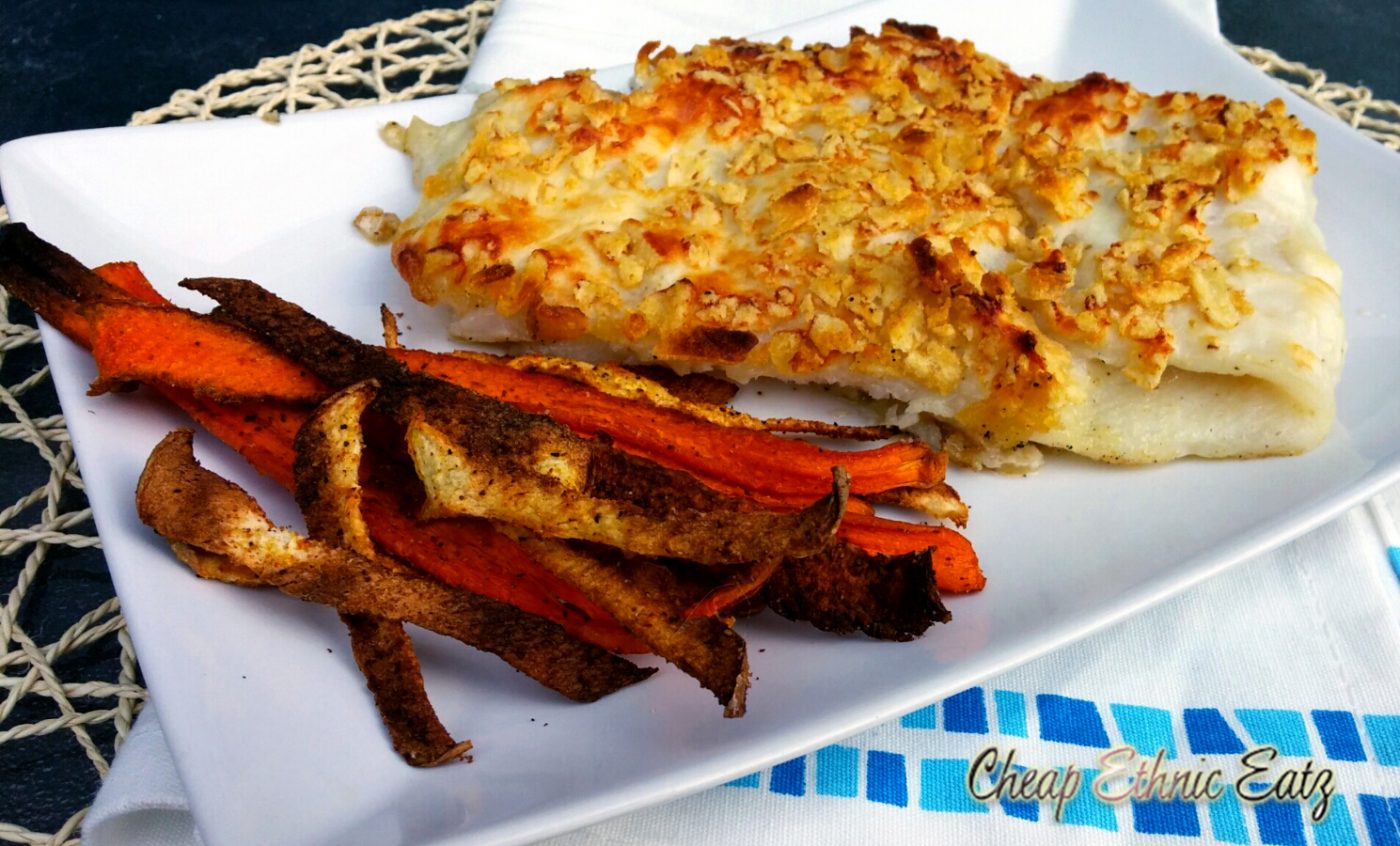 My healthier version would make the character Chunk – the biggest eater in the movie – probably react this way!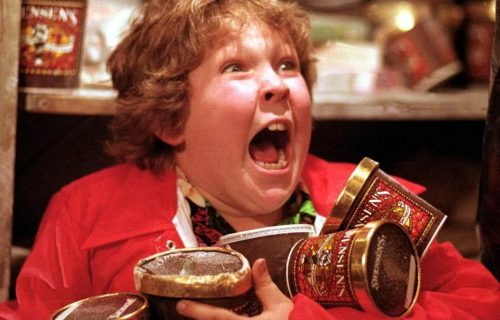 The 1985 movie The Goonies is about two brothers who find out they might lose their house and they are desperate to find a way to keep their home. They find a treasure map and bring some friends along to find it. They are all out looking for the "X" and trying to get away from a group of bad guys who also want the treasure. OK so maybe when it came out – I was 11 – it would have been right up my alley. Now as an adult without kids – meh! It was fun to see these famous actors about my own age as kids. A The Goonies 2 is in discussions right now. The film is mostly made up of junk food:pizzas, Pepsi, chips, chocolate bars, candy and whip cream!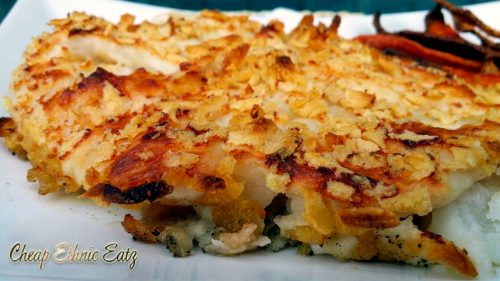 Back to the Creative Cooking Crew, Fish and chips is a working class dish of English origin, consisting of battered fish and deep-fried potatoes called chips. Chips in England are basically Fries in America. Chips in America are Crisps in England. Confused yet? I wanted an American chip and that is where I found my connection with the movie The Goonies. One of the foods eaten are chips. If I could make a light batter with chips I was in business!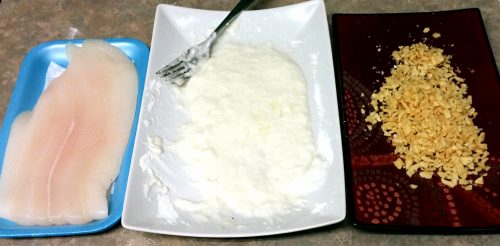 For the fish I was inspired by Momma Told Me's blog about fried onion rings with a chip batter. For the Veggie Chips you could use just about any vegetable you would like, I had some carrots and jicama on hand. The baked haddock was much lighter than the original fried version and it tasted sinful still with the crushed chips. The veggie chips were fun too and spicy with my chosen seasoning.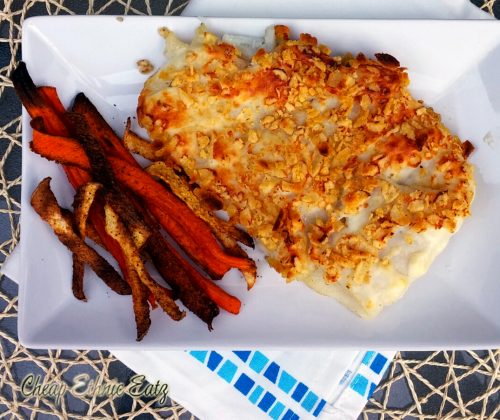 Yields 4 servings
Crisps Fish and Veggie Chips
Ingredients
For the Fish

3/4 cup Flour
1 cup Plain Yogurt
2 Eggs
1 pound haddock filets
2 to 4 cups Fresh Finely Crushed Potato Chips (Ruffles work best)
3 tbsp Vegetable Oil
1/2 tsp Salt
1/4 tsp Black Pepper
1/4 tsp Cayenne

For the Chips

Vegetables (I used carrots and jicama)
Olive oil
Seasoning (I used a Cajun mix)
Instructions
For the Fish

Preheat the oven to 400F. Cover a baking sheet with parchment or foil and drizzle with the vegetable oil, then preheat it in the hot oven for 8MINS before baking, or until oil begins to smoke.
In a big zip-lock bag combine 1/4 cup flour, salt, pepper and cayenne.
In a shallow bowl, combine the yogurt, eggs, and 1/2 cup flour. Whisk until batter is smooth. In another shallow dish place the crushed potato chips.
Toss the fish filets in the flour mixture. Dip each into the batter, and allow the batter to dribble the excess off. Next, dip the filets in the crumbled potato chips.
Place the fish on the baking sheet and bake for 8 minutes, then flip once, and bake an additional 8 minutes. Serve with Veggie Chips

For the Chips

Preheat oven to 400°F. Slice vegetable into thin chip-like pieces, a mandoline works great. Lay vegetables flat on a baking sheet lined. Brush with vegetable oil and season. Bake for 15-20 minutes, or until crispy, rotating periodically
7.8.1.2
147
https://cultureatz.com/crisps-fish-and-veggie-chips/
Want more great fish recipes? Check out:
Did you make one of my recipes? I would love to see it. Take a photo and tag me on Instagram @cultureatz.
EDITOR'S NOTE: This post may contain affiliate links (disclosure policy). Please support CulturEatz by clicking on the links and purchasing through them so I can keep the kitchen well stocked. It does not alter the price you pay.