Phew, 2 cooking challenges in one day! This has happened as you know in the past and usually I manage to hit two birds with one stone. But since these 2 challenges must be published at a specific time I had no such luxury. But I could make sure the 2 challenges could compliment each other!
So welcome to my first participation with the Cray Cooking Challenge. This challenge is the brainchild of Mom's Crazy Cooking.I n this challenge we are given a theme: this month it was Mashed Potatoes. Now here is the twist, the recipe must be found on another food blogger's website. Only catch is that it cannot be a famous blogger or chef. I love a new challenge!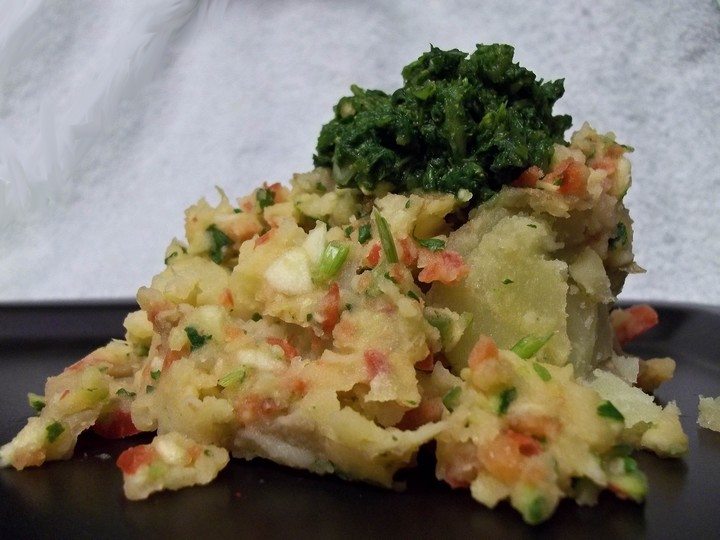 As I mentioned above this is my second challenge today. The first one for the Secret Recipe Club where I posted a recipe for Green Chutney, an Indian condiment. I really wanted to find a mashed potato recipe that I could serve my Green Chutney with. I found such a recipe at Cook Me Healthy with a Indian-Spiced Vegetable Cakes post. Technically the original recipe is not mashed potatoes so I modified things a bit and voilà.
The result was an amazing burst of flavors in every mouth full. I have to admit at first having Indian flavors in mashed potatoes was a bit confusing for my brain…but I adjusted quickly. It was fantastic, especially served with a hefty dollop of Green Chutney.
Ξ Indian-Spiced Vegetable Cakes Ξ
Ingredients
1 ½ lb potatoes, skin on, cubed
1 small yellow zucchini (I only found green, blah late fall)
1 rep bell pepper
1 inch piece ginger, peeled and finely grated
3 cloves garlic, finely minced
Juice of 1 lemon
1 small green chili pepper, finely minced- check for heat first!
¼ cup chopped cilantro
Salt to taste
Directions
First steam or boil the potato cubes until tender. When fully cooked, set aside to cool. In the meantime, add the zucchini and bell pepper to a food processor and process until very finely minced. Add the rest of the ingredients to the food processor and process briefly. Mash the potatoes with a manual masher and add a touch of butter and milk, I like my mashed potatoes still a bit chunky. Stir gently in the vegetable mix with the mashed potatoes. To serve, scoop a dollop of chutney onto the warm mashed potatoes on a plate.
Powered by Linky Tools
Click here to enter your link and view this Linky Tools list…