I love verrines. They are just the cutest thing to have with a meal. I love how you can pack a visually stunning show in a small glass container. It is cooking and it is art all in one. This post was actually my second possible entry had I move on to the 4th round of the PFB contest on Foodbuzz. I already blogged about my first possible contender: the sugar sponge.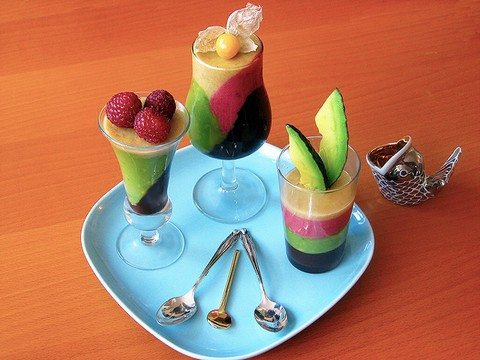 I actually chose 3 different glasses and created a different pattern per glass. I also chose 4 different recipes to make up my various flavors: a chocolate ganache, 2 panna cottas and the avocado. For the fruit purée I just processed whole fruits in a blender. You can make any kind of layer you want, be creative. Let's take a look at the ones I chose.
But before…
– Plan your layers: decide which layer you want to go on the bottom and work your way up. If you make your top layer before your bottom layer is made a set…you top player will now be solid and unusable. So only prepare your recipes when you are ready to layer it.
– Plan on setting each layer for about 20 min in the fridge before adding the next layer.
– Get your tilt on. Set out what you will need to keep your glass tilted at an angle and be able to move it in and out of the fridge without disturbing your liquid. I propped up my glasses on a box of coucous inside a square cake pan.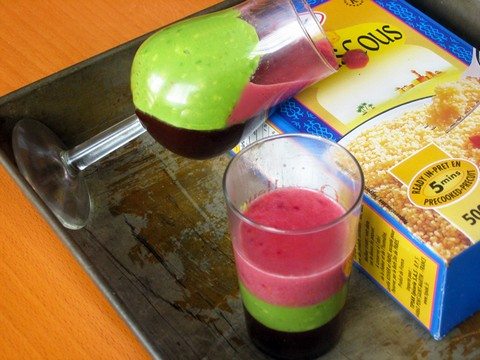 Chocolate Ganache layer
50g dark chocolate
25g heavy cream
Heat heavy cream to a boil.
Immediately remove from heat and stir in chocolate until melted.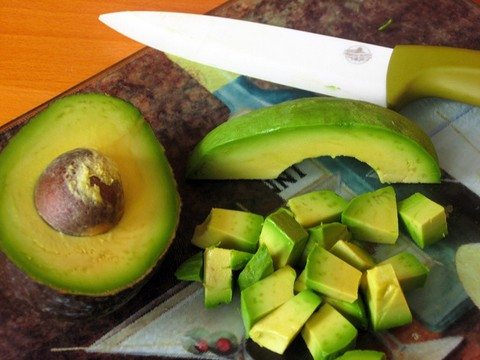 Avocado layer
1 avocado
2 tsp lemon juice
2 tbsp sugar
2 tbsp heavy cream
Mash avocado as finely as possible and mix with other ingredients.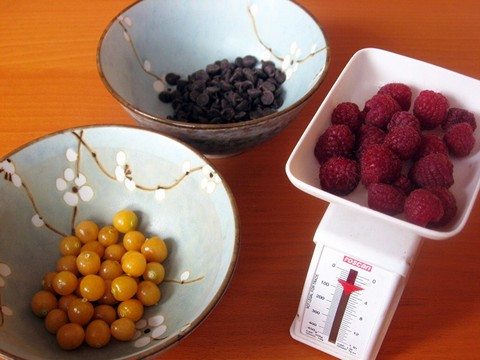 Raspberry layer
70g raspberry purée
45g heavy cream
10g sugar
3/4 tsp agar-agar
Mix purée, cream and sugar.
Bring to a boil on the stove or the microwave.
Stir in agar-agar.
Cape Gooseberry layer
70g Cape Gooseberry purée
45g heavy cream
10g sugar
1/2 tsp agar-agar
Mix purée, cream and sugar.
Bring to a boil on the stove or the microwave.
Stir in agar-agar.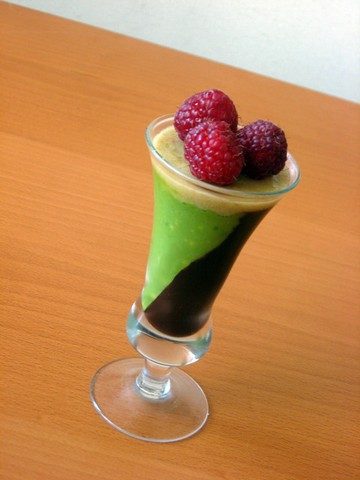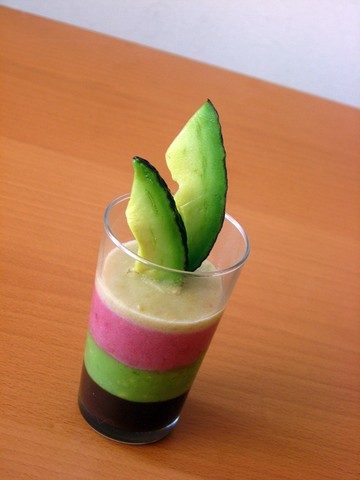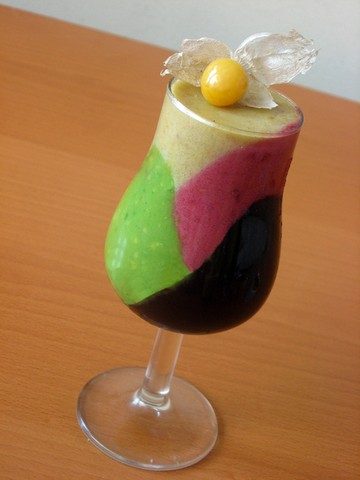 It will be messy a bit. I used a wet Q-tip to clean up little smudges inside the glass. Used a small spoon to pour small quantities of your liquid at a time. Art takes a bit of care and time. The Ohs and Ahs and Wows of your guest will be totally worth it though in sight and taste.