When we were kids everyone could eat anything without any allergies or complications. Well maybe we were not aware of it as much back then – or we were too young to realize – but food intolerances are definitely on the rise. I do count my blessings that I have no need for restrictions. But I have friends who come over regularly for dinner who do so having a nice selection of delicious recipes everyone can enjoy is a plus.
Gluten is one of the big no-nos and I think people who need to suddenly eat gluten-free get very intimidated at first. But there are lots of wonderful recipes tempting to the palate, you just need to experiment. A great resource is the The Complete Gluten-Free Whole Grains Cookbook.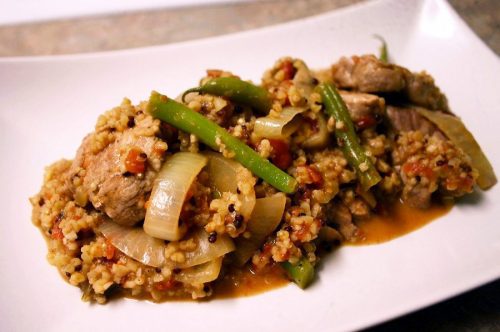 Now ther are plenty of grains and seeds we have always been familiar with most our lives; such as rice, corn, wild rice and buckwheat. But with foods from around the world becoming more accessible everywhere, the options have opened up with new grains to play around with in the kitchen.
Here are a few of the gluten free choices for you to discover in this cookbook: amaranth, Job's tears, millet, quinoa, sorghum and teff. Not only do these grains offer a lot more variety to those who suddenly find their diet restricted, they come with tons of health benefits for everyone. Whole grains can reduce your chances of having heart attacks, type 2 diabetes, strokes, cancer, gum disease and bad cholesterol, to name a few.
In this cookbook you will find an amazing variety of recipes guiding you along the way on your whole grain discovery path. Here are a few of the recipes:
Cranberry-Orange Pecan Muffins
Hot Millet Amaranth Cereal
Smoked Salmon and Grits Cakes
Curried Sweet Potato and Millet Soup
Kasha and Beet Salad with Celery and Feta
Salmon Stew with Corn and Quinoa
Sausage Spiked Peas 'n' Rice
Soba Noodles with Broccoli Sauce
Red Beans and Red Rice
Black Sticky Rice Pudding
Chewy Oatmeal Coconut Cookies with Cranberries and Pecans
I decided to showcase the Coconut Spiked Pork with Quinoa and Peanuts here in this post. I have been on a quinoa kick lately and the sound of tender pork tenderloin soaking up a coconut and peanut sauce was too tempting. I was not disappointed. I LOVE this recipe and I can see this becoming a staple. I rarely do a recipe twice so this is quite a statement. This cookbook is definitely a great find.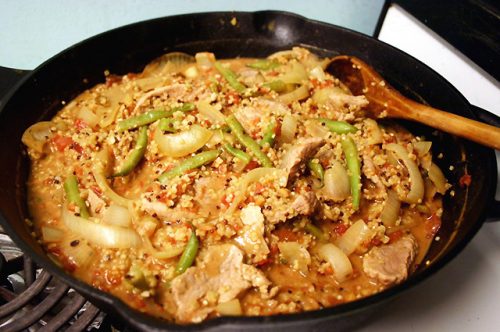 Excerpted from The Complete Gluten-Free Whole Grains Cookbook by Judith Finlayson © 2013 Robert Rose Inc. www.robertrose.ca May not be reprinted without publisher permission.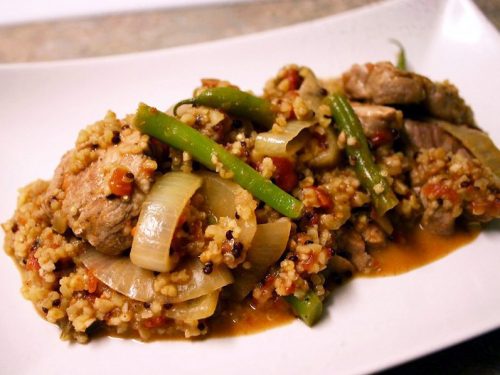 Coconut-Spiked Pork with Quinoa and Peanuts
I love the unusual combination of flavors in this one-dish meal. It's easy enough to make for a weeknight dinner and particularly colorful if made with red quinoa.
Ingredients  
1 1/2

cups

375 mL reduced-sodium chicken or vegetable stock or water

1/2

cup

125 mL coconut milk

1/4

cup

50 mL dry-roasted peanuts

1

Tablespoon

15 mL olive oil

12

ounces

375g pork tenderloin, thinly sliced

2

leeks

white parts only, cleaned and sliced

4

cloves

garlic

minced

1

chile pepper

minced

2

teaspoons

10mL ground cumin

1/2

teaspoon

5 mL salt

freshly ground black paper

1

can

14 ounces or 398 mL no-salt-added diced tomatoes with juice

1

cup

250 mL quinoa, rinsed and drained

1

cup

250 mL sliced green beans
Instructions 
In a blender, combine stock, coconut milk, and peanuts. Process until smooth. Set aside.

In a skillet, heat oil over medium-high heat for 30 seconds. Add pork, in batches if necessary, and cook until lightly browned, about 1 minute per side. Transfer to a plate and set aside.

Add leeks to pan and cook, stirring, until softened, about 5 minutes. Add garlic, chile pepper, cumin, salt and black pepper to taste, and cook, stirring, for 1 minute. Add tomatoes with juice and reserved peanut mixture and bring to a boil.

Stir in quinoa and green beans and return to a boil. Reduce heat to low. Stir in pork and any accumulated juices. Cover and simmer until quinoa is tender, about 20 minutes.