I bought a big bag of sliced coconut a while bag which I only used as decoration for a recipe! So I needed to find a recipe that used a lot of coconut to use up at least some of my bag. I found this great Chocolate Coconut Cake recipe from Donna Hay. It's slightly modified.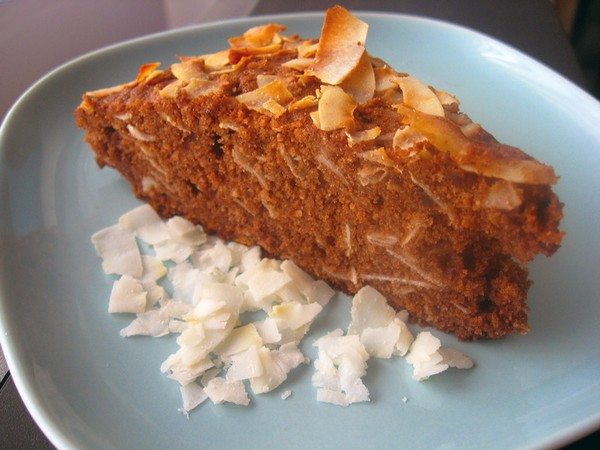 Chocolate Coconut Cake
300g butter, melted
1/3 cup cocoa powder
1 cup sugar
3 eggs
1.5 cups coconut
1.5 cups flour
1.5 tsp baking powder
3/4 cup milk
extra coconut
1. Preheat the oven to 180°C (350°F).
2. Place all ingredients in a bowl and whisk until just combined, not to much now. Add extra coconut on top of batter.
3. Pour into a greased 24cm (9.5 inch) round spring-form pan.
4. Bake for 50 minutes or a toothpick comes out clean.
5. Cool a bit before removing from pan
I really think the sliced coconut is the success of this case. Just shredded coconut would be lost in the batter but the sliced version and a lot of texture.