Looking for a practically guilty free pie when the sweet tooth attacks? Well I have a recipe for you. This recipe was given to me by Stef. The crust of the pie is made of crushed nuts, and egg white and a bit of sugar. That is it. You could fill it any way you like but here is our somewhat low cal version. Note the ingredients are to make one pie, we just happen t make two when he showed me.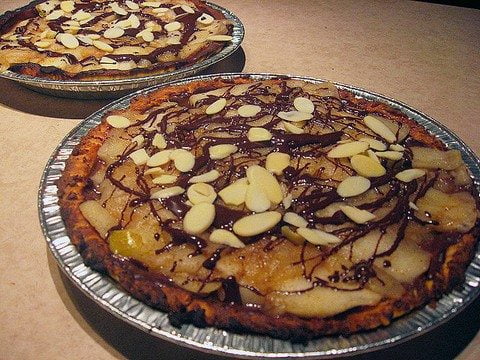 Chocolate Apple Pie with Nut Crust
Ingredients:
1 1/2 cups crushed nuts of your choice (we did 1/2 almonds and 1/2 hazelnut)
1 egg, beaten
1-2 tbsp sugar is desired
you can add cinnamon, nutmeg or what you like for extra flavor
1/3 cup dark chocolate
1/3 cup heavy cream
3 apples
1 tsp butter
2 tbsp sugar
cinnamon to taste
sliced almonds
2 oz dark chocolate, melted
Directions:
Crush your nuts if whole, use about 1 cup of whole nuts to get 3/4 cups crushed.
Mix nuts with egg and sugar plus spices is desired.
Spread in a pie shell evenly and cook at 350F till the crust is golden.
Melt chocolate and mix in cream until homogenized. Spread in the bottom of crust.
Sprinkle a layer of sliced almonds.
Peel and core apples and then cut in thin slices.
In a pan melt the butter and add apples with sugar and cinnamon. Cook until just tender.
Poor apples into the pie crust and spread evenly.
Sprinkle a few sliced almonds again and swirl decoratively the remaining dark chocolate.
Refrigerate 2 hours before serving.