Yesterday I organized a big family and friends party at a great restaurant for 2 very special occasions: June 5th is my parent's 40th wedding anniversary and June 8th is my dad's 75th birthday. We were a nice group of 30 people and we enjoyed a great meal at a very group-friendly restaurant, LaGriglia d'Oro in Montreal. Thank you Carmine for everything. The food was excellent, all cooked perfectly and served warm (salmon and steak not over cooked like most places), everyone loved the place, the decor, and the service was excellent. The general comment I got from everyone was that the dinner experience was perfection. Now this post is not about the dinner but about the DESSERT!
The restaurant does not supply cake with the group menu but would charge $5 extra per person for a dessert. Times30 that is $150…a lot for a cake! They happily said I could bring in my own cake. Again a cake for about 30 in a bakery shop will  run you around $100. So I though I am a baker, I have a food blog, I can kinda decorate. Why don't I make the cake? And lots of anticipation stress ensued.
After much research I settled on a 12 x 18 in. sheet cake with 1 layer. Now you can serve 36 to 54 people with this cake depending on how you cut it. If you portions will be cut 2 x 2 in. you get 54 slices; math 6 horizontal slices x 9 vertical = 54. If you want a more generous portion (like me) you can cut portions 2 x 3 in. and get 36 slices ; math 6 horizontal slices x 6 vertical = 36. I also decided to settle for cake mix to save lots of time and money **hold the rotten tomato throwing**.  I was way more stressed about the decoration and spent hours online looking at pictures and trying to find some inspiration. This was truly the toughest part. Here are the recipes and my costs:
Sheet Party Cake
3 cake mixes (2 chocolate and 1 golden) – $6
9 eggs – $2
3 cups water
1 1/2 cup vegetable oil – $3
1 cup sour cream – $3
3 tsp vanilla extract
1 12×18 aluminum rotisserie pan from the dollar store – $2
Cake batter total= $16.00
Preheat oven at 350 F. Butter and flour your pan. Add and mix with an electric mixer everything as directed on the cake mix box and poor into the pan (I had a cookie sheet big enough to place the pan on). Bake for about 55 min or until ready, you know the toothpick test. Cool 10 min and remove from pan. Let the cake cool completely.
Since my pretty undulated borders stayed pretty clean I opted to not ice the sides. I decided to go with a buttercream icing recipe, found here, that would be laid smooth on top and add colored scrolls inspired by my henna designs for a sophisticated look.
Vanilla Buttercream Icing and Decorations
1 pound (4 sticks) unsalted butter, at room temperature – $4
6 to 8 cups confectioners' sugar, sifted – $7
1/2 teaspoon table salt
1 1/2 tbsp pure vanilla extract
up to 4 tablespoons milk or heavy cream
pack of 5 vials various cake sprinkles – $3
Icing and decoration total= $14.00
Beat butter for a few minutes with a mixer on medium speed. Add 6 cups of powdered sugar and turn your mixer on the lowest speed until the sugar has been incorporated with the butter. Increase mixer speed to medium and add vanilla extract, salt, and 2 tablespoons of milk/cream and beat for 3 minutes. If your frosting needs a more stiff consistency, add remaining sugar. If your frosting needs to be thinned out, add remaining milk 1 tablespoons at a time. Makes 5 cups.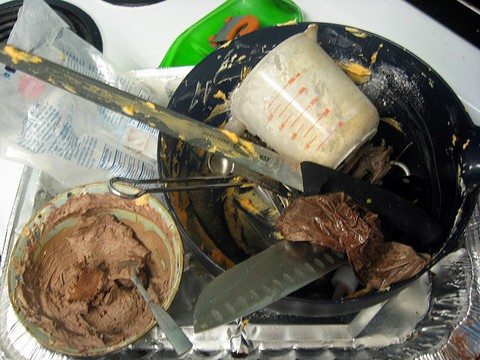 Spread 3 cups of the icing (colored if you wish) on the top of the cooled sheet cake  smoothly. Put the remaining icing (colored if you wish) in a pastry bag fitted with a tip of your choice and pipe your designs. I added the candle, wrote some wishes, let inspiration flow for the sprinkles (less is more) and voilà! Of course I was so rushed for time I forgot to take pics of the icing process, so you get the dirty dishes, and when my lift arrived as I was finishing my icing job still. I did not even have time to take a good pic at home of the cake.
Cake total= $30.00

Gee I saved about $70. True I did not add an hourly rate to my cake total because it was fun, I saw it as a personal baking challenge for growth and I made it out of love for my parents.
A note on the icing: I went with an all butter recipe which means it will be off white and could melt in a warm climate. If you want a purer white or a less climate sensitive icing substitute half the butter with vegetable shortening and use clear vanilla extract.